Housing activists, Louisiana residents call for Road Home fix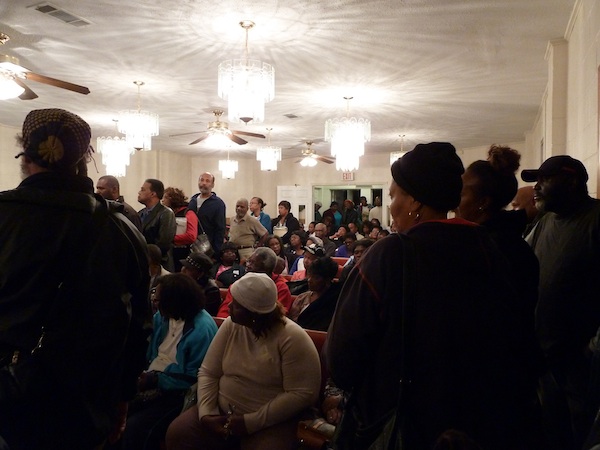 Last week, Hurricane Katrina survivors packed two Greater New Orleans churches and voiced some of the frustration, anger, and hurt that they've been nursing over the "Road Home" recovery program.  The public meetings, in St. Bernard parish and New Orleans' Ninth Ward, were held to inform residents about inequities and corruption in the housing program.

The Road Home was ostensibly intended to help homeowners rebuild after Hurricane Katrina. But for many, especially African Americans, it has caused more hardship than help.
One after another, life-long residents of Greater New Orleans, almost all African American, approached the microphone and spoke of the issues that made the Road Home seem like more like the "Road to Hell" or "Hurricane Road Home."  They spoke of measly and unjust settlements, encounters with incompetent government contractors, bureaucratic inefficiencies dragged out for months, being treated like criminals at Road Home offices, hazardous homes that remain in disrepair, and selling their houses to the Road Home program when they couldn't afford repairs (the program has purchased approximately 10,000 homes, say the meetings' hosts).
With each testimony, murmurs of assent and support rose from the crowd – as one person's particular experience resonated with dozens more across the packed room.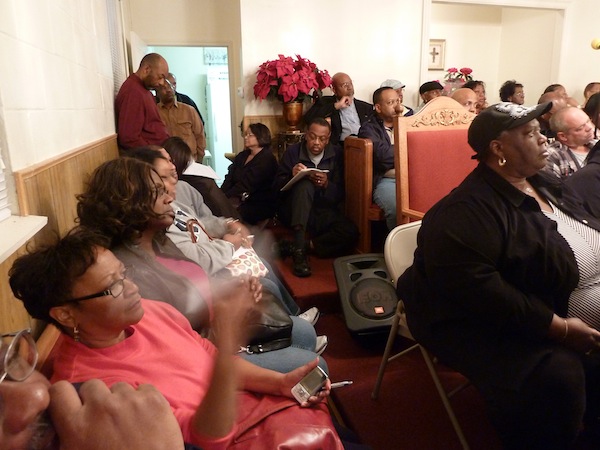 New Orleans residents packed the Trinity Unity Baptist Church on North Claiborne Ave.
Judge finds racial discrimination in Road Home
In August 2010, a judge ruled that the Road Home was racially discriminatory, because it calculated how much money homeowners received based on property values, which are often lower in black neighborhoods.  An estimated 20,000 African American homeowners were given inadequate grants that were based on their undervalued property, rather than the actual cost of rebuilding. The ruling is currently being appealed by the State of Louisiana.  (Hear James Perry, Executive Director of the Greater New Orleans Fair Housing Action Center, explain further).
The Road Home Research Team
The meetings were hosted by a self-appointed, volunteer group of community activists called the Road Home Research Team. 

Viola Washington, who has been a community leader in New Orleans for more than 30 years, says it began when her non-profit, the Welfare Rights Organization, started getting a huge influx of calls from the public with questions and concerns about the Road Home. 


Sensing the unmet need for information on the program, Ms. Washington formed the Road Home Research Team and recruited Deola Richardson, Carl Galmon, Lynn Lebeau, and Andrew Rhodes, other community leaders who volunteered their time to dig into the program.


These communities meetings were the first step in sharing their findings back with the public.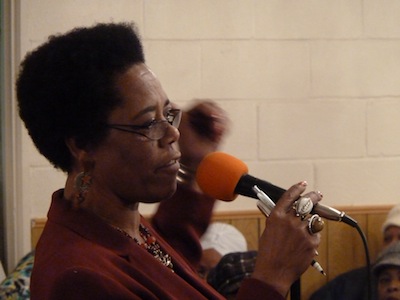 Viola Washington at the New Orleans meeting.
While people suffer, contractors profit
The Road Home Research Team highlighted the thirty-eight government contractors and sub-contrators who had a role in the $13.4 billion Road Home program. Ms. Washington spoke of how the Virginia-based ICF, which administered the program, paid its employees $53 an hour.  These same employees reportedly threw some applications directly into wastebaskets rather than processing them.
"They took advantage of our suffering," Ms. Washington said, raking in money that was intended to go to Louisiana residents left in crisis by Hurricane Katrina.
"You hire all of these people that you are paying money to give the residents money. Why not just give all of the residents money?", asked life-long resident Zena Ballard after the St. Bernard Parish meeting. "You spend a billion in paying employees, but you didn't spend a billion in giving people money to put back their houses together.  It doesn't make sense. They should have thought more of the people that lost." 


Ms. Ballard's family received only about $7,000 from the Road Home for their house, which was flooded up to the second floor, because they owned insurance.  As is the case for so many, her insurance company only covered a small portion of the damages, leaving Ballard's family to cover an estimated 95% of the repair cost with their own money.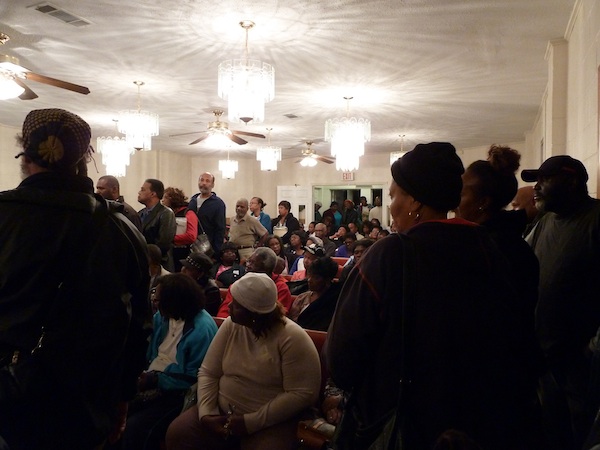 Residents line up to speak at the Trinity Unity Baptist Church in New Orleans.
What's next?
Carl Galmon, a member of the Research Team, said they were calling for the Federal Government to "step in, investigate, and put those crooks in jail."  The Team sent a letter to U.S. Attorney General Eric Holder in October 2010, requesting that he investigate the Road Home.  They have not yet received a response, but say they will continue to push for federal intervention.
Viola Washington says they also want the program to "go back to square one," review all applications, and finally dole out fair housing assistance to people in need.
The immediate next step is for these impassioned homeowners to come to another hearing later this month – this one held by members of the State Legislature and the Office of Community Development's Disaster Recovery Unit.  The Disaster Recovery Unit is taking over the role of the Louisiana Recovery Authority (LRA).  The LRA was established after Hurricane Katrina by then-Governor Kathleen Blanco and designed the Road Home program, but sunset on June 30th, 2010.  The upcoming meeting is part of the State Legislature's efforts to have an oversight role in Katrina recovery.  The meeting is set for January 25th at 5 p.m., at the City Hall council chambers, and is open to the public.


When asked if she was surprised by how full the public meetings last week were – full of people and energy and raw emotion – Viola Washington replied, "My experience of organizing [is that] when people are hurting, if you call them, they will come… People are hurting, people are suffering, this thing is even worse than I thought it was."


100,000 from metropolitan New Orleans remain displaced and just 24% of residents in the Lower Ninth Ward have returned.


Deirdre Williams, a resident of the Bywater neighborhood in the Ninth Ward, says, "It seemed like they didn't want us back… We all were screwed by Road Home.  It is time for these people we put in office to really do something about it… We just want to get what is due us, get in our homes, and be made whole in order to continue on."
Read more about post Katrina-housing issues across the Gulf Coast: