Listen: "State of the Re:Union" takes on the Mississippi Gulf Coast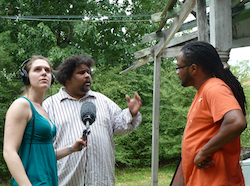 Each week, the public radio show State of the Re:Union tells the story of "how a particular American city or town creates community."  This fall, Host Al Letson and Producer Tina Antolini devote an episode to the Mississippi Gulf Coast.
According to the State of the Re:Union website:
"After Hurricane Katrina ravaged the area, Mississippi Gulf Coast residents were forced to come together to deal with the aftermath. Then, just as they were starting to get back on their feet, the BP Deepwater Horizon disaster dumped millions of barrels of oil into the water just off their shores.
Cumulatively, these events have made environmentalists out of a whole lot of Gulf Coast residents who may not have considered themselves as such…
We tell an hour of stories about the fight for the natural world Gulf Coast bringing residents together, both with one another and with unlikely partners—and how, in some instances, that fight is turning out to be exactly what a community needed to survive."

Listen to or download the episode on the State of the Re:Union website.
Photo: Derrick Evans (center) tells State of the Re:Union host Al Letson (right) and producer Tina Antolini the story of Turkey Creek.