As Mayor faces charges for stealing from housing development, its residents face eviction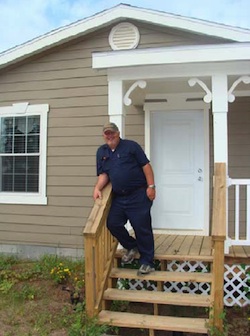 It's uncanny timing. On September 30th 2011, a federal grand jury indicted Stan Wright, the Mayor of Bayou La Batre, Alabama, for stealing from a housing development built for Hurricane Katrina survivors. The very next day, October 1st, residents of that same development faced a rent hike that is forcing many of them to move out.


Wright is accused of conspiracy, theft, and other corruption charges related to Safe Harbor Estates and Safe Harbor Landing, two adjacent subdivisions of 100 homes in Bayou La Batre.  He allegedly made $27,000 by illegally selling land to the city for the development, then tried to cover up the crime through retaliation and wire fraud.  (Read more about Wright and the indictment). 




"It burns me up…" says Stephanie Baker, a 41-year old resident of Safe Harbor Estates. "The money [Wright allegedly stole] was meant for people in Safe Harbor, and now we are stuck in a real hard mess."

Photo: Bayou La Batre Mayor Stan Wright with a Safe Harbor home. (Photo by Janet Pershing of Amy Jones & Associates, from a 2009 case study for HUD and FEMA.)
Safe Harbor was built primarily with $15.7 million from the Federal Emergency Management Agency (FEMA), with some funding also provided by the Department of Housing and Urban Development (HUD).  Initially the houses were reserved for people whose homes were damaged by Hurricane Katrina, and the rent was adjusted based on income.  That all ended on October 1st. 
On that date, the rent on the three-bedroom house Baker shares with her son and grandchild went up to $460 a month.  It was $185 when she moved to Safe Harbor in 2008.



  Baker says she can't afford that on her seasonal income from a crab processing facility – especially not this year, which she says is "the worst I ever had" because of the BP oil disaster.

"A lot of people [in Safe Harbor] are in the seafood industry or on fixed income," Baker says. "The Bayou people are moving out… because they can't afford the rent."




Felicia Douglas of the Housing Authority of Bayou La Batre, which oversees the development, confirmed that several families have moved out since October 1st (though she would not say how many). Karen Gazzier, a 50 year-old resident of Safe Harbor Estates, estimates that about ten households on the Estates side of the development have moved out so far because of the rent hike.


The monthly rent for Gazzier's 2-bedroom home went from $180 to $350 within two months. Her 26 year-old son just dropped out of college in Texas, with only 3 months left to go, so that he could come home and help his mother make the rent.  Even with his help, Gazzier, who is low-income, doesn't think she can make ends meet at Safe Harbor.

Felicia Douglas says the rent hike is necessary because, as of July 2011, FEMA is no longer funding Safe Harbor.  She said the Housing Authority was hoping to get funding from HUD to keep rent affordable, but that funding has not come through. A spokesperson from HUD said he wasn't sure what that expectation was based on.

 Without the federal ties to FEMA, the homes aren't reserved for Hurricane Katrina survivors anymore either.
On top of becoming unaffordable, Safe Harbor is falling short on other promises.



 The development was lauded as a model approach to disaster recovery, because it would provide permanent, high quality homes quickly.  Residents were told they would be able to own their homes after 10 years.
 
But the homes, which are owned by the City of Bayou La Batre, are no longer available for residents to purchase. Also, Gazzier and Baker say the quality of the homes has proven shoddy, with excessive mold, cracks running through the sides of homes, and other maintenance problems arising after just a few years of use.
Gazzier says she feels deceived by Mayor Wright in particular, and not just for his alleged crimes.  She said before she moved in, he personally assured her in a one-on-one conversation that the rent at Safe Harbor would remain affordable, and that she would have the option to buy.


With these promises broken, what will become of Safe Harbor's inhabitants?
 
Karen Gazzier says she may have to move soon, but she is not done fighting the rent increase.  She is seeking legal advice to keep Safe Harbor residents in their homes. 


Gazzier said that while some are afraid to take on the Mayor, she's speaking up anyway;


"I'm to a point now where I've got to do it.  I've got to do what I've got to do to keep a roof over my children's heads… Somebody's got to [speak out]."
Related: Alabama town outraged, not surprised, by Mayor's alleged Katrina theft