My father, the whistleblower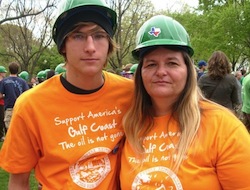 My dad used to work at one of the chemical plants in the Point Comfort/Port Lavaca area in Texas, about a two and a half hour drive southwest from Houston. The plant produces plastics and PVC pellets which are used to make anything from sandwich bags to molded products. My father was a waste-water operator. They repeatedly had him send contaminated water out into our bays.  Many of these contaminants are cancer causing agents. They often asked him to alter state sampling reading. This was a common occurrence at this facility. The reading and documents that went to the state were falsified repeatedly.
Photo: Cheyenne Jurasek and his mother Christy at Power Shift 2011 in Washington, D.C.
Well, he had his fill and made that fateful call into the Texas authorities, the Texas Commission on Environmental Quality (TCEQ). That call thrust him into the spotlight, along with several whistleblowers from this facility. This sent us down the road of TCEQ and FBI criminal investigators visiting our home on many, many occasions. They even went so far as to have him wear a wire to his workplace. This caused tremendous stress on us kids in the family. 
It got worse.  Our house was shot at, the lugs nuts on our vehicle were loosened, my Mom and Dad got beat up on the river at a Sunday outing, and a helicopter circled me and my brother so low at our home, we could have hit it with a sling shot.  Stress– that is an understatement.
Well, my dad finally parted ways with that company after giving them 20 years of service. My dad is permanently disabled because of chemical exposure. So I know firsthand the horrors and the hardships that a family has to endure when the bread-winner is sick.
Since my father spoke out, my parents started a grassroots organization called "Texas Injured Workers."  I have attended some of these meetings and have heard so many personal stories about persons diagnosed with cancers.  These people are financially required to continue to work while receiving treatment, for fear of being fired and losing their insurance coverage. Texas is a "Work at Will" state, which means you can get fired or quit for any reason or no reason.
So many of these employees just keep quiet and continue to work while receiving treatments. Some that do decide to go on short-term or long-term disability find that their jobs no longer exist when or if they are able to return. Many have died, leaving behind family.  Some have lost several inches of their intestines, some have tumors up and down the spine, and most have a grim prognosis.
I have witnessed the pain and suffering that goes along with these illnesses. My family has lived through the hardships that have to be overcome. Not knowing if my dad will make it or not, not knowing if we can make the bills, not know where our next meals will come from. This not only proves to be difficult for the injured employee (my dad), but also for the family (me and my brothers).
I believe that many of these major industries along our Gulf Coast are directly linked to the enormous amount of diagnosed cases of cancer, chemical exposures, and respiratory illnesses that are currently affecting many Texans that choose to live and work along the coastline. Not only is the oil and gas industry dirty, so is the chemical industry!
This post was adapted from Cheyenne's presentation at Power Shift 2011, on the panel "Beyond BP: Life in America's Energy Sacrifice Zone."  Cheyenne is 17-years-old and lives in Rockport, Texas.  He is a member of Texas Injured Workers.