New health survey: Nearly 3/4 of those exposed to BP oil and dispersants report symptoms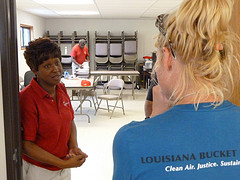 By Shannon Dosemagen, Louisiana Bucket Brigade.  On Monday, February 28th, the National Institute for Environmental Health Services began sending letters to clean-up workers from the BP oil disaster, in anticipation of enrolling people in a multi-year study to examine the effects of exposure on health. This is just one of several health studies that are about to launch across the Gulf Coast in anticipation of tracking and monitoring the development of exposure-related illnesses. As the Louisiana Bucket Brigade (LABB) continued to hear stories of Gulf residents falling ill, the organization recognized that something needed to be done sooner, so as to document the health impacts on communities in the coastal areas.  We felt that in many instances the human impacts were being minimized or overlooked, and that it was important to obtain data from residents as soon as possible so that it could be used in future advocacy work.
So LABB surveyed nearly 1,000 coastal residents in four Louisiana Parishes about what health and economic impacts of the BP disaster they were experiencing.  Today, we release the results of that study.
Read the report here.

Key Findings
Some of the key results are what we would expect to find in communities exposed to environmental toxics. Nearly three-quarters of those who believed they were exposed to crude oil or dispersant also reported experiencing symptoms. The most common symptoms reported were coughing, skin and eye irritation and headaches. To treat these symptoms, almost a third of respondents used over-the-counter medication "more often that usual." Although more than half of the survey participants had health insurance, relatively few sought treatment for symptoms (31%) or exposures (14.8%). Almost half of respondents said their livelihoods had been impacted. In three communities where residents worked primarily in the seafood industry, 64% were concerned with seafood contamination. Additionally, with the loss of income, nearly a quarter of respondents replied that they needed disaster assistance, but were not receiving it.
Methodology
LABB was fortunate to have long-time donor, Patagonia Clothing Company, approach us with an offer to send 70 of its employees as volunteers to the Gulf Coast. These volunteers arrived, ten at a time, from the final week of July to the first week of October, 2010. During this time, LABB was able to complete 954 surveys in four coastal Louisiana parishes, obtaining information about self-reported exposure, symptoms, livelihood loss and concern over seafood contamination. The areas LABB surveyed included: Grand Isle, between Port Sulphur and Venice as well as Phoenix in Plaquemines Parish, Dulac, Cocodrie and Chauvin, Lafitte and the St. Bernard Parish areas of Shell Beach, Delacroix, Yscloskey, Hopedale and Toca. Volunteers went through four-hour training sessions and then stayed in each community they surveyed.
The report details results in the seven survey areas, offers comparative analysis of each survey location and concludes with eight key recommendations, adopted from responses we received during the surveys and from community meetings held in the final week of February.
From our key findings and residents' recommendations, LABB developed several suggestions toward improving the situation in oil spill-affected communities.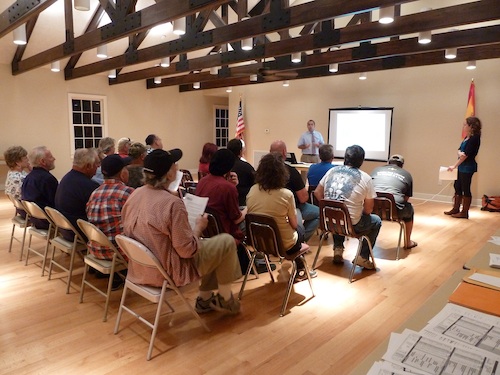 Louisiana Bucket Brigade staff present the health survey findings in St. Bernard Parish.  Photo by Ada McMahon.
Recommendations
Officials should first focus on increasing access to long-term health care that will cover exposure-related illnesses and mental health problems – services greatly lacking in these communities. As larger studies are launched across the Gulf Coast, agencies should couple research with providing treatment options for the illnesses they identify.
With Louisiana's seafood industry in a state of flux, it is critical that new opportunities for employment are created as part of a restoration economy – employing coastal residents in environmental monitoring projects as well as barrier island and oyster reef reconstruction. Finally, as residents muddle through the process of filing claims and witness Kenneth Feinberg coming under fire for not referring to himself as a contractor of BP, it is important that an appeals process with local Gulf Coast representation is designed.
Putting the data to use
LABB held community meetings in each of the survey locations. One of the hopes we had for communities' use of the data is advocacy work – whether it be writing letters of concern to public officials, advocating for health care and facilities or fundraising for restoration projects.
The final report from this survey has provided a basic understanding of the self-reported impacts as felt by Gulf Coast residents, but it has also made clear the long road ahead in developing policy that will appropriately protect the rights of coastal residents in the coming years.
Image: A LABB outreach team member listens to a Catholic Charities employee in Plaquemines Parish, LA.  Photo by Ada McMahon.
-----------
Shannon Dosemagen is the Oil Response Coordinator for the Louisiana Bucket Brigade.