New jail building approved by City Council; sheriff must close others when it's built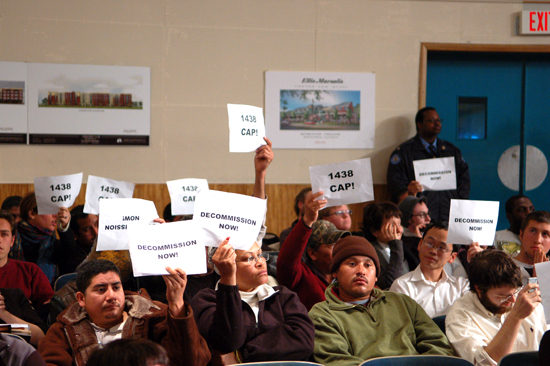 By Matt Davis, crossposted from The Lens   - The New Orleans City Council voted unanimously [yesterday] afternoon in support of an ordinance granting permission for Orleans Parish Sheriff Marlin Gusman to build a 1,438-bed jail. 
Gusman will have to demolish most of his other jail facilities as soon as possible once the new facility is built. He'll also have 18 months to demolish a 400-bed temporary facility currently under construction.
Meanwhile a working group convened by Mayor Mitch Landrieu will continue to meet into April to decide how many state prisoners Gusman should house, what kind of re-entry program he should run, and what kinds of mental health and substance abuse facilities he should add in addition to the new facility.
Councilman Jon Johnson said he wants to see the working group focus on the number of state prisoners being housed locally over the coming months.
"We should not be warehousing state inmates here in our city of New Orleans," Johnson said.
Having blasted the ordinance publicly over recent weeks for allegedly interfering with his efforts to promote public safety, Gusman was a no-show for a heated public hearing on the issue. The ordinance included minor amendments to allow for Gusman's concerns about shrubbery and the look of the jail, but its main thrust remained intact.
Gusman's absence became apparent when Johnson called on the community to continue bringing the sheriff to the table in ongoing criminal justice reform work.
"Where is he?" called someone in the audience.
Nobody spoke up for a larger jail this afternoon, or on Gusman's behalf, with all those signed up to speak against the ordinance actually speaking in favor of it. Gusman issued a statement praising the vote through a representative, immediately afterwards.
In Gusman's absence, councilwoman Susan Guidry hit back at "those who have said the ordinance will delay the construction of the jail," in what appeared to be a thinly veiled response to an editorial by Gusman in The Times-Picayune Wednesday.  Gusman wrote: "redesign of the 1,438-bed facility would delay the project."
Meanwhile, Guidry praised community engagement in criminal justice reform.
"I don't know that New Orleanians are as focused on anything else today as they are on the state of the criminal justice system," Guidry said.
Thanks to policy changes, local inmate population is already down from more than 2,000 to 1,800, said Chief Administrative Officer Andy Kopplin, who has led Landrieu's working group since September. Kopplin said a cap of 1,438 beds is unrealistic at the moment.
"But we're also prepared to continue meeting so that in the future this may be a possibility in terms of local beds," Kopplin said.
Councilwoman Stacy Head, who authored the ordinance, said 1,438 is a realistic longer-term cap for the number of inmates.
"If we do it right, we should be able to limit all the prisoners to 1,438," Head said. "And I hope that we can continue to work to that."
Deborah Cotton from the New Orleans Coalition on Open Governance, of which The Lens is a member, praised the openness of the process leading up to the vote.
Voice of The Ex-Offender director Norris Henderson said he understood the perspective of those who wanted a larger jail built, citing public safety concerns.
"But in a fair and just society, we can't base laws on the way we feel at the most vulnerable moment of our lives," Henderson said.
Council President Arnie Fielkow praised the "civic activism" which has "moved New Orleans in the right direction" on criminal justice reform.
"You cannot incarcerate yourselves into a safer city," Fielkow said. "And we've learned that, over recent years."
Related post: New paralegal training provides ray of hope for formerly incarcerated people in New Orleans