New Orleanians rally to stop execution of Troy Davis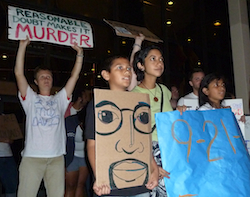 Last Friday in New Orleans' French Quarter, chants of "Justice for Troy" and "Too much Doubt!  Let him out!" interrupted the early-evening partiers and tourists.


A march, about 100 strong, wound its way through the Quarter, calling for justice for Troy Davis and the abolition of the death penalty.  Davis is scheduled to be executed this Wednesday, September 21st, despite considerable doubt about his guilt. 


"Troy Davis has been on death row as long as I've been alive," says Derwin Wilright Jr., a 21 year-old student at University of New Orleans and volunteer leader with Amnesty International USA, which organized the march.  "The case against him has completely fallen apart… There's no physical evidence, there's no murder weapon ever found.  And yet a potentially innocent man is sitting on death row, and has been for the past 20 years..."
Davis was convicted of murdering police office Mark MacPhail in 1989, outside of a bus station in Savannah, Georgia.  Since his conviction, 7 of the 9 witnesses have recanted their testimony, and many implicate another man who was on the scene.  

Davis's execution has been postponed three times in the past four years, thanks in part to involvement by the U.S. Supreme Court, advocacy groups, and prominent human rights figures like Jimmy Carter and Nelson Mandela.  663,000 supporters recently signed a petition in support of Davis, and the New Orleans rally was one of 300 events worldwide.
Despite the doubt surrounding the case and growing opposition to his execution, the state of Georgia is scheduled to put Troy Davis to death this Wednesday.

At the rally, Lauren Cook, a social worker who recently moved to New Orleans from New Jersey, wore a T-shirt bearing a common refrain of the campaign: "I Am Troy Davis."  

"To me it means that each of us should be personally invested in this case.  It could happen to anybody here.  And if… we are willing to turn a blind eye to it, I think it makes us just as guilty."
Today provides one last chance to stop Troy Davis's death, as the Georgia Board of Pardon and Paroles holds a hearing on his case. Advocates are asking supporters to call the Board this morning at (404) 656-5651.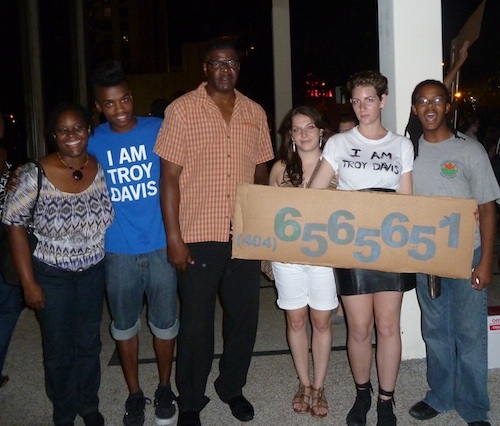 Rosanne Adderley, with Amnesty International USA's New Orleans chapter, says Troy Davis has attracted so much attention because his case is the "poster child" for what is wrong with the criminal justice system.
"We know the story too well.  Violent crime happens, people are really upset… But instead of saying to our government, and to our police forces, 'The solution has to be smart, it has to be fair, it has to work'… The message we send is, 'You gotta get someone for this crime.'  And that is exactly how Troy Davis ended up [on death row].  He is the 'someone' they got." 
Advocates say the case resonates in New Orleans especially.  Louisiana has the death penalty, the highest incarceration rate in the nation, and a troubling reputation for incarcerating innocent young African American men.  Several at the rally drew comparisons to John Thompson, who was on death row in Louisiana for 14 years until blood tests (withheld during trial by the prosecution) proved his innocence.  
For New Orleans advocates, the Troy Davis case exposes a "failing" criminal justice system.
"We know that there is no real evidence.  Well, why is he there?," asks Derek Rankins, a New Orleans native who works with the People's Institute for Survival and Beyond.  The real question, he says, is: "Is the judicial system of the United States of America working?  And does it help anyone? Or is it based off of money and… race?  I think that is the conversation we should be having..."
Adderley agrees.  From abolishing the death penalty to changing our attitudes about the best way to protect communities, she says of the Troy Davis case: "It's really a call for us to rethink how we do this."
Photos by Rosana Cruz.