No end in sight for oil in the Gulf of Mexico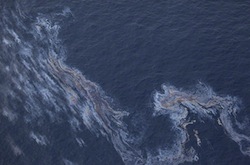 Fresh oil seepages raise questions about further problems with BP's damaged oil well.  By Dahr Jamail, Al Jazeera English.  Fifteen months after BP's crippled Macondo Well in the Gulf of Mexico caused one of the worst environmental disasters in US history, oil and oil sheen covering several square kilometers of water are surfacing not far from BP's well.
Al Jazeera flew to the area on Sunday, September 11, and spotted a swath of silvery oil sheen, approximately 7 km long and 10 to 50 meters wide, at a location roughly 19 km northeast of the now-capped Macondo 252 well.
Photo: Thick oil sheen in the Gulf of Mexico, approximately 19 km northeast of BP's stricken Macondo well [Erika Blumenfeld/Al Jazeera]
According to oil trackers with the organisation On Wings of Care, who have been monitoring the new oil since early August, rainbow-tinted slicks and thicker globs of oil have been consistently visible in the area.
"BP and NOAA [National Oceanographic and Atmospheric Administration] have had all these ships out there doing grid searches looking at things, so hopefully now they'll take a look at this," Bonny Schumaker, president and pilot of On Wings of Care, told Al Jazeera while flying over the oil.
Schumaker has logged approximately 500 hours of flight time monitoring the area around the Macondo well for oil, and has flown scientists from NASA, USGS, and oil chemistry scientists to observe conditions resulting from BP's oil disaster that began in April 2010.
Edward Overton, a professor emeritus at Louisiana State University's environmental sciences department, examined data from recent samples taken of the new oil.
Overton, who is also a National Oceanic and Atmospheric Administration (NOAA) contractor, told Al Jazeera, "After examining the data, I think it's a dead ringer for the MC252 [Macondo Well] oil, as good a match as I've seen".
He explained that the samples were analysed and compared to "the known Macondo oil fingerprint, and it was a very, very close match".
While not ruling out the possibility that oil could be seeping out of the giant reservoir, which would be the worst-case scenario, Overton believes the oil currently reaching the surface is likely from oil that was trapped in the damaged rigging on the seafloor.
He said the oil could either be leaking from the broken riser pipe that connected the Deepwater Horizon to the well, or that oil is leaking from the Deepwater Horizon itself.
But other scientists remain concerned that the new oil could be coming from a seep from the same reservoir the Macondo well was drilled into. The oil field, located 64 km off the coast of Louisiana, is believed to hold as much 50 million barrels of producible oil reserves.
Natural oil seepage in the Gulf of Mexico is a natural phenomenon and can cause sheens, but the current oil and sheen is suspect due to their size and location near the Macondo well.

Read the rest of the story from Al Jazeera English