Oil Still Threatens a Cajun Paradise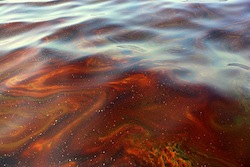 P.J. Hahn has rescued his share of oil-soaked pelicans. As coastal restoration director for Plaquemines Parish, he's seen the worst of the Louisiana crude that belched uncontrollably from BP's well a mile below the sea.  
But now more than a year after the well was plugged, Hahn has not escaped the oil. And neither has his coastal wetland home. He sees oil almost every time he goes out on his boat, he says. It floats on the surface and moves with the wind, spreading its tentacles to birds and fish and anything else that touches its toxic trail across the sea.
A week ago, Hahn went out to photograph Cat Island, a bird sanctuary in Barataria Bay that was a poster child for the BP oil disaster when its nesting bird population was devastated by waves of thick crude. The island appears clean of oil now and the birds have returned. But they are still susceptible to the streams of crude that Hahn and others say still pollute the area, threatening wildlife and the livelihood of local fishermen. 
While traveling to the island, Hahn came across a swath of oil that stretched several miles, some of it thick and viscous orange crude that appeared to be mixed with chemical dispersant, he says. Hahn found four sick pelicans and retrieved them for rehabilitation. When he called the oil report into the Coast Guard, Hahn says they told him they didn't have a boat available to check it out. Could he give them a ride, they asked?
But Hahn says by that time Coast Guard request came he was already long gone, taking the injured pelicans in to be cared for. As far as he knows, the oil was never cleaned up and the Coast Guard never found the source. Where it came from is anyone's guess, he says.
P.J. Hahn with a damaged pelican and the oil soaked waters of Barataria Bay.
Photos: PJ Hahn
Meanwhile, up in northern Barataria Bay, a recent oil spill caused by a ruptured orphan well owned by Cedyco Corp of Houston continued to plague the area over the past week. The Coast Guard last reported that more than 2,000 gallons of oil had spilled and that 13,000 ft of boom had been deployed. Cedyco also owned another abandoned well that caused a major oil gusher when it was rammed by a barge in a nearby area a year ago.
Hahn says he understands the Gulf is a "working coast" and the oil industry is bound to have a few spills. But what's going on now is unprecedented, he says. He's never seen the number of oil spills he's seen since the BP disaster. But what bothers him the most is the lack of response.
"Nobody's going after the stuff. The Coast Guard doesn't even send boats sometimes. It's very frustrating. The Coast Guard just wants to be finished with it. They seem to want to fast track the cleanup by the end of the year and get out of here."
Fishermen too are frustrated. Their catches are down. Is it due to the oil? No one can say for sure. But many think they know the answer. "We've had more oil spills this year than I can ever remember, " says Ryan Lambert, whose Cajun Fishing Adventures lodge was one the biggest in the state.
Lambert says his business is down more than 50 percent since the oil spill, and he doesn't know when it will come back. The speckled trout season this year is the worst he can remember. And Lambert says he's still fighting BP in court for the money the company owes him.  "All we can do is survive and hope it gets better next year."
But his commercial fishing neighbor Kindra Arnesen isn't waiting any longer. She and her husband David are planning to pack up and leave the bayou community they love and take their two children to North Carolina. She says her family still suffers respiratory and other health problems they blame on the oil. Shrimpers are having a terrible season and her husband is catching predator fish like mackerel and snapper offshore that appear to be starving---there's no bait fish in their bellies as usual, she says.
"I can't stay here and watch this place be destroyed. It kills me to watch people suffer around here, but if we stay it will kill us too. I used to think we lived in the greatest place in the world, but we've become  an oppressed population. The politicians have turned their backs on us and are turning everything into an oil state."
But moving is not an option for people like PJ Hahn, whose boss Parish President Billy Nungesser is now running for Lt. Governor. "We're going to fight it, there's no way this thing is over," he says. "I can take you anytime out in the boat and we can still find oil. It didn't just go up in the sky and disappear."
And there's evidence the oil's toxicity remains. A new report from Auburn University found the oil that remains underwater and in the sediment is nearly as toxic as it was a year ago. Meanwhile, others report oily tar balls the size of watermelons continue to wash in on gulf island shores.
So down in the bayou, the status quo endures. Oil continues to threaten one of America's great natural treasures, a fertile wetland that is both the breadbasket and nursery of the Gulf. While the cumulative impacts of the oil on the environment are unknown, many fear it will destroy their Cajun paradise long before it sinks below the rising tide.