The Power of Our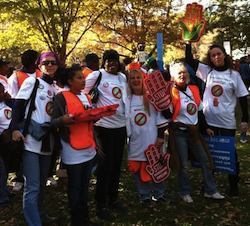 Tecumseh, the great Shawnee leader, once said, "Let us form one body, one heart, and defend to the last warrior our country, our homes, our liberty, and the graves of our fathers."
I believe in these words, during the dark times in which we live. It seems more than coincidence that so many people have been drawn together to stand against the tyranny now provoking our people in so many forms, across the nation and globe.
Last week I saw people of all ages, races, creeds, understandings, lifestyles, geographies, come together at our nation's capital in response to a very bad idea - the proposed Canada to Texas, Keystone XL pipeline. Estimates put the count at between 10,000 and 13,000 people in attendance. It has been said to have been the largest environmental protest since the 1960s.
Fifty-six coastal citizens were there as well, they came for every Gulf state, and met with the type of camaraderie you can only find on a field of battle (see picture). Together, along with the thousands more, they looped around the White House in a human chain that was in some places five people thick.
It was amazing.
I will forever remember the people's faces, smiling, dancing, singing, hugging, laughing, being, doing - making history. Making energy. Making a new life. Making a powerful voice for future generations.
And to some degree we won. It was released yesterday that the pipeline will be put on hold for a year, while the administration reviews the plan - until after re-elections.
Being from the South, we know that we have to take advantage of every available opportunity. That Southern resiliency comes less from resources, but from resourcefulness, after all. And so it was that the following day, we marched ourselves up to the front door of Kenneth Feinberg's law offices in D.C. and reminded him of our aggravation with his lying a** (excuse me, but I have no softer words for that guy).
And though we were less than 1 percent population of the day before, we brought them all with us in our heart and voice. It was through a unified revelry that we lay out our chief complaints. It was through a powerful delivery that we demanded justice for the Coast.
And it must be so - a demand, not a request. You cannot respect a man who is on his knees. Let the Keystone protest be a testimony to that. It is not about asking, it is about reminding. Reminding the powers that be, the power that is "our."
Our power lies in each other. That loop around the White House, that sidewalk in front of Feinberg, those tents at every Occupy, they are nothing more than tools - no more important than the hammer to the nail.
The real power of these times come from our faith in each other. It's indomitable; and more so, ruthless in it's simplistic and inclusive notion that, if we are committed, we can love each other enough to join together and reclaim our destiny.
Clean air and water are a right to all of humanity, love is its obligation.
Our power lies in that love, it is our armor and our sword.
So one fight has been delayed, and that is good.
However, upon returning home, we learned that the Coast Guard and BP has decided, through an obvious act of intentional ignorance, that 90 percent of the oil is gone and clean up operations can now be allowed to end. Call it "trickle down responsibility". They made the mess but the brunt of the burden falls at the feet of the people who live here.
Make no doubtful thought, if we are not careful, not vigilant, not triumphant in our fight for protection of the Gulf, our children will be the lambs of this.
These next few weeks will be pivotal.
Please continue your support of those on the coast and beyond. There will be a strategic advance on the state and federal levels shortly, we will need all "warriors," in paint. For today, I ask that you join us in celebrating in our victories, steady yourself for the next round, pray often, reconnect with each other - and know, above all else, that you are loved.
Peace be with you.
************
Cherri Foytlin is an oil worker's wife, mother of six, Louisiana resident and journalist whose family has been deeply impacted by the BP Oil Disaster and consequential moratorium on deep water drilling. She co-founded Gulf Change, blogs for www.BridgeTheGulfProject.org, and walked to Washington D.C. from New Orleans (1,243 miles) to call for action to stop the BP oil disaster.  She has been a constant voice, speaking out to the Obama Administration's Gulf Oil Spill Commission, and in countless forms of media.  Cherri will continue her fight for the industries, people, culture and wildlife of south Louisiana and the Gulf Coast "until we are made whole again."