Remembering Christopher LaForce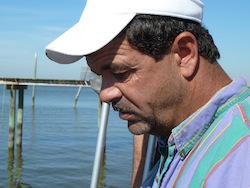 We are deeply saddened to report that Christopher LaForce, a commercial fisherman from Bayou La Batre, Alabama and friend of Bridge The Gulf, passed away last week on his shrimp boat.  He was 44 years old.
Christopher was a passionate, outspoken advocate for commercial fishermen, especially in the wake of the BP disaster.  "I wasn't raised to bite my tongue," he said last Fall, "This is our life."
Every time he spoke, you could hear in his voice how personal the struggles of commercial fishermen on the Gulf Coast were for him.  For generations before him, his family lived and fished on the Alabama Gulf Coast.  And in his lifetime Christopher LaForce had seen a number of threats to his home and livelihood – Hurricanes, sinking seafood prices, local corruption, and the BP disaster.  Often, his outrage, sorrow, and fierce love for his community and way of life shone through him.
In July, Christopher helped lead a rally of commercial fishermen in Bayou La Batre, calling attention to how money was being spent in the BP clean-up operation.  Along with other fishermen and local advocates, Christopher questioned why so few local commercial fishermen were getting clean-up jobs. "Was it coincidence?," he asked, that a company where the Mayor's brother worked walked away a hefty clean-up contract?
At Bridge The Gulf, we've only known Christopher for about a year.  In that time, while many hesitated to speak to the press or publicly take on BP and elected officials, Christopher seldom faltered.  At the heart of his advocacy, was his love and loyalty for his fellow commercial fishermen.  "When I speak, my main concern is speaking for the fishermen," he said.
Christopher wanted to create a "backbone for the fishermen," by forming a Fishermen's Co-op.  After Hurricane Katrina, he explained, "millions of dollars was given to individuals, instead of broken down to help the fishermen.  The fisherman's the one going out doing the work, the labor, and making the least amount of money… The bottom line of forming a co-op would be sticking together."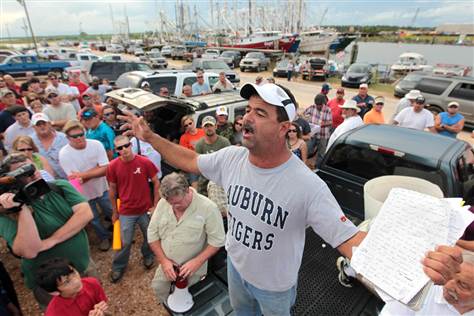 At our core, Bridge The Gulf Project is about people and stories, and lifting up those people and stories at the front lines of environmental and social justice issues on the Gulf Coast.  Often it takes tremendous courage and sacrifice and devotion for those on the front lines to speak out, to advocate, and to organize. But without the voices and leadership of these so-called "accidental activists" – people thrust, without their choosing, into a fight for their communities and future – media, journalists, and non-profit organizations have little to stand on.  Without truth speakers like Christopher LaForce, the stories told by corporations and politicians and other "powers that be" would be the only ones we heard. 
For all this, and for his warmth and smile and heart, we remember Christopher fondly.  We send our love and condolences to his wife, children, family, friends, and the community he leaves behind in coastal Alabama.
Please share remembrances of Christopher and messages for his family below.
Top photo by Ada McMahon, Bridge The Gulf.  Bottom photo Dave Martin, AP File.
Related article: Fishermen document green, brown sludge; BP says it's algae