Share your personal experience with an environmental justice issue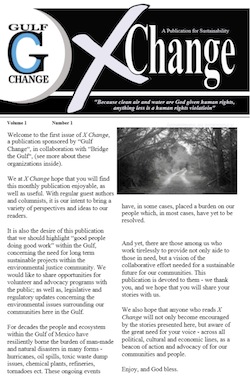 Last month, Bridge the Gulf and Gulf Change partnered to create the first edition of X-Change, a Gulf Coast-based newsletter focused on environmental justice.  X-Change features  "good people doing good work", including personal stories by Gulf Coast community members who are facing environmental justices issues, and updates on the work of local organizations working for sustainable, thriving communities.
We are preparing our second issue, and need your help!
If you have a story to share about how you and your community are being impacted by industry, pollution, and/or changes to the environment, please send it to Cherri Foytlin at: gulfchange@gmail.com OR foytlinfam@cox.net.  The deadline for submissions is September 21, 2011.
If you would like to receive copies of X-Change to distribute in your community, please contact Cherri at the email address above. 

Cherri Foytlin, co-founder of Gulf Change and contributor to Bridge The Gulf, explains why she launched the X-Change newsletter:
"For decades the people and ecosystem within the Gulf of Mexico have resiliently borne the burden of man-made and natural disasters in many forms - hurricanes, oil spills, toxic waste dump issues, chemical plants, refineries, tornadoes etc. These ongoing events have, in most cases, placed a burden on our people and communities which have yet to be resolved.
 
And yet, there are those among us who work tirelessly to provide not only aide to those in need, but a vision of the collaborative effort needed for a sustainable future for our communities. This publication is devoted to them."

Join the X-Change newsletter on Facebook.