Still in Houston: Interviews with displaced residents, five years after Katrina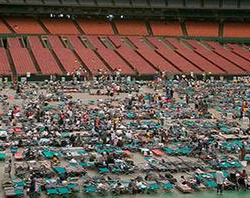 I recently had the opportunity to speak with several neighboring friends and associates that are from New Orleans, but now living in Houston.  Two I met, and they became a part of my life, while I was residing in Houston after Hurricane Katrina.  I wanted to know, more than five years after leaving New Orleans, why were they still in Houston?  Did they consider themselves displaced?  What did they think about New Orleans and returning home?
These are stories of potential homeless persons, people that are displaced and not able to return home to New Orleans.
Photo from FEMA: Displaced residents were housed in the Houston Astrodome following Hurricane Katrina.
Carol Thomas, 58
 
I called out to Evangelist Carol Thomas, a 58-year-old disabled woman (she is blind). Evangelist Carol is a lifetime New Orleanian and she said, "I was in New Orleans during Hurricane Bessie and who would have thought people would have survived it?  But we did, thank God. But Jeffers it was not a KATRINA!" 

Q: Do you want, after these 5 years and 7 months, to come back to New Orleans?
A: Sister Jeffers, if I had come back to New Orleans I would have been Homeless, living on the streets. I cannot afford the cost of living in New Orleans and people I know have come back without any disabilities and found themselves homeless.  They had to return to Houston to be able to not live on the streets or with somebody.  I thank God for Houston and their hospitality and my Church, New Home Ministries, and Pastor Blake.
[She went on to say that New Orleans is not being structured to bring people who have lived there all their lives back.]
I need transportation to get around and Metro here is fantastic.  New Orleans cannot assist me with that.  I have a housing voucher here and it serves me well.  In New Orleans people have the same and still cannot make it.  Sister Jeffers, I am grateful to be here and have housing, etc.
 
Q: Do you still feel displaced?
A: Yes, but I got Metro and I can afford to live where I am and I don't have to worry about nobody putting me out. I have met other people, but Jeffers, it ain't New Orleans and New Orleans will never be the same until it is environmentally cleaned.
Geneva Halley, 53
 
Geneva Halley has three children, and her youngest will make 18 on Saturday.  Geneva works part-time in order to care for her daughter "in a foreign land," as she describes it.  Geneva is from New Orleans and resided in the Lower Ninth Ward most of her life.
Q: What would your status be if you were in New Orleans?
A: I would be homeless. The cost of living is too much, first, and I would not have a job. I work a part-time job now, but I am able to take care of myself and my baby. I miss New Orleans and I miss my friends, just people and the environment.  But I know if I were in New Orleans, me and my child would be on the streets or living with someone. 
I know of so many who lived in the complex with me– particularly a couple that was disabled– They went back about four years ago and they became homeless.  They are just getting a place to live the 1st of this year. I have been scared to come back because so many return and become homeless. 
There are so many failure stories.

I had a good job before Katrina. I worked, took care of my children.  I lived well. 

The education system [in Houston] has been great and good for my child.  She was able to become a page for the U.S. Congress and received so many awards of recognition, and traveled.  If I had come back I would have deprived my child of this type of exposure because New Orleans would not have been able to offer this to Taletha. 
Q: Do you still feel displaced?
A:  Yes. With all that I have said about Houston, I still feel displaced.  But what can I do about it? If I left Houston I would be homeless. No job, no home.
I am just not strong enough to come back. I needed mental counseling but I would not get it because of the fear they would take my child from me. So I have just been doing what everybody needs to do, taking it to God in prayer.

I tell people daily, I don't care how strong you think you are, don't go back to New Orleans. It will break you down. I have seen some of the best that this has happened to. To become homeless is a greater devastation than Katrina, Rita, Gustav, and Ike.
Ms. Willie Belle Trimont, 87
I spoke with an elderly lady with much wisdom, Ms. Willie Belle Trimont; "Mother," I call her.  She is 87 years of age and will make 88 on May 23rd. Mother was a homeowner in the Lower Ninth Ward on Benton Street. Mother has one of her sons living with her and three grandchildren, one of whom is artistic and just made 25.
Q: Do you miss New Orleans? 
A: Yes I miss New Orleans and want to come back.  The Road Home program [set up after Katrina to help Louisiana home-owners rebuild] gave me too little to rebuild or purchase another home. 

I am too old to be buying another home and having to have notes every month.
How would I be able to care for the little ones and get them proper schooling?  And how would I have been able to care for the oldest, who needs special attention in New Orleans?
Q: Mother, what keeps you from going back to New Orleans? 
A: [Pause...]  I am not back because I have prayed and looked at the situation and truly God would not let me and my family come back and be like so many more people I know, who have not been able to make it and become homeless with no job and no help. 
Baby, I love New Orleans.  That is where I was all my life.  I miss my friends who have returned and the awesome support system we had.  We had one another.
Listen baby, Road Home is a joke driving people to be homeless in their homes.  They buy your house, give you almost nothing, and then want you to pay them the money back.
What is really going on?  

I am appealing to Road Home to extend my date from the 9th of April to a later date to be able to try and reconcile my situation.  I got a letter and I called but did not know how to repond to the prompts on the phone.  I thank God for Senator Willard-Lewis, getting me someone to help me directly at my age.  Now I have been able to get an extension to continue my appeal for assistance.  
All my trust is in God. "I look to the hills, from whence come my help.  All my help comes from the Lord." Psalm 121.  No recession for me. God said, "I am your Creator this is the Day the Lord has made."  I will rejoice in Thee. 


Q: Do you still feel displaced?
A: Yes, but God keeps me going. 
It was not until Ike, when there was no electricity, that people here in Houston understood being outside grilling, having conversations, just sharing and caring for one another. After Ike, 13 days without lights, everybody was outside.  All you could see was smoke.  They finally got the jist of our culture.  They even did a little second line 'cause it bought Joy.
Related posts:
----------
Linda Jeffers is a community educator and organizer in New Orleans, Louisiana. She has been organizing for thirty one years, and lived in New Orleans since 1970.  During Hurricane Katrina, she became a voice and organizer of evacuees in the Astrodome and throughout Houston, Texas.  She has worked on issues such as hurricane recovery, homelessness, and the BP oil disaster.  Linda bridges communities with churches, and helps to develop policy at a local, state, and federal level.  She also gathers stories and testimonies from the people, for the people, documenting lives on the Gulf Coast.