Today, youth across the U.S. take action to make BP pay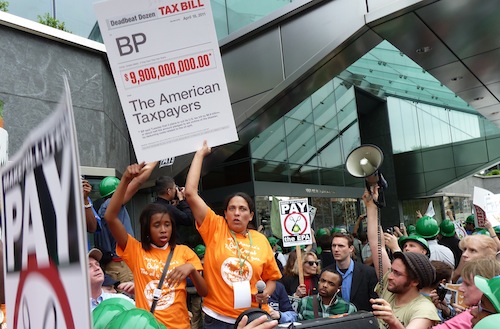 Today, I return to the Gulf Coast after my 1,243 mile walk to Washington.  I walked to call for action from President Obama and Congress to end the BP disaster.  And at the end of my walk, I met 10,000 energized, fired up youth who are organizing for a clean energy future, at the Power Shift 2011 youth climate summit. 
On Monday at Power Shift, I was one of 5,000 people who rallied in front of BP's lobbying headquarters in D.C., and demanded that BP stop lying, stop dodging taxes, and pay what they owe to clean up and restore the Gulf Coast.  With the help of over 100 Gulf Coast residents, I delivered a bill for nearly $10 billion to BP.  That's the amount they are trying to dodge in taxes this year, by writing off the costs of their own disaster.
Today also marks the day the BP oil disaster began, one year ago. Oil continues to show up on our shores, families are still out of work, wildlife is still washing up dead, and we are facing a growing health crisis.  Young people across the country who were moved by the Gulf Coast's message at Power Shift 2011 are continuing to hammer home our message:  Make BP pay. Clean-up and restore Gulf Coast ecosystems, communities, and health.
Please join them and spread this action nationwide with flashmobs today at BP stations across the country — just like the one that took over a Washington, D.C. BP station this Sunday.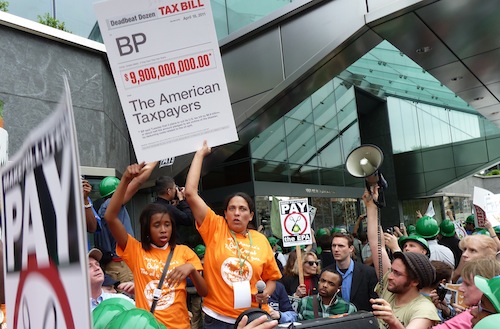 Cherri Foytlin and thousands of youth rallied in front of BP's lobbying headquarters in D.C. on tax day, Monday, April 18th. The bill for $9.9 billion is the amount BP is passing off on American taxpayers for their oil disaster in the Gulf of Mexico.  Photo by Ada McMahon, Bridge The Gulf.
If you believe people deserve clean air and clean water as a human right, stand with me. If you think it is time to rein in big corporations that pollute our communities and endanger our health, stand with me. If you think our energy providers deserve to be safe on the job, stand with me. If you where moved by images you saw of struggling fishermen, dead dolphins, or oiled marshes when the BP disaster began, stand with me. Take action, because believe me, the BP disaster is still going on today.
I, and the whole Gulf Coast, need your help to make BP pay — join me and Power Shifters nationwide by hosting a flash-mob at a BP station near you.
Sign up to rally at a BP station today — click here!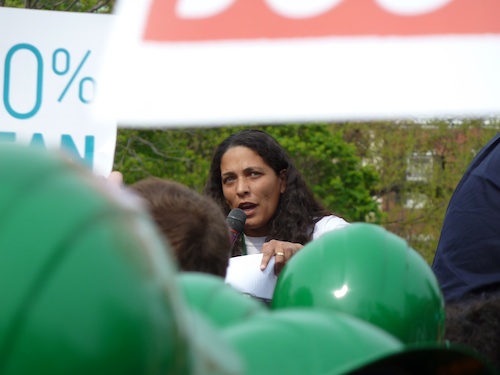 Cherri Foytlin told thousands of youth in Washington, D.C., "You've given people on the Gulf Coast hope, for the first time in a year."  Monday, April 18th, Lafayette Park.  Photo by Ada McMahon, Bridge The Gulf.
What makes April 20th, a day when 11 men lost their lives one year ago, all the more difficult is that BP isn't paying for what they did. In fact, they dodged $10 billion in taxes this year. BP's brazen disregard is stunning — but not surprising.
But while they've got money, we've got people on our side — and flashmobs are a great way to turn them out. Flash-mobs are a fun and easy way to take action, and they are sure way to demand attention and action. Power Shift 2011 has lots of resources on their site, and it is easy to organize an action in just a few hours.
Check out the flash-mob toolkit and register an action now!
My walk to Washington and the Power Shift conference may be over, but the action that they inspired across the country is just getting started. Together, our movement can be strong enough to topple the deadly influence that big polluters have in Washington, and across the nation. With your help, we can restore the Gulf Coast and hold BP accountable. Let's not waste any time — see you in the streets.
************
Cherri Foytlin is an oil worker's wife, mother of six, Louisiana resident and journalist whose family has been deeply impacted by the BP Oil Disaster and consequential moratorium on deep water drilling. She co-founded Gulf Change, blogs for www.BridgeTheGulfProject.org, and walked to Washington D.C. from New Orleans (1,243 miles) to call for action to stop the BP oil disaster.  She has been a constant voice, speaking out to the Obama Administration's Gulf Oil Spill Commission, and in countless forms of media.  Cherri will continue her fight for the industries, people, culture and wildlife of south Louisiana and the Gulf Coast "until we are made whole again".