TOP 5 VIDEOS: Gulf Coast communities take on Washington, BP at Power Shift 2011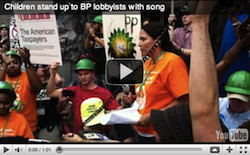 Last weekend in Washington, D.C., more than 100 Gulf Coast residents called for action from President Obama and Congress to make BP pay for its ongoing disaster, and to clean up and restore the Gulf Coast.  The contingent was part of Power Shift 2011, a youth climate summit and organizing training, nearly 10,000 people strong.  Watch the top five videos from the historic summit, as children, students, workers, advocates, and whistleblowers challenged big polluters and took a stand for America's Gulf Coast.
1. Children stand up to BP with a song
"I open my mouth to BP, and I won't turn back," sang three girls from Biloxi, Mississippi, in front of the BP lobbying headquarters in Washington, D.C.


On Tax Day (Monday, April 18th), thousands of youth marched on BP's offices in Washington, and demanded they pay the $9.9 Billion in taxes they are dodging by writing off loses from their own oil disaster.

  The girls are from the group Coastal Women for Change.
2. Hundreds of youth shut down BP station
Tulane University student Stephanie Stefanski explains why hundreds of youth shut down a BP station on Sunday, April 17th, and why she drove 20 hours from Louisiana to Power Shift:
"There's still oil on our coast. I saw it two weeks ago, I touched it, I smelled it. It's still causing massive die offs with dolphins, sea turtles, crustaceans and fish. It's causing public health issues. I'm here to tell everyone this problem is still here one year later... They're not paying up for their damages."

Via Wonkroom
3. Cherri Foytlin rallies crowd of thousands outside White House
The mother of six and wife of an oil worker walked all the way to D.C. from New Orleans to raise awareness about the ongoing BP disaster.  She told thousands of fired-up youth in Lafayette Park: "[We] have to have a future where greed is not the name of the day, where humanity comes first."
4. Clean-up worker Andre Gaines exposes BP health crisis, contractor corruption
"They told us… we don't need respirators… But I'm living proof.  I have watched people falling over, holding their chest, [they] cannot breathe from this stuff… This stuff is killing people."  Andre Gaines, 27, was one of six clean-up workers from Mississippi who spoke out about widespread illnesses, corruption, and negligent safety practices associated with the disaster clean-up.
5. Environmental Justice leader Michele Roberts tells 10,000 youth: "Stand for the least of these."
Michele Roberts of Advocates for Environmental Human Rights talked about legacy pollution issues persisting in Mossville, Louisiana, and in communities of color and poor communities across the country:
"Did you ever think about the many people who are living in harm's way from legacy pollution?  They tell me 9 out of 10 African American communities alone in America live in polluted lands.  I'm from one of them."
Related Posts: