Forgotten Tribe on Grand Bayou LA Slammed by Isaac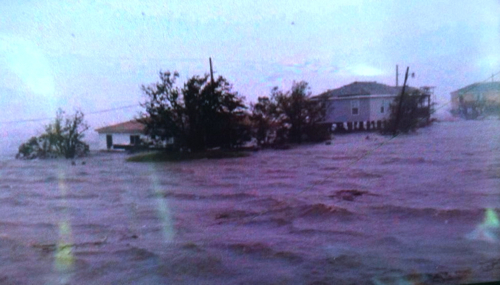 Ruby Ancar's home (left) during Hurricane Isaac (Credit: Rosina Philippe)
Editor's Note:  For more Bridge the Gulf coverage of Rosina Phillippe and the struggles of the Atakapa-Ishak Tribe, please read In the Gulf, a Native Community Fights the Oil Disaster, by Rocky Kistner and watch our video profile of Rosina on Featured Stories.
By Georgianne Nienabber, crossposted from the Huffington Post - "Nature, you can't control. You can't control a hurricane you can't control a tornado. But when you have things that are man made: that destroys a person's life or an entire village or an entire community, I mean, that's uncalled for."
Ruby Ancar of the Atakapa-Ishak Tribe on Grand Bayou, Louisiana was conducting an interview with National Geographic in the aftermath of the British Petroleum oil disaster. It was the summer of 2010. Yesterday, she lost her home to the storm surge of Hurricane Isaac seven years to the day after losing all to Hurricane Katrina. It is all "uncalled for."
Grand Bayou is located in lower Plaquemines Parish, and is home to a small population of indigenous shrimp fishermen and women who have survived 15,000 years in the marshlands. The 300 remaining Atakapa have faced numerous hurricanes and the ravages of the BP oil spill; enduring all with dignity and tenacity. Isaac is the latest blow to a community that is spiritually tied to the land -- a community where sense of self and sense of place are irrevocably bound. It is also a place that is difficult to find on any map, accessible only by boat, and often omitted from the narratives of natural and manmade disasters in southern Louisiana.
Lorna Bourg, President and CEO of the Southern Mutual Help Association (SMHA), issued a statement on the losses in Grand Bayou, and called Ruby Ancar "an American hero." Founded in 1969, SMHA works with distressed rural, agricultural, and fishing communities in south Louisiana.
"As one of the few remaining Atakapa Native Americans whose ancestral burial grounds in the marshland go back thousands of years, Ruby had the courage to be the first to return to her village destroyed by hurricane Katrina. Unsure if the others could or would follow, Ruby was determined the Atakapa would return to Grand Bayou," Bourg said.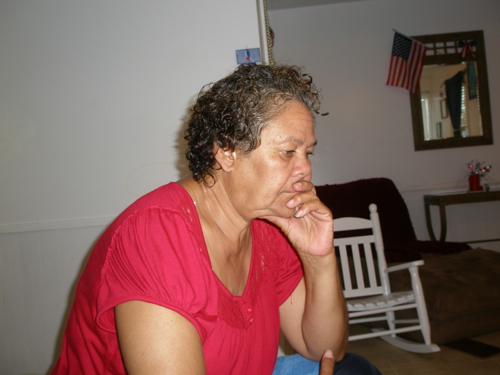 Ruby Ancar (Credit: SMHA)
After Katrina, the Mennonite Disaster Service saved the skeleton of Ancar's home but was unable to elevate the structure onto pilings. During the construction process all building materials had to be transported by boat or barge. Ruby's courage, determination and leadership led to 12 families returning from the Katrina-imposed diaspora.
All the other homes were built from scratch with pilings sunk 35 feet deep and rising 16 feet high. "They are still standing tonight, above water," Bourg wrote in an email. "But Ruby's home on her homeland is destroyed tonight."
This writer feels especially saddened and connected to this loss, having spent time with Ruby Ancar's cousin, Rosina Philippe in the immediate aftermath of the BP disaster. Philippe agreed to meet me on the 53rd day of the oil catastrophe that was spewing 100,000 barrels of oil per day from the fractured Macondo wellhead 48 miles offshore. Philippe showed me a jar of sticky crude she had retrieved from the nearby waters of Jimmy Bay. On that sunny summer day in 2010, Katrina's devastation was still very much in evidence as the Atakapa faced the frightening man-made threat of oil and ruination of their ancestral fishing grounds.
So, when the emails and texts came in tonight, it was shocking to see the new destruction caused by Isaac's 80-mile-per-hour winds and storm surge as it did its slow dance along the Louisiana coastline. Ruby's daughter, Gabby, texted me from the road on Interstate 12. She was fleeing north to Tennessee with her newborn baby and other members of the family and relating the story of what was happening on Grand Bayou to her mother's home. When we lost the cell signal, her last message was, "We made it to Highway 59."
There are about 25 Atakapa-Ishak families in Grand Bayou, and as the community continuously struggles to rebuild, it has received little help. "While the government response in New Orleans has been poor at best, areas like Lower Plaquemines Parish have been left completely off the map," Bourg says.
It remains to be seen what will happen in the aftermath of Isaac, but the all-but-forgotten people of Grand Bayou deserve to be noticed as southern Louisiana faces another great challenge. You may not notice the tiny sign on Highway 23 that directs the traveler to a shell road hidden behind a green curtain of sugar cane and the boat landing which is the only access to the waterways of the village. But, if you ever go there and talk with the people, you will learn something about life, tenacity, independence, and what it means to cherish the sacred.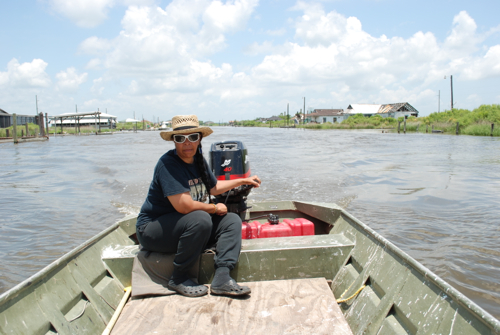 June 2010 on Grand Bayou with Rosina Philippe (Credit: G. Nienaber)
I look at the photos of the flooded village taken today by Rosina Philippe and remember the time I spent with her on day 53 of the BP disaster.
Bourg told me that she is very worried about the oil that was driven to the bottom of the Gulf by the dispersants. So far there is no sign of oil, but if it does surface, it will be another body blow to the Atakapa-Ishak. Frustrated, I went back through old notes tonight and found Rosina Philippe's words -- words that offer hope to her cousin, Ruby Ancar, and everyone experiencing this latest tragedy in south Louisiana:
I get up early in the morning just so I can see the sunrise, and I look out at the marshlands and the bayou waters. Being here, you know, is beyond the physical. It is metaphysical. It is spiritual, and all of that it is a part of your being. Here is a spirit; a spirit of life, a spirit of longevity that even though it is threatened constantly by outside forces, remains alive.