Laying My Childhood Home to Rest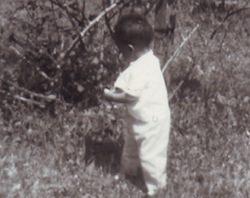 January 24, 2012 – It is 12:06 am and I have just turned 45 years old on the front porch of my grandparents' home on Rippy Road. I am sitting alone on the smooth concrete slab where my cousin Carmel n'em played "jacks" for hours on end when I was two and three years old. The steps, hedges, and onetime flowerbed where I used to sneak away to catch and play with roly-polies (potato bugs) are directly at my back. Yet further behind me are the old metal gate posts and hinges through which the mail, fresh okra, greens, and watermelons once made frequent entries – just like the many highly anticipated and spellbinding "relatives" who passed through them upon arriving from faraway worlds with fascinating names like Munich, Oklahoma, Los Angeles, Jackson and D.C.
To my left is where a mustard-colored metal "glider" once swayed its seated riders gently forward and back, and on my right is where a white-washed wooden porch swing suspended from above offered an even bigger thrill for the young – be it from swinging dangerously over the porch's edge and above a flower bed trimmed with white-washed stones, or from simply sitting in a loved one's lap and eating ice cream, freezer pops, or watermelon with salt. The absolute best was whenever the incomparable Mama Gladys (reverently called M'Mama by most of the big people in my toddler universe of house, porch and yard) was the one guiding the swing's tempo, conversation, and general atmosphere. No place or experience on Earth has ever made me feel more happy or loved than riding in her arms on that swing near the edge of this porch.
Right below and in front of me as I type these thoughts on a cold but clear winter night is the place where kittens, puppies, lizards, and lost balls used to disappear from my sight; a once mysterious void known quite curiously as up under the house. The presently empty air space above this now bare and dusty ground is what used to be a family living room; a pine oil and lemon scented, sun-lit space with lace curtains, paneled walls, polished end tables, and other store-bought furniture adorned with pillows, cushions, "doilies" and framed photographs of graduates, newlyweds, and children whom I am sure I can sketch from memory.
About 30 minutes ago, this room as well as all the others ceased forever to exist for any purpose, including M'Daddy's room, M'Mama's room, and my lifelong favorite room anywhere – one where The Lord's Prayer, 23rd Psalm, nightly Scripture readings, Methodist hymns, "Grace" before meals, "Happy Birthday to You", and "Westminster Chime" (from a hand-wound German mantle clock) were intoned with sanctity, regularity and an insurmountable peacefulness. With the last rotten pieces of pine flooring, floor joists, and wall members ripped out and tossed into stacks that have been growing in the yard all evening, the few small scraps remaining below my feet have been raked into a pile and set on fire approximately where a couch used to sit for watching "the stories", Gilligan's Island, and the Watergate Hearings on TV.
Just now, when the midnight hour and the 45th anniversary of my life arrived in unison, I gazed into the flickering fire and sang the four short bars of the long gone mantle clock's once familiar chime:
Lord through this hour,
Be Thou our guide
So by Thy power
No foot shall slide
For more than four decades, I have cherished and sought to honor the pure and simple sanctity of many vivid memories lived between this porch, house, and yard, and I will always be grateful that they – and not something or someplace else – started me on becoming who and what I am. I have certainly been hurt as well as nurtured, angered as well as gladdened, and inspired as well as repulsed by various chapters and events in my lifelong connection to this place, but tonight more than ever I feel almost certain that no other place or story could have taught me so well that God uses all – Good, Bad, Ugly, and Indifferent – to accomplish what He alone knows to be His righteous ends. Knowing for sure just who they are or what these might be is neither certain to me nor my place to ponder or say. They are His alone.
So good night and farewell to the man-made, earthly home that dozens of hearts and souls have shared for better and worse over the past 75 years. The physical structure, symbol and legacy erected in 1937 by Thomas Benton Evans, Jr. for his young wife and future progeny have come to an end, and the Sun will rise in a few more hours. I am sorrowful, but I am thankful.
Derrick Christopher Evans
Turkey Creek, Mississippi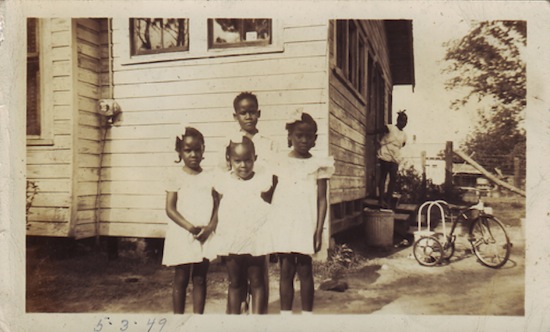 My aunts and uncle in 1949 outside the home built by their father, Thomas Benton Evans, Jr.  The house was constructed in 1937 in Turkey Creek, a community settled by Freedmen on Mississippi's Gulf Coast.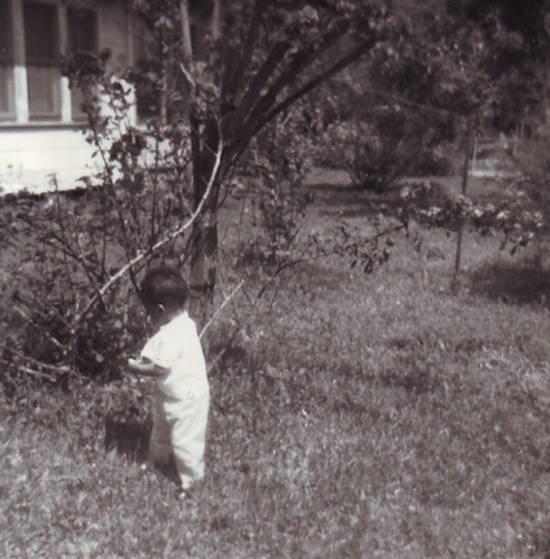 This photo from the late 1960s shows me exploring outside my grandfather's house.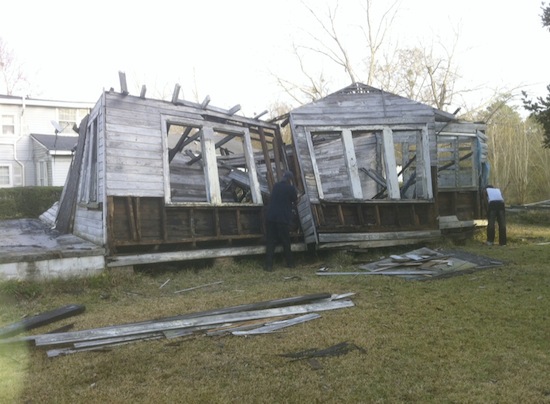 Thomas Benton Evans, Jr.'s home shortly before it was demolished in January 2012.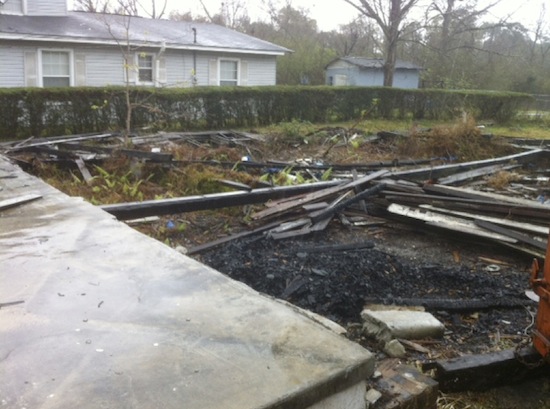 The remains of the house.

Derrick Christopher Evans is the director of Turkey Creek Community Initiatives and an advisor to the Gulf Coast Fund for Community Renewal and Ecological Health. Since 2001 he has worked to help protect and revitalize his coastal Mississippi community and sister communities throughout the region. Prior to that he taught civil rights history at Boston College and social studies in the Boston Public Schools.