Medical Benefits Settlement Agreement Summary - Part 2, Gulf Coast Regional Health Outreach Program
March 30, 2012 - The Gulf Coast Regional Health Outreach Program will be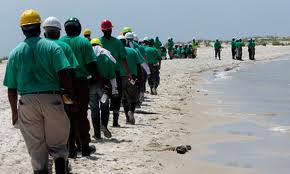 funded through a $105 million grant awarded by BP, "to promote physical, mental and behavioral health of the Gulf region," over a period of 5 years.
The program will surround 5 key projects: the Integrated Primary Care Capacity Project, Mental and Behavioral Capacity Project, Community Health Workers' Training Project, Environmental Health and Capacity Project and Library and Administration.
As in Part 1 of this article, found here http://bridgethegulfproject.org/node/594, we will look at each element individually, with an assessment after:
The Integrated Primary Care Capacity Project is meant to "expand access to integrated high quality, sustainable, community based primary care" and to, "link to specialty mental and behavioral health, environment and occupational health services," according to an overview provided by the Public Steering Committee.
The project will be administered by the Louisiana Public Health Institute, which is a nonprofit organization whose mission is to "improve population-level health outcomes.. through diverse public-private partnerships with government, foundations, academia, community groups and private businesses at the community, parish and state levels," according to the website.
Fifty million dollars has been budgeted for the implementation of this project, which will affect the communities of: Mobile and Baldwin counties in Alabama; Escambia, Santa Rosa, Walton, Okaloosa, Bay counties in Florida; Hancock, Harrison and Jackson counties in Mississippi; and Orleans, Jefferson, St. Bernard, Plaquemines, LaFourche, Terrebone and Cameron parishes in Louisiana.
Assessment:
There is no way that this program will be expansive enough to address the continuing health crisis in coastal communities. A geographic area this small is no more than a band-aid attempt to fix a structural hemorrhage that goes far past the estimated 150,000 people who are now suffering from toxic exposure due to the catastrophe.
In addition, the amount of funds and time restrictions on the program seem inadequate in addressing the potential health effects in the many years to come.
Due to the lack of locally based care to many within the above areas, mobile health clinics who are equipped to specifically test for toxic exposure, and provide resources and referrals are recommended.
Other specific solutions requested by community leaders include:
A Telemedicine system strategy implemented immediately to educate area physicians concerning toxic exposure in their patients.
The immediate introduction of qualified physicians/specialists to work with local physicians concerning treatment.
An investment in the already functioning projects implemented by community leaders, such as the Gulf Coast Detox Center, which have shown positive results in addressing the health of coastal citizens suffering from toxic exposure.
Urgent care mental health should be housed in this category (see below) to lessen the stigma of mental health among community members.
The Mental and Behavioral Capacity Project will be funded through a $36 million budget with a goal of providing, "mental and behavioral health treatment as a result of the oil spill; and longer term support services to improve overall well-being of individuals, families and communities impacted."
The project will will be administered by:
Professors Howard and Joy Ososfsky of LSU
Professor Tim Rehner of the University of Southern MS
Professor Jennifer Langinrichsen-Rohling of the University of South Alabama
Professor Glan Rohrer of the University of West Florida
Assessment:
Why is there a separation of the mental and behavioral health capacity project when urgent care could be provided within the Integrated Primary Care Project? Especially when taking into account that toxic exposure has neurological affects which manifest similar symptoms to mental health issues.
Reading through the list of administrators oversight for the entire 4 state project falls to 2 social workers, 1 psychiatrist and one clinical psychologist?
While we realize the mental health and behavioral capacity is a concern, we do not believe it has the immediacy to be worth $36 million – a reallocation of funds is requested, (see below) dropping the project budget to $8 million.
The Community Health Workers' Training Project "will create a peer listening program; train 40 health workers throughout the Gulf Coast; and assist Community Health Workers in the home communities find appropriate health resources."
The project will be administered by Professor Steven Picou from the University of South Alabama, and will be funded with a budget of $4 million.
Assessment:
This sounds redundant to the Integrated Primary Care Project regarding the community health workers training.
At any rate, community leaders recommend that the 40 people trained should be deeply rooted with in the local community, faith based and non-profit health organizations.
The Environmental Health Capacity Project, will "strengthen resilience of GC communities; improve environmental medicine specialty care capacity; educate local health professionals; train and integrate local health care workers; and fund an emerging scholars program."
No assignment of budget was listed for this project.
Assessment:
By the time these specialists are trained, it will be around 10 years from now – as a local organizers states, "by the time NIEHS has figured out through their study, what is was that killed us; we will have doctors available to treat us."
Environmental health specialists are needed on the ground immediately.
In addition, community leaders recommend building a long term infrastructure through investment in these specialty fields in all levels of healthcare – past a 5 year mandated program. Also asking that an additional $25 million for this initiative be reallocated from the Mental and Behavioral Health Capacity project to this end.
The Library and Administration project portion of the settlement will "create and maintain an electronic, publicly-available, library for 21 years; including studies, reports, and other materials about health risk associated with oil exposure, chemical dispersants and other hydrocarbons released as a result of the oil spill and/or used in the response activities," with no assignment of budget amount yet revealed.
Assessement:
Where will this e-library preside?
Who will maintain this information?
Why 21 years? What happens after?
This project seems sort of vague, further information would be needed to provide a complete assessment, but community leaders initially recommend open public access to statistics and outcomes, and an immediate public release of all proprietary and non-proprietary chemicals used in the spill response.
Summary:
The questions arise as to who was it was that made the above assignments of tasks and money allocations? And was there any sort of out reach into the affected communities with regard to their assessment of needs?
With the above questions yet unanswered, it is obvious to those on the ground level that across the board $105 million is nowhere near enough funds needed to address the issues of health stemming from this disaster.
One must wonder if this proposal is not a mere appeasement by the "powers that be" toward those now ill and the underfunded, overly burdened, community organizations whose feet have been on the ground far longer than April 20, 2010.
Yet, while working within the confines of this allocated budget and restrictions, a collaboration of grass roots community leaders have generally recommended a drastic redistribution of resources, an expansion of community services geographically (not limited to the 17 counties or parishes at present) and the implementation of a regional community based advisory panel to provide oversight and to provide further recommendations, concerning the implementation of the program.
In other words, "we want a seat at the table."
************
Cherri Foytlin is an oil worker's wife, mother of six, Louisiana resident and journalist whose family has been deeply impacted by the BP Oil Disaster and consequential moratorium on deep water drilling. She co-founded Gulf Change, blogs for www.BridgeTheGulfProject.org, and walked to Washington D.C. from New Orleans (1,243 miles) to call for action to stop the BP oil disaster.  She has been a constant voice, speaking out to the Obama Administration's Gulf Oil Spill Commission, and in countless forms of media.  Cherri will continue her fight for the industries, people, culture and wildlife of south Louisiana and the Gulf Coast "until we are made whole again."