My First Day
By Shaun King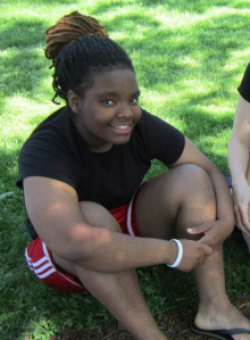 , crossposted from Women With a Vision. I arrived for my internship at 215 N. Jefferson Davis Parkway on a sunny Tuesday morning. This location had been home to Women With A Vision for the past three years. The Friday before, I was sitting in my grandmother's Brooklyn apartment, excited about my upcoming internship, when my sister called to inform me of the devastating news about the office being burned. My first feeling was panic. I wondered if the organization would still continue their work and whether or not I would even be able to intern there this summer. When I entered the office, I saw the room that had been set on fire: all that remained was black walls and ashes. But despite all this tragedy, to my surprise, I was greeted with smiles and light humor by Executive Director Deon Haywood and her staff concerning my choice to wear a sweater in Louisiana's hot sun.
The day began with coolers being brought out and filled with bottled water and other cold drinks. Latex gloves were put on the table along with masks and cleaning clothes. It was time to get to work. In one business day, a team consisting of WWAV staff members, board members, members of sister organizations and concerned citizens completely cleaned out the office and packed what little could be salvaged into a Uhaul van. I was surprised to see so many allies there to help. There were white allies, queer allies and even transgender allies, all to show that social justice carries many faces. I was in awe of the efficiency, precision and passion I witnessed on my first day. By the end of it, my nice sweater was off, my linen shorts and white shirt were dirty and I was completely exhausted. Though in that moment, I never felt more like an activist. I realized I was going to have an internship this summer, and it would reshape my mind of what true activism was. Not once on my first day was there a feeling of defeat within the office. It was only the need to move forward.
In an IDA B.Wells seminar I took last semester, I discovered that being an activist is not a job; it's a lifestyle. On my first day at WWAV, their response to the crisis at hand showed me that. When I reported to WWAV, I knew I was entering a space where there was trauma and stress, but I soon learned that it was also a space of uplifting and healing. There was mourning for the office that had been a safe haven for the clients and headquarters for the organization, but not failure. These strong women hit the streets to work toward unchaining the shackles placed upon different groups of oppressed women in New Orleans. Their work is evidently so powerful that someone or a group of people felt threatened and decided to attempt to destroy WWAV's office as a means to slow down or stop the important work that they do; but that plan had failed. Numerous times throughout the day I heard people say, "Something good is going to come out of this, you just see." I believed those words and so did everyone else in the office.
I am so grateful that I will be spending my summer around such great individuals surrounded by a supportive community. I watched the strength of true womanhood and the collective action of a community in the span of the seven hour clean-up. There were many tears shed, but there was also an overwhelming sense of hope and optimism for the future. The fire may have destroyed much needed materials for WWAV, but by no means did it diminished or destroy the will of the people who work there and their supporters. Truly like the Phoenix, this organization rises once again from the ashes of oppression. By the end of my first day I knew this summer would be filled with lessons learned, challenges faced, and growth both as an activist and an as a young black Transman trying to find his voice and place in this social justice framework.