National Economic & Social Rights Initiative (NESRI) Asks Federal Government to Intervene in Unjust Evictions of Katrina Victims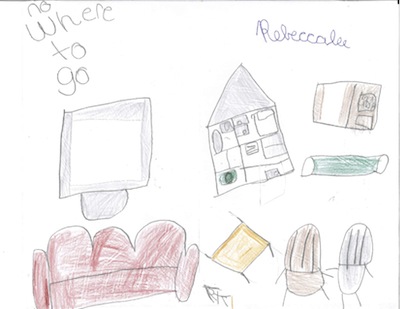 By Zack Carter, Alabama Fisheries Cooperative, A Multicultural Fisher & Seafood Worker-Owned Cooperative (Belle Fontaine, Ala.)  A well-written and informative introduction to this unbelievable story of corruption – which can only be understood as a brazen attempt to turn an $18 million Katrina housing development into a cash cow for local elites in Bayou La Batre, Ala. – was provided by Ada McMahon in her Bridge the Gulf Project article last December, "As Mayor faces charges for stealing from housing development its residents face eviction." McMahon wrote, "A federal grand jury indicted Stan Wright, the Mayor of Bayou La Batre, Alabama, for stealing from a housing development built for Hurricane Katrina survivors. The very next day, October 1, residents of that same development faced a rent hike..."
Fast forward eight months after the indictments: Mayor Wright's grant writer was convicted on May 30th of defrauding Safe Harbor residents, and the Mayor himself will soon be on trial before a federal judge. Meanwhile, many residents of Safe Harbor have moved out because they are unable to afford the higher rents, or they've been evicted.
The mayor seemed to want to make amends at the June 14th city council meeting, when he agreed to meet with a number of local community groups and a delegation of citizens who signed a petition calling for an end to the evictions.

The petition, which is also addressed to representatives from FEMA and HUD, calls on public officials, "to discuss humane and reasonable alternatives to these evictions -- such as the right of Safe Harbor residents to organize themselves into a housing cooperative..." The mayor had agreed to meet with local advocates, including representatives from the Federation of Southern Cooperatives' Rural Training and Research Center in Epes, Ala. to discuss this possible solution.
But later an attorney for the city emailed to go back on the mayor's word, saying he advised the city not to meet with the citizens, and that he might meet with their lawyers "perhaps through mediation..." A reply saying citizens are open to mediation has gone unanswered.
A few days later, the Bayou La Batre Housing Authority boardmembers met, with some 30 Safe Harbor residents present, along with a videographer from Bridge The Gulf Project. After two hours of discussion and testimony, the board agreed to a 22-day moratorium on evictions. But these Bayou La Batre housing boardmembers – one of whom recently proudly announced "we were all handpicked by the mayor" – soon decided to break the moratorium and cold heartedly evicted elderly and disabled seafood worker Daisy Roberson into the hot late June sun.
At the next Bayou La Batre housing meeting, the 30 residents and allies returned and hand-delivered the powerful letter (download here) from the National Economic and Social Rights Initiative (NESRI), addressed to Secretary Napolitano (Homeland Security) and Secretary Donovan (HUD), summing up the injustice, and suggesting the following democratic and just resolution of a housing cooperative:
"Absent any financial contribution from the City, federal funds were used to create a model community of 100 modular houses where struggling fishermen, the disabled, and the elderly carry on their lives with restored hope and dignity. While residents were made renters by the City, they were promised a rent-to-own option... Despite the corruption and harm already done, the residents are proposing a simple solution to this travesty: restore the tenants to homeowners by deeding Safe Harbor to a housing co-operative that Safe Harbor residents..."
A few minutes after the NESRI letter was presented – which is the most sophisticated document yet to challenge FEMA & HUD to stop this greedy grab of homes and property, already and willingly paid for by the people, and built for the people devastated by Katrina -- the Bayou La Batre Housing Authority boardmembers began raising their voices and insulting residents. Our group of activists decided to leave and orderly caucus outside on the front porch. A few minutes later we were informed by a legal observer that the Bayou La Batre police had been called by the "Authority".
At their latest meeting on June 17th, the Bayou La Batre Housing Authority stationed a policeman in the public meeting for the first time. Chair Marcy Stork cut off a promising compromise dialogue I was having with their lawyer regarding a fundraiser that could stop their next eviction, and she subsequently denied me any further right to speak. 

Again, local officials went back on their word to work towards a cooperative solution and made it clear that they are more interested in evicting people than honoring the housing rights of Bayou La Batre citizens and Hurricane Katrina survivors.
As these wanna-be private condo managers try to silence the voices of Safe Harbor residents rightfully claiming their homes, provided by FEMA and HUD Katrina funds, the community has begun to challenge this injustice. Leaders of the fight to end the evictions include 4th generation fisher Paul Nelson (President of the South Bay Communities Alliance), former Bayou La Batre City Inspector John Ladnier, members of the Alabama Fisheries Cooperative, and many others. Children and grandchildren are even getting involved. The drawing, above, is by a 9 year-old who has been evicted from Safe Harbor.
***********
About me: I spent 15 years as a union organizer and rep, including 10 yrs. at AL Dry Dock in Mobile where I also worked as a machinist while serving in various elected positions of Shipbuilders Local 18. I also led our union in social issues, e.g. we demanded the local authorities charge all the KKK members involved in the lynching of Michael Donald. When AL Dry Dock shut down and raided our pension, Labor Notes helped us win nation-wide solidarity. I worked 8 years as a community organizer for Alabama Arise, and since August 2006 I helped South Bay Communities Alliance mount a grassroots nationally recognized campaign demanding human rights for Katrina and BP survivors.  Sponsored by the Federation of Southern Cooperatives, I have served the past two years as the Organizer for Alabama Fisheries Cooperative. The hardest and most rewarding job I have experienced was teaching high school -- for 3 years in Macon County, AL. When you meet a teacher thank and hug her or him.
[Bio updated 8/3/2012].