Putting the Dogs Out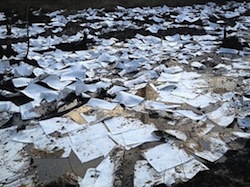 I was about to write a blog about our experiences at the BP shareholder Annual General Meeting (AGM) in London earlier this month, but to tell you the truth, I am pretty sick of writing about them. If by now you are unaware that things are still significantly messed up from the three-year-old spill, you haven't been listening, don't care, or you actually are BP. If the latter applies, I bet you're pretty tired of hearing about yourself, too. No worries, fellas, throw a couple more ads on the telly and take the day off. For the rest of you, I had a thought recently that I want to share instead.
Perhaps it's because it came to me when I was smack in the middle of getting groped by security in the back room of the AGM (I was pulled out "by random," they said – randomly, with every other Gulf Coast and Tar Sands community advocate in the building. Not that I am accusing anyone of anything, randomness could mean different things to different people, I suppose), but I'd like to reserve the right to be raw and to the point on this one.
So anyway, I was standing there getting felt up and I'm thinking how I've become sadly accustomed to the "game" of all this. Yes, that would be the one where we all work our arses off to try and change the pollution-soaked dynamic of the life the big polluters have so thoughtfully assigned us, only to end up dynamically pollution soaked.
Photo: Paper towels employed to clean-up a tar sands spill in Arkansas. From the Tar Sands Blockage.
Before you click the comment button, I want you to understand that I'm not saying what we did, or do, is an exercise in futility (come on, you know Americans don't exercise).
No, truth to power moments – like boldly addressing the board of the company responsible for the largest environmental disaster in American history – is important. If we have any hopes of fizziling this shizzle, we have to make living with the current system ridiculously uncomfortable for those who choose to buy their way past the rules of common sense and decent behavior.
What got all this started (besides fighting the feeling I should turn my head and cough) was thinking how the Arkansas Exxon spill is pretty much following the same pattern as the Michigan spill, as the Gulf spill, as the Yellowstone spill, as the Alaska Exxon spill... and on, and on, and on. I was wondering why we let them play the same game on us… and then it hit me – it's because they know, we will play the same game in defense of ourselves – well, I mean, if you call complacency and bemoaning "defense".
Let's look at the too common scenario. Every so often, one of our favorite little cold-nosed big polluters (or as they like to call themselves, "job creators") will take the equivalent of a heaping toxic poo on the carpet of our community – you know, the really old and fragile one that grandma gave us. Then they immediately run and hide behind the furniture.
At some point, usually when the air turns our stomach inside out, we notice the load and look around for the culprit, who immediately goes on the offensive by first acting as surprised as we are that this had slipped past their internal analysis systems.
Pensive and forlorn, they hang their head in shame, and if we are really upset, lick our fingers a little to remind us that we are, in fact, loved, despite this little "incident." They do depend on us, after all.
So, we point to the crime, admonish sternly, hand the perp a roll of paper towels (literally – check out these photos from the recent tar sand induced Arkansas pipeline spill), and demand action. Which eventually amounts to the half-hearted kicking of some pretend dirt by the culprit's back feet, and the whole thing is left to be cleaned up by us - after being randomly chosen, of course.
Problem is, often the stain won't come out.
Bigger problem is, we keep feeding them cheap and easy meals, give them complete access to the living area, and refuse to put them out of the house for repeat infractions, even long after large parts of the tapestry have been destroyed.
At what level do we have to accept at least a portion of the responsibility for the mess? After all, by and large, it is we who just keep allowing the free range defecation. And more and more scientist are confirming, on many levels, that we are moving past the hopes of recovery.
It's past time for us to take proactive action. We have to start not only changing the way we live and holding people and corporations accountable to our societal and spiritual laws regarding stewardship of the Earth, but to approach clean-up and response issues with a fresh and creative pattern of action.
In short, we must be the arm that controls the weak-willed, rolled-up newspaper that the government carries around.
So then, if a "job creator" becomes a "life taker," we are more than a "noise maker" and "name hater," we are instead a "step up to the plater," and a "tapestry maker."
And I'm not just saying this because I love to rhyme. I mean, this is also where the babies like to play, and someday I think they might like to hand that beautifully woven treasure down to their grandchildren. We should keep it nice for them. That way, when that day comes, and those little hands that we may never shake, get the joy of accepting their wondrous legacy, our kids can proudly tell 'em exactly who it was that put "the dogs out."
Cherri Foytlin is a journalist, speaker, mother of six and wife of an oil worker, who lives in south Louisiana. She is the author of "Spill It! The Truth About the Deep Water Horizon Oil Rig Explosion," and regularly contributes to www.BridgetheGulfProject.org, the Huffington Post, and several local newspapers. In the Spring of 2011 she walked to Washington D.C. from New Orleans (1,243 miles) to call for action to stop the BP Drilling Disaster, and has been a constant voice speaking out for the health and ecosystem of Gulf Coast communities, in countless forms of media. As an advocate for climate justice, she has been arrested in front of the White House twice and has spoken to thousands at venues and rally's in the United States and Europe. In addition, she is a founding member of the Gulf Coast Chapter of The Mother's Project - Mother's for Sustainable Energy, Idle No More Gulf Coast and of "28 Stones" - A Gulf based media project which focuses on national movement building through art, photography, video and written word.