"Where are you from?" Excerpts from Deep Dialogue in New Orleans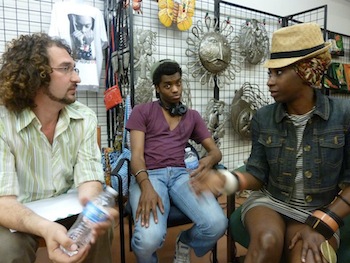 Where are you from, originally? This simple question was the topic of a discussion at Community Book Center in New Orleans last week, and prompted a sweeping conversation about race, class, displacement, and what it means to be from this rapidly changing city with deep roots.
The event was the first in the "Deep Dialogue" series, hosted by WTUL News and Views (91.5 FM) and Bridge The Gulf Project. These in-person community conversations, recorded to air on the radio, focus on topics that matter to New Orleanians and are made possible by a grant from the Public Insight Network.
Here are just two excerpts from the conversation that I've still been thinking and talking about since. They've been edited for length below, but you can listen to the full conversation on WTUL News and Views (91.5 FM in New Orleans) and online here.
Photo: Featured speakers Ben Mintz, Derwin Wilright Jr., and Shana griffin.
This first excerpt, on some of the layered meanings behind the question "where are you from?", features:
Ben Mintz, who spoke about his discomfort about telling people he is from New Jersey, considering he runs a news site about New Orleans.
Yasin Frank Southall, a community organizer who talked about being assumed to be from New Orleans because he is Black, and the offensive things he hears when people realize he isn't from here.
Shana griffin, an activist and researcher who grew up in public housing in New Orleans and spoke of feeling erased by post-Katrina policies.
Jennifer Turner (aka Mama Jennifer), of Community Book Center, who grew up in Central City and talked about the segregated New Orleans of her childhood.
Catherine Michna, a cultural historian at Tulane, who spoke of grappling with the "where you from" question since high school, when she moved to New Orleans from Baton Rouge.
Ben Mintz – One thing that I still don't fully understand is… what qualifies as "from here"?… Do you need to go to high school to be from here? When we talk about wealthy white transplants coming and gentrifying neighborhoods and forcing out families that have been there for generations, if that wealthy white transplant comes from Shreveport… is that less offensive because they are from the state of Louisiana? I feel like there are rules that I personally don't fully understand…
Yasin Frank Southall – I think it is very complex… I'm not from here, but rather than struggling with that question of, "what would it mean for people to accept me?", I'm more really interested in what would it mean for me to ensure that the people who are from here aren't booted and that the people who are from here are respected?… That's what I think is more important…
Shana griffin – This tension where, "I'm from here" is not so much about, "you don't have a right to be here," it's also about, "I have a right to be here." It may not be you, but there are policies that may benefit you that won't benefit me. And so how do we challenge those dynamics?…
[After Katrina] I heard phrases like "the new New Orleanian". I didn't feel like that included me… People who were born and raised in this city used it as an opportunity to seize that moment to get all the people they did not like out of the city. And so a demographic that I'm a part of was seen as a demographic threat…
I remember when I use to hear people talk about or say, "I'm so happy, I just bought a house!" if they weren't from here, I felt like it was a punch. It just hurt. It didn't mean that I didn't want that person to be happy. It's just a reminder how there are certain policies that are designed to help some folks but not other folks…
 
Jennifer Turner (Mama Jennifer) – One thing that you also have to recognize is that there's two New Orleans. There's White New Orleans and Black New Orleans. That's the bottom line. This is a slave state… On the bathrooms doors [they had] White Only and Colored Only. That's the New Orleans that I know. There were different hospitals here. There was Sara Mayo, where they had a Colored entrance, if you were fortunate to go. And they had Charity, which they treated you like – who knows? I remember my father always said, Charity killed his son... He said, I'll never have another baby born in Charity. I was born in a hospital called Robinson Memorial. It was located on Hamilton street. It's gone. Many of our things are gone…
Lincoln Beach was the all Black beach… They didn't have that many rides up there, but you had great fun. These are the things that we know about New Orleans. It's memories...
When we say "where are you from?", it's memories. It's nothing more. We're not saying you shouldn't– because all of us in this room are accidental Americans. Every last one of us are accidental Americans... My ancestors are not from here. Your ancestors are not from here…
It's just that we want to keep our memories. Segregated as they are. We would like to keep our memories. That's all.
Catherine Michna – Just to piggyback on that – I think a lot of the tension underneath the question in this moment now comes from the fact that there's a new New Orleans that's being constructed on the cultural capital and the histories of the New Orleans that is being erased. So there's this strong yearning to capture some of that authenticity, to be able to say you're from here, to have a local feeling, but a lot of times, if you're in a middle-class or white perspective…  there's a sense in which it's a yearning to possess what's imagined as a Black New Orleans authenticity. But at the same time as there's that yearning, there's – a lot of times people who have that yearning the most are the ones who are most participating in the erasure of the people who represent that culture or the people who are from there. Because of that conflict the yearning just becomes stronger, and it becomes more tense. It's very, it's very raw.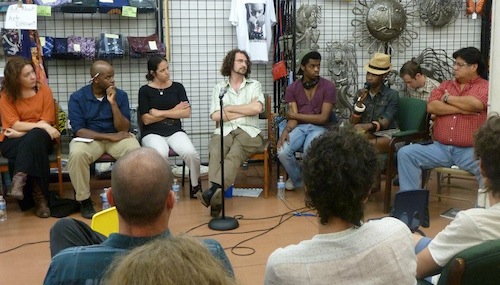 Left to right: Featured speakers Catherine Michna, Yasin Frank Southall, Monique Verdin, Ben Mintz, Derwin Wilright Jr., Shana griffin, and Daniel Castellanos (Panelists not pictured: Jonathan Henderson and Heather Lane).
*****
The second excerpt, on coastal land loss, climate change, and race, features:
Jonathan Henderson, who works for the Gulf Restoration Network (and talks more about himself below).
Monique Verdin, who recently made a documentary film about the Houma side of her family, and how they've been threatened by coastal land loss and Hurricane Katrina.
Amber, a young African American woman from New Orleans (A member of the audience, I don't know more about her or how she identifies).
Shana griffin
Jonathan Henderson – How we got into this whole "new New Orleanian", transplant discussion anyway goes back to what happened when Hurricane Katrina hit the Gulf Coast of Louisiana. The levees failed, sure. It was shoddily done, shoddily maintained. But we lost 1900 square miles of land between us and the Gulf Coast Mexico. That land hasn't been put back. So, all this discussion is great and everything, but everybody needs to just suck it up and realize that we're just as vulnerable as we were in 2005. A new Hurricane season starts in a couple months, and we could be sitting right back here in these neighborhood community meetings like were were having in 2006, going over the same thing again, if we don't wake up and realize that more needs to be done, and get involved...
Monique Verdin – My ancestors are from here, some of them. Just not very far down Bayou Road, there was a huge camp of Houma that were inhabiting the place. I've been doing a lot of research about the lost tribes of the Mississippi River Delta…
I say this often, this is a port city. And it was a port city before Iberville and Bienville showed up. There were Chitimacha, Atakapa, Houma, Washa, Chawasha all coming through here.  And trading here. This didn't start when the Europeans showed up. So, this a place where many people are always coming through, the river is always changing the course. It's a diverse, dynamic place.
And the Houma, there's very few Houma that live inside the city, most live between the Atchafalaya and the Mississippi River, and they were essentially pushed out. They were pushed literally to the edge of the Earth. And we're still there, now jacking our houses 20 feet in the sky hoping that the little trailer's not going to blow to pieces when the wind blows and the water's not going to rise as high as the trailer.
That's the thing about New Orleanians is that they are like, you know, inside, on the concrete lily pad, inside the walls, and they're all fine… You leave the Parish lines and things are different. But we're all faced with, the soil is sinking and the sea is rising, and that's something that we need to talk about if we are gonna want to stay here and if people are going to come back here, whether that be transplant and/or those who never got to come home....
Amber – Hi, I'm Amber, and I want to be honest right now. I'm from this neighborhood and I feel a lot of – I don't know if it is rage or frustration, but all of this is burning right now [gesturing to her chest]. I guess part of it is due to the fact that there's a tendency to divert away from the social issues, and point the finger at environment and say "let's tackle that". And I think it's important to handle coastal erosion and protect the landscape of Louisiana and whatnot, definitely, but what about protecting these neighborhoods, and responding to the call of living in a neighborhood where you're disrupting the cultural fabric of the place? And there's a way to be in New Orleans as a transplant but not disrupt everything and displace people. If you want to come, go to a place that reflects your socioeconomic background. That's totally fine. There's a way to do it in a just way.…
Jonathan Henderson – I just wanted to respond to this young lady, I'm sorry what's your name? Amber. I brought up the issue of the environment. Let me go back to, I said I that grew up in New Orleans. It's true. I had a unique experience growing up in New Orleans, because I feel like I've been discriminated by both whites and Blacks. I can relate to the hardships that a lot of kids and families have with certain social pressures in this city. I was raised by a single mom who raised three boys all by herself, worked three jobs without a car. I was gunned down in the middle of the street when I was 8 years old. I've seen my fair share of violence in the City of New Orleans... I was an outsider, I was a white kid in New Orleans, totally felt uncomfortable... So, coming back to my point – I'm a little bit jaded. I really don't care what people's problems are. I like people, but I'm really concerned about saving this city for the long term. Everybody's got to pick their battles, but without our natural storm defense system, we're all screwed. Period....
Shana griffin – In terms of the environment, especially work I've done around climate justice, I also want us to realize, yes, if we don't save the coast the city is doomed. But also the city is not just doomed, it's like, some communities are much more vulnerable than other communities. If we can't prioritize the indigenous people of Southeast Louisiana, and fight that fight against Big Oil, with the United Houma Nation, this city is doomed.
What we know also about climate change across the globe, the communities who create the least amount of harm to the environment are the ones who are disproportionately impacted by the environment. So it's not a matter of just saying that we all are doomed. Some of us are doomed more than others. And I think it's worth noting. Just to make a blanket statement, I think it is a little disingenuous to those communities who have been fighting. A lot of communities in the state of Louisiana have been doing a lot of amazing work on the fenceline, environmental justice organizing and climate justice organizing, without the support of many of the folks in this room.... 
I think it's important that we complicate this dynamic, but also identify that the people who are creating the least amount of harm to our environment are the ones who are going to be most heavily adversely impacted by climate change and rising sea levels.
*****
These are just two excerpts that got me thinking, from over an hour of conversation (which can be heard here). Please join the conversation by commenting below, or leaving a voice message at (504) 457-8439 to be aired on the radio. The next Deep Dialogue is July 23rd, please save the date, and suggest a topic idea here.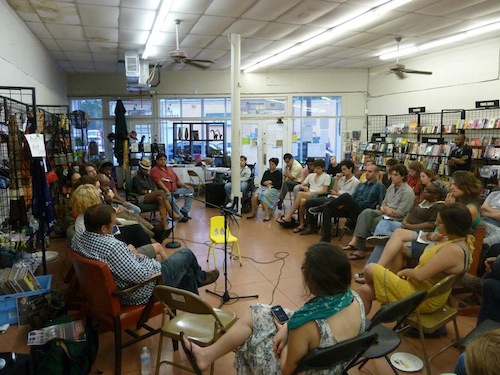 Ada McMahon is a Media Fellow at Bridge The Gulf (www.BridgeTheGulfProject.org), a community journalism project for Gulf Coast communities working towards justice and sustainability.  She previously worked as a blogger and online organizer at Green For All, a national non-profit that fights pollution and poverty through "an inclusive green economy".  She is from Cambridge, Massachusetts, and currently lives in New Orleans, Louisiana.