Distrust In God We Trust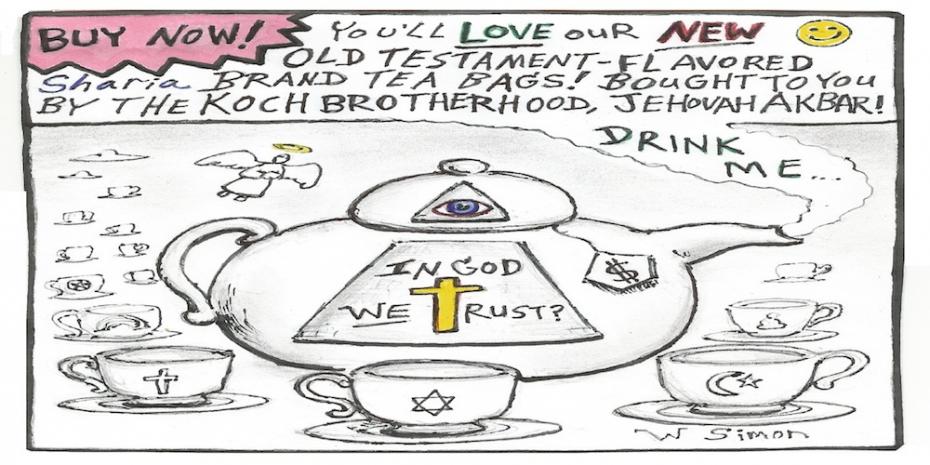 Originally posted in New American Journal on June 18th
Image: Translation of In God We Trust, by W. Simon
MOBILE, Ala – From the agenda for the Mobile County Commission meeting on June 19, 2014:
resolution authorizing the public display of the national motto "In God We Trust" in Government Plaza
A campaign is underway to mount the words In God We Trust prominently on city halls and other public buildings across the United States. The effort in Mobile has been led by Tea Partiers and endorsed by politicians calling themselves Christian. They've succeeded enough for the proposal to appear on the agenda of the next meeting of the Mobile county commission, which presides over Government Plaza, a boxy vaulted glassy structure filling a block in downtown Mobile. It houses the county and city administrations plus the local courts.
Bold folks displeased by this agenda item will assemble that morning, Thursday the 19th, at Cathedral Square — a public park named in honor of the gold-domed religious edifice beside it — and march in opposition to Government Plaza for the 10 a.m. commission meeting. Some will express their objections to the commission, unless their constitutional free speech rights are eclipsed by the religious rights of the godly plaque promoters.
Ecumenical Slogan Rotation
If David Underhill is allowed to speak he will say the following:
Several years ago Rev. Billy Graham's son Franklin scheduled a revival crusade, like his daddy used to do, at the Mobile civic center. Some years before that, shortly after the 9/11 attacks, Franklin had responded to them by calling Islam a "very evil and wicked religion" — not the attackers but the religion itself was evil and wicked Rev. Graham junior said.
So some residents, disgusted with this foul-mouthed preacher's use of a city facility, went to the Mobile city council. They didn't ask the council to cancel the reverend's contract for saving souls in the civic center. They merely asked the council to invite Graham to repent of the damning insult he had issued to a religion followed by numerous citizens. And if he would not repent, they asked the council to officially deplore Graham's hateful religious bigotry and to refrain from welcoming him to the city in any manner.
The council did no such thing, of course. And Graham did not repent, of course. And he was welcomed to the city, of course.
Now religion forces itself again onto the public agenda in the same chamber of the same building, though this time before the Mobile county commission.
The commissioners should not deceive themselves into believing that the phrase In God We Trust installed at a prominent place in government Plaza is simply a neutral declaration acknowledging the existence of some majesty beyond human scope. When the advocates of this project say God they mean the God of the Bible. That is the specific and exclusive deity of Christians and Jews, and that is the deity you are elevating into an object of veneration in a public building if you agree to display this phrase.
If you doubt this, ask yourselves whether you would be willing to remove the phrase periodically and replace it with In Allah We Trust. As representative public servants you ought to do that, since at least several hundred and perhaps a few thousand of your constituents are Muslims. And would you also be willing to occasionally replace In God We Trust with some appropriate tribute to Buddha, since many devotees live in south Mobile county, as attested by the Buddhist temples there. And would you accord a similar honor to the Great Spirit, since many thousands of your constituents likely descend in some degree from that deity's ancient worshipers whose legacy endures in your language every time you say the word Mobile and the word Alabama.
It makes you uncomfortable, doesn't it, to think of removing God even temporarily and substituting Allah, or Buddha, or Great Spirit — or just a blank perhaps in respect of atheists. Something inside you squirms a bit, doesn't it?
You have this reaction because you know that such substitutions would put you in the position of officially honoring a god not your own. Be instructed by that squirming reaction. It tells you the unpleasant, upsetting sensation you are imposing on others who don't adhere to the god of Christians and Jews if you mount In God We Trust on the walls of this building.
If you decide to inflict this sensation you will be able to console yourselves with many examples of the phrase's use elsewhere, from coins and currency to public structures, or with laws and court cases permitting religious observances at various governmental functions.
But citing bad examples set by others does not make it a good idea to duplicate those examples.
Just a couple blocks away is the waterfront that explains why this city arose here. Its port is joined by oceans to the whole world. Just a couple miles away planes will soon come off an assembly line to carry passengers of every religion and none to every part of the world.
Do you really want to officially flaunt a phrase telling people in ports receiving Mobile ships and riding on planes made in Mobile that they are not welcome here unless they are willing to enter a public building announcing its obeisance to a god they don't believe in?
Do you really want to tell your fellow citizens that if they don't worship a particular god they are lesser, second class citizens undeserving of the full respect and honor which your seat of government accords to Christians and Jews by adorning itself with a tribute to their sole God?
Autopsy Report – 6/19/14
About a dozen people spoke before the Mobile county commission voted today on attaching In God We Trust to Government Plaza. All but one of them opposed the proposal.
A few professed atheism and said they were speaking for many thousands like themselves in the county. Several stated current or past Christian affiliations and objected to the plaque on constitutional, historical or theological grounds.
The one advocate for the display, Tea Partier Pete Riehm, supported it on constitutional, historical and theological grounds. During his ardent—and at times shouting preacherish remarks—he occasionally turned away from the commissioners to aim his words directly at those opposing him.
Before the vote commissioner Merceria Ludgood read a carefully composed statement against the plaque on constitutional, historical and theological grounds.
Commissioner Jerry Carl, having just heard several citizens say they would be uncomfortable and upset to see In God We Trust affixed to the headquarters of their government, said he considered the phrase a part of the national heritage and could not see why it would make anybody uncomfortable or upset.
Commissioner Connie Hudson opened her remarks by praising our precious right to speak and other liberties, also our noble soldiers risking their lives abroad to defend our freedoms at home. Whenever an authority begins to talk this way, you can be sure somebody's rights are about to get stomped on.
Hudson and Carl voted to fasten In God We Trust to the government building. Ludgood voted not to.
This white-black division reflected the same split that has recently appeared in several Mobile city council decisions too.