Don't Be "The Invisible Man"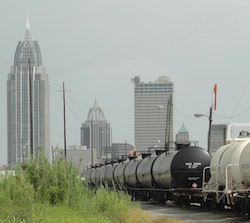 The bully on the block will take your lunch money each and every day until you make him stop. You will earn a lot by fighting and losing than by not fighting at all. You will earn respect, love and admiration, even from the person you are fighting, because you did not back down and stood up for yourself. One day that bully will leave you alone because you did not remain invisible and let him know you were there and was coming back the next day for more if necessary.
This is one of the thousands of lessons I learned while growing up in the community of Africatown located in Mobile, Alabama, a community where the last shipment of slaves settled in this country in 1860.
Bullying is nothing new. It has been going on for ages. It comes in various forms. One form is Big Business against small communities and poor people. They will come in, bulldozer you over and keep on going without hardly knowing you were there. There is always a Judas willing to sell you out for 25 pieces of silver, but that is to be expected because there will always be one or two within the rank. You have to laugh it off and keep fighting for what you believe is right.
I applaud the Mobile Water and Sewer System (MAWSS) for standing their ground and fighting against the pipeline company in their attempt to lay oil pipelines through Mobile's water supply. I also applaud the Sierra Club in their attempt to get an injunction against the pipeline company to stop their efforts to transport tar sands throughout Mobile County. In addition, I applaud the City for studying this "Big Oil Invasion" and working to make proper plans for the future to insure no citizen is harmed.
Photo: Trains roll into Mobile. By Karen Savage.
I especially applaud the residents of Africatown and our supporters who stand with use to fight against something we know is wrong. Everyone knows that the first items to be installed when you are building a house are the gas and water pipelines. Next comes the building. We know that this oil pipeline is just the beginning. Next comes the storage tanks, then the refinery. After that, unfortunately, an explosion. We are trying to prevent that chain of events from happening. After all, wherever I have worked I was always told "Safety First" and "An Ounce Of Prevention Is Worth A Pound Of Cure".
We are simply trying to let everyone know that we are real people and we exist. Sometimes bad things happen if no one knows you exist. Earlier in my life I drove 18-wheelers.  One day a car ran a stop sign and suddenly the back tires of my trailer were within two feet of the back seat of a compact car containing three 15 year-old kids.  The driver had taken his father's car to run to McDonald's. Afterwards the cop said I was not at fault because the kid had run the stop sign trying to beat his father home. Well, I may not have been at fault, but the kids could have been dead simply because I did not know they were there.
Africatown is a small, proud community trying to let the world know we exist and will not be bullied and cannot be bought out for 25 pieces of silver. We have a story to tell, we will tell it and with the help of good Christians we will succeed.
"The Invisible Man" was one of my favorite horror stories growing up. It could be a horror story in real life if those in a position to do the right thing remain invisible. Let's step out of the shadows, Mobile, and do the right thing. Let's protect the rights of everything and everyone in Mobile County. Africatown is doing its part - we need others to join this parade and create "One Mobile".
An Africatown native, Joe graduated from the historic Mobile County Training School in 1968 and earned a business degree from Saint Paul's College in Virginia in 1972.  He served two years in the Marine Corps and nineteen years in the reserve before retiring with the rank of Major. Joe was the first African American professional to be promoted at the Shell/Dupont Chemical Plant in Axis, Alabama. He is a founder and was the first president of the African American Summit of Mobile County, one of the founders and original members of The Mobile Chapter of the Montford Point Marines and one of the founders and first president of The Black Military Workers Of America, Inc.