Gulf Coast Solidarity with the People's Climate March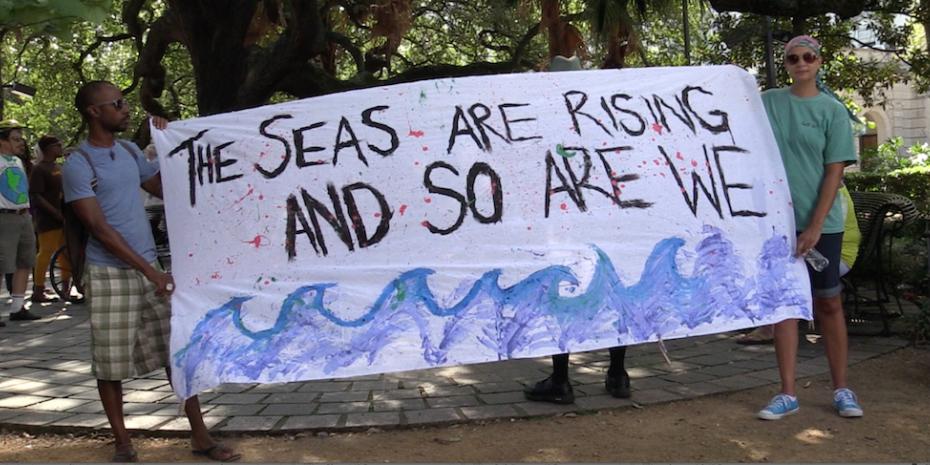 As over 300,000 people took to the streets of New York City for the People's Climate March last Sunday, events across the Gulf Coast brought people together closer to home, in solidarity and support. In New Orleans, the People's Climate Festival assembled in Congo Square for a day of art-making, music, networking, and connection among people and organizations concerned about the climate crisis. The festival mingled with the Congo Square Preservation Society's weekly drum circle, and a contingent marched on Jackson Square, chanting "the seas are rising and so are we!"
The Gulf Coast presence was felt in New York too, where college students, including a busload from Historically Black Colleges and Universities (HBCUs), activists, and residents of environmental justice communities across the region joined in. (Check out Cherri Foytlin's reflections on the experience).
In a press release timed with their participation in the People's Climate March, environmental justice luminaries Dr. Robert Bullard, Dr. Beverly Wright, and attorney Monique Harden called for a southern initiative on the climate crisis, noting that the climate deniers from Southern states in Congress don't represent the people of the region, who are particularly vulnerable to the impacts of climate change. "The painful experiences of Hurricane Katrina compel us to change our thinking that a climate treaty will save the day," said Dr. Beverly Wright, Executive Director of the Deep South Center for Environmental Justice at Dillard University. "We need a southern initiative on climate change that supports the people who are most vulnerable to hurricanes, droughts, heat waves, and tornadoes and most likely to suffer from racial, social, and economic inequities which set back our ability to be climate resilient."
Monique Harden, who co-directs Advocates for Environmental Human Rights in New Orleans, said, "The People's Climate March and Summit are about our human rights and how we want to live free from the control that the oil, gas, and coal industries currently have over our laws and economy. This is a critical time as our coastal cities in the South are projected to be under water if we don't take control."
Bryan Parras with Texas Environmental Justice Advocacy Services (t.e.j.a.s.) in Houston (and a Bridge The Gulf advisor) noted that "Texas tops the list in annual CO2 emissions in the nation," and his colleague Yudith Nieto added, "Texas may lead the nation in carbon emissions, but t.e.j.a.s. will lead the march with other frontline communities to bring attention to those first and most impacted."
The New Orleans festival was presented by the Gulf Coast Center on Law & Policy, and co-sponsored by Gulf Future Coalition, 350.org Louisiana, Louisiana Bucket Brigade, GreenARMY, United Houma Nation, Women's Health and Justice Initiative, Bridge The Gulf, Gulf Coast Fund, Lifeline, and Climate Relief Fund. These groups also contributed to sending a busload of Gulf residents to the People's Climate March.