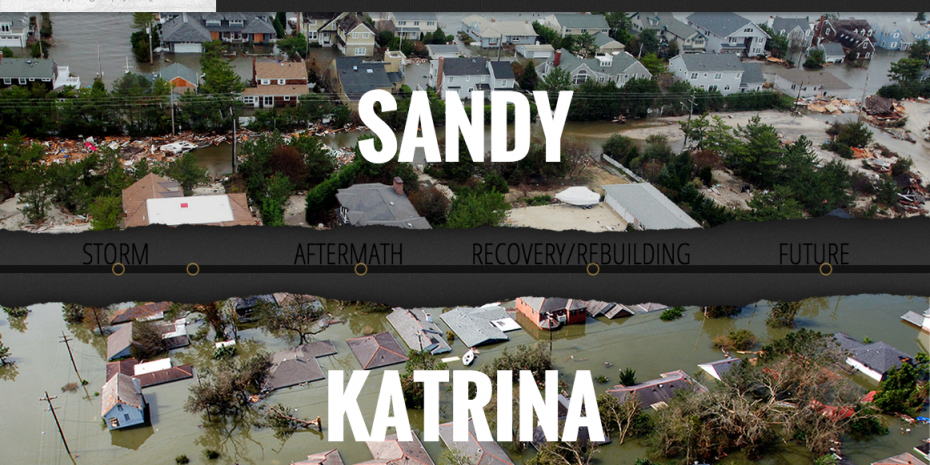 "Katrina/Sandy" brings together stories about crisis and renewal
When I first heard that Hurricane Katrina was approaching the Gulf Coast, I was driving across the Bay Bridge from my home in Oakland, California. Five days later I was in coastal Mississippi, where I had been working on a documentary for the past four years. Katrina forced me to rethink the film and it changed me as a storyteller.
It took another eight years to finish Come Hell or High Water: The Battle for Turkey Creek – there's an encore broadcast tonight on America ReFramed and it will stream for four weeks. And in the meantime, I started working with others to find new ways of documenting community change.
People most affected by the storm and its aftermath felt an urgency to describe its reality as they experienced it, not as they saw it reflected in the news or by outsiders who came briefly and were gone. The story was multi-faceted and epic. One voice, one medium, one narrative could not contain it.
Katrina spawned a whirlwind of creative storytelling, but there are two projects I know well that grew out of the storm and evolved to tell a larger story: Bridge The Gulf and LandOfOpportunity. I've worked with a team of community-based leaders and mediamakers to help build and sustain Bridge The Gulf and I've watched as filmmaker Luisa Dantas has transformed LandOfOpportunity Interactive from an idea into reality. These projects have also collaborated, and today you can explore them both through the LandOfOpportunity collaboration with Sandy Storyline called "Katrina/Sandy." This interactive timeline explores the two storms by incorporating media from a variety of sources, including Come Hell or High Water and Bridge The Gulf.
LandOfOpportunity is a groundbreaking project that is an experience – you have to engage with it to really understand it. To me, it embodies the idea that stories that deserve retelling hold meaning that is larger than the people, places and events described. They are stories that are connected to other stories. They are stories that resonate and become something unique to each person who takes them in.
It's that time of year when Katrina and Sandy will be revisited in the news, but I urge you to challenge yourself to explore them in a new way and question what we have learned from them. Diving into these interactive projects is a good place to start.
Here is the trailer for "Katrina/Sandy" and you can visit the interactive site here: http://beta.landofopportunityinteractive.com/#/compare
Trailer: "Katrina/Sandy" from Land of Opportunity on Vimeo.