Africatown Teams with Oberlin College Students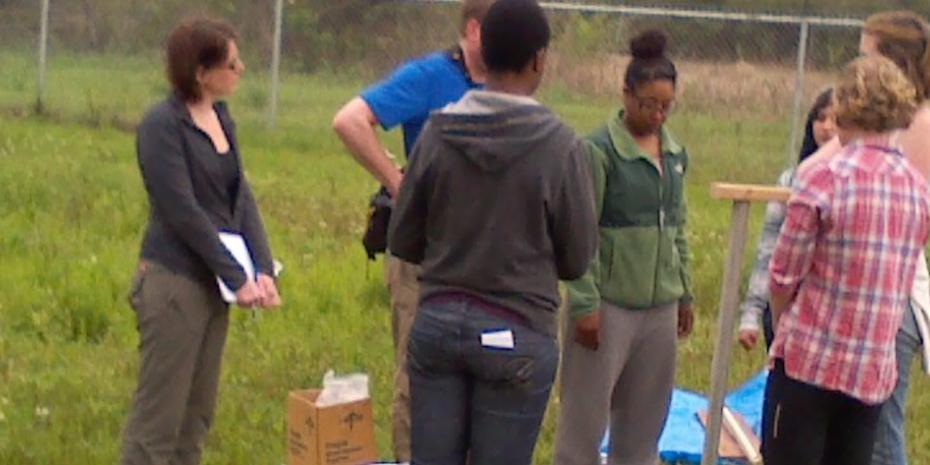 "So let it be written, so let it be done." Let history record that much like the Freedom Riders came down from the North to help Southerners in their Civil Rights struggle during the 60's, students from Oberlin College near Cleveland, Ohio traveled 1000 miles to help residents of Africatown in Mobile, Alabama in their ongoing quest for economic and environmental justice as well as social respect. 
While other college students and instructors flocked to the beaches or went home for their spring break, a vanload of concerned students and teachers journeyed to Alabama to answer a call for help. The  following names will forever be enshrined in the minds and memories of Africatown residents and Africatown folklore for years to come: Professor Janet Fiskio, Professor Ted Toadvine, Dana Colihan, Anne Chege, Aldrumesia Baker, Nora Cooper, Anthony Moaton and Gabriela Goldsmith.  
The Oberlin Team came to Africatown to get samples of air, water and soil and to conduct health surveys throughout the community. Outside help was solicited because for over two years the community has been unsuccessful in attempts to get help within the Mobile community to find out the quality of the environment in and around the Africatown community. The Africatown community has made contact with the Army Corps of Engineers, Alabama Department of Environmental Management, University of South Alabama, Mobile Wildlife Association, Mobile County Health Department and others trying to find out past and current environmental status, only to get the runaround. The Africatown community has lived on the door step of heavy industry since the 1940's. Now that the tar sands oil industry is trying to force itself into the area, residents want to know what heavy industry has done and is doing to the environment of the community.
Contact was first made with Oberlin College in early 2014, when three members from the Africatown community and the Mobile Environmental Justice Action Coalition (MEJAC) met members from Oberlin College at the Tar Sands Healing Walk in Canada to protest shipments of tar sands to the United States. Later in the year, an invitation was extended to the Africatown Speakers' Bureau to travel to Oberlin and speak to members of their Environmental Studies Department about the history of Africatown and our environmental struggles.
In December of 2014, two members of The Africatown Speaker's Bureau traveled to Oberlin College and made a power point presentation about Africatown's past, present and vision for the future. They also traveled to Detroit, Michigan and made the same presentation to Detroit's Environmental Justice Coalition. While at Oberlin, we were asked,"what can Oberlin do to help?" After a lengthy conversation it was decided that they could assist in environmental sampling.
Oberlin is a school that has a rich history of being a leader in society's quest for social change in this country. Oberlin was the first major college in this country to admit women and let them stay on campus and also the first college to admit Blacks on a full-time basis. Students also participated in the Ferguson protests last year and the school is proud of its legacy of being a leader for social justice.
The Oberlin van arrived in Mobile after a 15 hour drive from Oberlin at 1am Sunday morning, March 22nd. After a few hours sleep, they arrived in Africatown at the Whippets Den at 10am. We divided them into three groups and took them to the three Baptist churches of Plateau for Sunday Service. The group received a great reception at each church and really enjoyed Sunday service. After service we brought them back to the Den for lunch and some Africatown storytelling by Lorna Woods and Joe Womack. 
After lunch, the group was given a tour of Africatown that lasted 2 1/2 hours. Once the tour was over they returned to their host church where they were served dinner before turning in for a much needed rest.  The next 2 1/2 days consisted of soil and water sampling and conducting health surveys on Africatown residents. Things started out slowly but after a few hours the students had the procedures down and were able to operate on their own.
In the process, I saw young people mature into solid professionals for the future. The only senior in the crew, "Drew", an Environmental Studies student from Dallas, Texas says she intend to dedicate part of her career to teaching underserved communities how to conduct their own environmental sampling.
After lunch on Wednesday, the group were invited to meet and talk to former Mobile Mayor Sam Jones, who presented them with parting gifts for their return trip home. After their meeting with former Mayor Jones, they went to Wintzels on Dauphin Street for dinner and walked along Dauphin Street downtown for their only entertainment during their short stay. They awakened Thursday morning for the long trip back to Oberlin and later arrived back safe and sound.
The Oberlin instructors vowed that this would not be their last trip to Africatown and said they would return this summer for more testing and anything else needed to help the community.  We promised them that if they did return we would make sure they were allowed time to visit our great beaches. Cooperation between institutions of higher learning and the community is important because both entities get a chance to learn from each other. The students learn about what community needs are before they graduate into the "real world" and the community gets a glance at what our future leaders are all about. 
If the future leaders of America are anything like the ones that came from Oberlin College to help the Africatown Community in its current struggles, I would say the future of America has a solid chance of being successful.