Alleging They Were Silenced for Speaking About Alton Sterling, Men Sue City of Baton Rouge for Violating First Amendment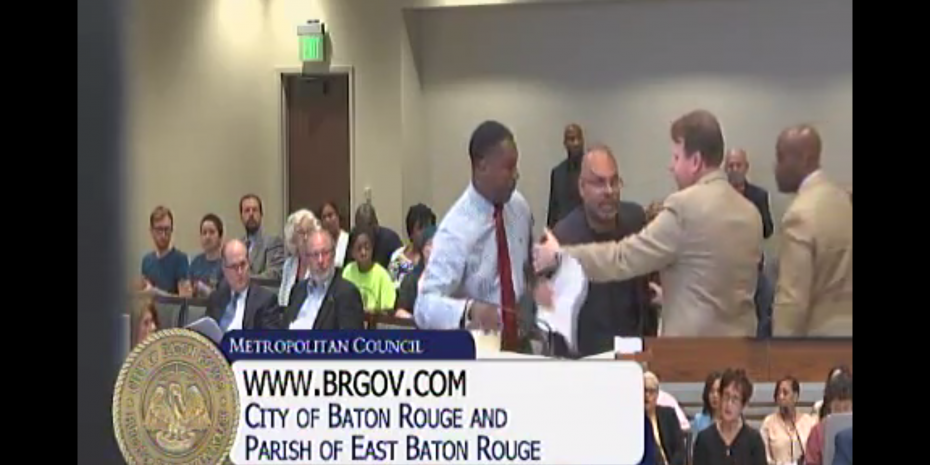 Just days after learning charges would not be filed in the police killing of Alton Sterling, Baton Rouge resident Eugene Collins waited patiently to make a public comment.
When his turn came, he slowly and deliberately stepped to the podium to address the Metro Council.
"I oppose this item because on July…," said Collins, who was interrupted by Baton Rouge Mayor Pro Tem Scott Wilson before he could say more.
"Take him out," said Wilson without warning.
"I remember thinking, 'I didn't even get a chance to speak'," said Collins, whose voice was muzzled before he could tell the council he wanted them to address the killing of Sterling before dealing with other issues.
On Monday, Collins was one of three black community leaders who filed a lawsuit against Wilson and the City of Baton Rouge alleging the defendants violated their First and Fourteenth Amendment rights to free speech.
(Above: A screenshot from Metro21 shows officers removing Michael McClanahan from the podium at a Baton Rouge Metro Council meeting on May 10, 2017.)
According to the complaint, which was filed in the U.S. District Court for the Middle District of Louisiana, the three men were silenced by Wilson because he did not want to hear their viewpoint -- that the Metro Council should not continue with business-as-usual until it had resolved the issue of how to respond to the police killing of Alton Sterling.
Michael McClanahan, president of the Baton Rouge branch of the NAACP and Gary Chambers, publisher of The Rouge Collection, were also removed from the meeting and are also plaintiffs in the suit. In addition to the plaintiffs, three additional citizens were removed from the meeting.
The Metro Council meeting occurred one week after the U.S. Department of Justice announced it would not bring charges against Baton Rouge police officer Blane Salamoni for the July 2016 killing of Alton Sterling. The office of Louisiana Attorney General Jeff Landry is currently conducting a state investigation.
Sterling's death was recorded and released on social media, prompting protests and nation-wide outrage.
"It's bad enough that we watched what happened to Mr. Sterling on social media, but to still have no answers is atrocious and completely shows what our system thinks about the lives of black men," said Collins, a pastor and youth mentor who also serves as the Director of Prevention for the HIV/AIDS Alliance for Region Two, Inc. (HAART).
According to the complaint, as well as video of the council meeting, McClanahan was the first of the three men to attempt to speak at the meeting.
During public comment on an agenda item dealing with damages from a sewer back-up, he introduced himself as the local NAACP president and said he was opposing the proposed item.
"Speaking on what?," said Wilson. "We got an item here about a sewer backup, item 50, that's what we're talking about."
"I'm going to tell you why I oppose that," said McClanahan. "You all haven't heard anything yet. You can't just oppose something you haven't heard. Give me an opportunity to speak, and you can rebut, right? That's how it works, doesn't it?"
"No, not really," said Wilson.
"Well it should work like that," said McClanahan.
"I'm not going to warn you about it," said Wilson. "You can either talk on the item or you can leave."
"I believe it is my constitutional right to express why I oppose the sewer item because on July the fifth, 2016, Alton Sterling was killed …," said McClanahan, who didn't have an opportunity to explain why he opposed the item before he was interrupted by Wilson.
"John, please take him out," said Wilson to an officer.
Chambers attempted to comment on the next agenda item. After a brief exchange, he was also told by Wilson to speak on the item or leave.
"Again, I say, Alton Sterling was murdered on July the fifth," said Chambers who according to the complaint opposed the item because like Collins and McClanahan, he wanted the council to respond to the Sterling killing before addressing other issues.
"Scott Wilson, you are a coward for putting people out of this room," said Chambers as he was forcibly removed from the podium. "They have a right to speak out. They have a right to speak out. And you are a coward, sir."
According to the complaint, Chambers was removed from the building and arrested for disturbing the peace and resisting arrest.
The City of Baton Rouge and Scott Wilson did not immediately respond to request for comment.
During the hearing, Wilson gave Collins no explanation for his removal, but told Chambers and McClanahan they were allowed to comment only on agenda items being discussed at the time they approached the podium.
According to the complaint, McClanahan and Chambers were attempting to oppose the relevant agenda items and the handling of officer-related shootings was on the agenda. At a subsequent hearing to discuss what happened at the May 10 meeting, the city attorney for Baton Rouge confirmed that citizens "can oppose an item for any reason they want."
The men say "in their view the City should not return to business-as-usual without first addressing the issue of Alton Sterling's killing" and that was the reason they opposed the items.
According to the complaint, the city attorney also "acknowledged that some time back, a member of the public got up to the podium and read from Dr. Seuss' Green Eggs and Ham but was not removed."
"We found that Scott Wilson has consistently allowed speakers to finish their time even when they wander far off topic – so long as they don't mention Alton Sterling, criticize Chief Dabadie, or criticize Scott Wilson himself," said William Most, an attorney for the three men who said his office has conducted an extensive review of video from previous Metro Council meetings.
The three men allege Wilson's actions are part of a long-standing pattern of silencing black voices in Baton Rouge. They are asking the court for a declaration that Wilson's actions were unconstitutional, but are not seeking monetary damages.
"It is my hope that no one else has to witness clear discrimination in a building that belongs to us, by a person that we elected," said Collins.
"When the officer who was escorting me out told me he was only doing his job, it set in how wrong what just happened was," he said.
"If the officer who was tasked with escorting me out could acknowledge that, it is my fervent prayer that our city can."