Experts On Bayou Bridge Robocalls Have Ties to TigerSwan, Industry Groups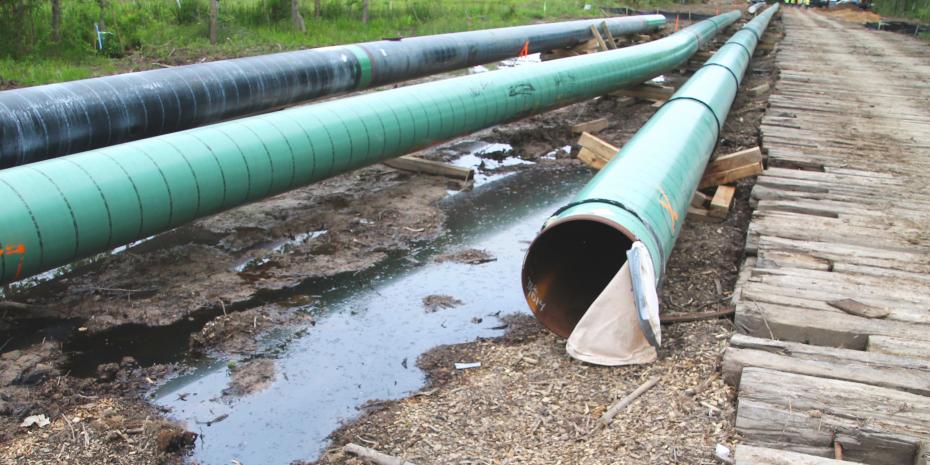 In late March, residents across Louisiana picked up the phone to hear a recorded voice inviting them to join experts for a "free informational conference call on the Bayou Bridge pipeline."
But residents who stayed on the line were never informed that one of those experts -- James "Spider" Marks -- has close ties to TigerSwan, a mercenary private security firm that used counter-terrorism tactics against water protectors at Standing Rock and that's been denied a license to work in Louisiana.
That's not all listeners weren't told.
On a partial recording of the call shared by a Louisiana resident, moderator Craig Stevens identified himself as a "spokesman for Grow America's Infrastructure Now" (GAIN) and told listeners that he'd brought together some "really smart people" to tell them about the pipeline and take some of their questions.
Above: Construction of the Bayou Bridge pipeline near Maurice, Louisiana   
The 163-mile Bayou Bridge pipeline is currently under construction and if completed, will stretch from Lake Charles to St. James Louisiana, cutting through 11 Louisiana parishes and crossing 700 bodies of water. It is part of a larger project slated to connect Energy Transfer Partners' controversial Dakota Access pipeline in North Dakota to refineries in St. James Parish and nearby export terminals.
Stevens didn't divulge that he's is also a vice president at DCI Group, a Washington DC-area public relations and lobbying firm with ties to the American Legislative Exchange Council (ALEC). ALEC is known for persuading legislators to introduce prepackaged bills written by the organization and which serve the interests of its corporate members.
DCI Group has a history of using astroturfing - a type of campaigning that creates the illusion of having grassroots support – to advocate against net neutrality, oppose health care reform and promote big tobacco. The firm was linked to a spoof of Al Gore, mocking him and his film, 'An Inconvenient Truth' and was paid by Exxon to cast doubt on climate science.
On the call, Stevens introduced Marks as someone who "you may know from watching CNN and was also the military leader of our forces in Iraq."
Marks -- who was not the "military leader of our forces" in Iraq -- has been criticized in the past for giving what appears to be independent pro-war analysis on CNN and other media outlets without disclosing his connections to military weapons companies and the Pentagon.
In February 2017, Marks spoke in favor of the Bayou Bridge pipeline at a contentious public meeting in Louisiana, where he came under fire for failing to disclose that he was on the TigerSwan advisory board while commenting at the meeting and in an op-ed he wrote for a local paper.
It was one of several op-eds authored by Marks for outlets across the country. Nearly all favor ETP pipeline projects and paint water protectors as violent agitators. Almost none disclosed his ties to TigerSwan.
Since learning of Marks' connection to TigerSwan, at least one publication has banned Marks from future submissions and others have added disclosures.
Calls to confirm Marks' current role at TigerSwan were referred to Wesley Fricks, the company's vice president for governmental affairs and communication. Fricks, a former DCI Group lobbyist who served in the White House under the Bush administration, did not respond to multiple requests for comment.
Another expert on the call was Brigham McCown, who Stevens introduced as "the former head of the federal pipeline safety agency within the U.S. transportation department".
Although not named by Stevens, that agency is the Pipeline Hazardous Material Safety Administration (PHMSA). A recently released report reveals that between 2005 and 2007 — the years in which McCown oversaw PHMSA — entities that have since merged into ETP's corporate family were responsible for more than 90 reported pipeline spills.
Listeners weren't told that McCown served as one of the "core infrastructure policy members" in President Trump's transition team and "helped develop the initial framework" for what would become Trump's infrastructure plan.
Nor were listeners told that McCown is currently chairman of the Alliance for Innovation and Infrastructure (AAII), a group that last year pushed for increased drilling in the Arctic, noting in a report that climate change could bring new economic opportunity to the arctic due to the thinning ice and increased navigability of Alaska's waters.
Like Marks, McCown also spoke at February 2017 public meeting in Louisiana, touting pipeline safety and speaking in favor of the project.
Stevens did not tell listeners that Marks and McCown are both advisors to GAIN, the organization hosting the call.
Below: Machinery cutting trees during construction of the pipeline in the Atchafalaya Basin.
In an email, Stevens said not introducing McCown as an advisor was unintentional.
"First, I am almost certain that he was introduced as an advisor to GAIN. It was in my introductory notes. If he wasn't, that was an accidental oversight on my part," said Stevens, adding that McCown, who served as head of the Pipeline and Hazardous Materials Safety Administration (PHMSA) under George W. Bush, is one of the leading pipeline safety experts in the world.
Stevens said he has no specific knowledge of associations Marks and McCown have with other organizations and said they are irrelevant to the coalition's work.
"General Marks is a trusted advisor to the coalition who brings an important national security perspective to the discussion of domestic energy production and distribution, and more broadly to infrastructure investment," said Stevens, who didn't explain why Marks wasn't introduced as a GAIN advisor.
GAIN publically identifies itself as a "diverse coalition of businesses, trade associations, and labor groups that share a vested interest in creating jobs and strengthening our nation's economy through infrastructure development".
In a blog post on its website, GAIN acknowledged the "tele-town hall" took place, telling readers that "experts in the field, ETP officials, and advisers to GAIN all took part in the event to answer questions from residents".
GAIN was formed in May 2017 and according to a press release issued at the time, many members "were also formerly aligned with the Midwest Alliance for Infrastructure Now (MAIN)". 
MAIN advocated in favor of the Dakota Access pipeline and has been linked to attempts to discredit water protectors at Standing Rock. According to its website, the group is a partnership of agriculture, business and labor groups that advocates for increased energy infrastructure and "energy independence". 
Stevens, who acknowledges working with both GAIN and MAIN, said the calls went out to about 200,000 Louisiana residents and about 16,000 stayed on to join the call.
He said ETP is not a member of GAIN, which is a 501(c)(4) organization.
Vicki Granado, a spokesperson for ETP, confirmed that the company is not a GAIN member.
"We were invited by GAIN to participate in two tele-town halls, which we gladly accepted. The calls presented us the opportunity to provide clear, accurate information to local residents about the Bayou Bridge pipeline project," said Granado, who said if invited, ETP would participate again.
Edward T. Walker, a professor of sociology at UCLA who studies the political activities of corporations and social movements, said the robo town hall is unusual.
"The robocall thing not new, but doing this type of thing as an expert town hall by phone is something I really haven't encountered very much," said Walker. He added that industries usually use astroturfing and other tactics when they feel they're under threat and facing a large amount of community resistance.
Walker, author of Grassroots for Hire: Public Affairs Consultants in American Democracy, said he's found that roughly 40 percent of all Fortune 500 companies are on the client lists of at least one firm that works to garner favorable public opinion through astroturfing and techniques like the tele-town hall.
"It's not just DCI, there's a whole field of organizations that do this kind of thing and help to mobilize mass pubic support on behalf of industries, especially when they're involved in some sort of controversial activity," said Walker, the UCLA professor.
Granado and Stevens both refused to say whether DCI Group is working on behalf of ETP.
Louisiana residents on the call had no way of knowing of the potential relationship between the two, nor were they told during introductions that the Bayou Bridge pipeline is an ETP project.
ETP's senior vice president of engineering was introduced by Stevens as simply "Chris Sonneborn from the company constructing the pipeline".
Karen Savage is an investigative journalist currently embedded with the L'eau Est La Vie resistance camp in Louisiana. In the spirit of transparency, she has been reporting and building relationships and sources along the Gulf Coast for more than 10 years. In 2013, she co-authored a story with Cherri Foytlin, co-founder of L'eau Est La Vie. Karen specializes in long form narrative stories on juvenile justice and the environment. Her work has appeared in Climate Liability News, Project Earth, Juvenile Justice Information Exchange, Bridge the Gulf, Youth Today and City Limits.