Louisiana Family Says Bayou Bridge Pipeline Construction Damaged Home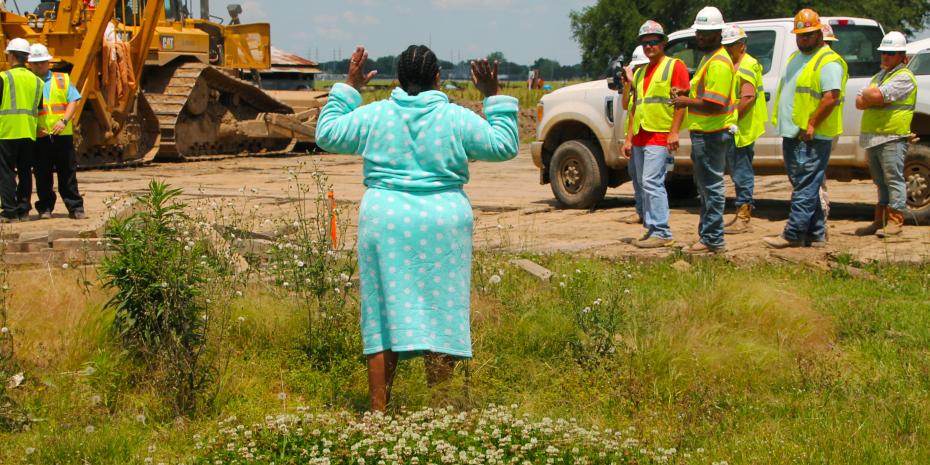 Melinda Tillies said first time it happened she thought it was an earthquake or maybe an explosion. Her whole house shook, the lights flickered and tiles on edge of the kitchen countertop crashed to the floor. Her daughter – who is pregnant and was in the shower – screamed in fright.
Afraid for her family's safety, Tillies frantically tried to find the cause of the jarring tremors. In a panic, she pulled back the curtain on the window above her kitchen sink and peered out through the glass. That's when she saw heavy construction equipment lifting large sections of wooden beams from an 18-wheeler parked in the field next to her house and dropping it into piles on the ground.
"They had those great big machines that they were using and instead of letting it down easy, they just let it drop down to the dirt and it shook the whole house," said Tillies, a Youngsville, Louisiana resident who bought what she calls her dream home just over a year ago.
Tillies, said she and her husband Shawn – who uses a wheelchair – had no idea that Energy Transfer Partners' Bayou Bridge pipeline was slated to run within yards of their property and said they had no warning that heavy construction equipment would be operating in their normally quiet neighborhood.
Above: Homeowner Melinda Tillies explains to Bayou Bridge pipeline workers that tremors caused by construction are damaging her Youngsville, Louisiana home. (Photo by Karen Savage)
That day was just the beginning of a months-long ordeal that Tillies said has left her house unleveled and in need of an estimated $15,050 worth of repairs. Despite doing everything she was told to do by an Energy Transfer Partners representative, she's now worried that the company has no intention of reimbursing her for the damage.
Tillies said the trouble started when several loads of wooden matting were delivered to the pipeline easement, which runs through her neighbor's property and is about 25 yards from her home. She said workers repeatedly used machinery to hoist heavy pieces of wooden matting from the trucks and drop them onto the ground, causing her house to shake. Matting is placed on the ground during pipeline construction to support heavy equipment on Louisiana's soft and wet terrain.
After the matting was delivered, came the backhoes, other machinery and then dozens of segments of the pipeline, which weigh more than three tons each. Tillies said movement of the equipment and digging of the trench shook the ground even more, further damaging her home.
Hoping to get the house repaired quickly, she said she spoke with Steven P. Flynn, Energy Transfer Partners' lead right of way representative, who told her to get an estimate on the damages.
"The damages came out to $15,050 for the borders, the door, the floor, and the molding all around the house that's now loose," said Tillies, who has an itemized estimate from a licensed contractor.
"I emailed the estimate to Mr. Flynn and he did get it, but now he's telling me that I can't get the money to get my house fixed," she said.
"I just bought my house and if I had known, I might have bought somewhere else" said Tillies, adding that her home was in perfect condition before construction started.
Flynn, who is employed by Doyle Services and according to his business card is working "in service to Bayou Bridge Pipeline, LLC", declined to comment, referring questions to ETP spokespersons Vicki Granado and Alexis Daniel.
According to Tillies, Flynn was always slow to respond and she frequently had to leave several messages before he would return her calls, sometimes weeks later. Since she sent the estimate, she said it seems like he's sending her in circles.
"I called him and told him 'I have the estimate that you told me to get for the house to be fixed', and he talked so ugly to me -- he told me it was out of his hands now, that he had passed it on to someone else," said Tillies.
"When I asked him for the numbers of who I can contact, he gave me the number for the people he said were his bosses -- Vicki Granado and Alexis Daniel. I'm just hoping they get back with me, because now I'm finding out they're PR people, not claims people," said Tillies, who said she's left multiple voice messages and has sent several emails, but has yet to hear back.
Granado and Daniel did not respond requests for comment on Tillies' specific allegations, but Daniel said the company makes it a priority to establish good relationships with landowners and to be a valued member of the communities in which the company operates.
"We understand that during the construction of any major needed infrastructure, such as highways, power lines, buildings and pipelines, it can cause short-term inconvenience to those in the area. However, we strive to do our work as quickly and safely as possible, which includes complete restoration of the areas we cross," said Daniel in an emailed statement.
Tillies is skeptical.
"Their job is to make the company look good and they're trying to do that without giving me the money I need to fix my house from damage done by construction of this Bayou Bridge pipeline," she said. "But who looks out for me?"
Still contemplating her next steps, Tillies said she's sure of one thing -- she's not about to back down.
"I come from a fighting family, I stand up for my rights and when I know I'm right I'm going to stand up. They have no right to just take advantage of my property – we're trying to preserve this for our children when we're gone."
Disclosure: Karen Savage is an investigative journalist currently embedded with the L'eau Est La Vie resistance camp in Louisiana. Karen has been reporting and building relationships and sources along the Gulf Coast for more than 10 years. In 2013, she co-authored a story with Cherri Foytlin, co-founder of L'eau Est La Vie.