Tree Sitters Block Bayou Bridge Pipeline Construction in Atchafalaya Basin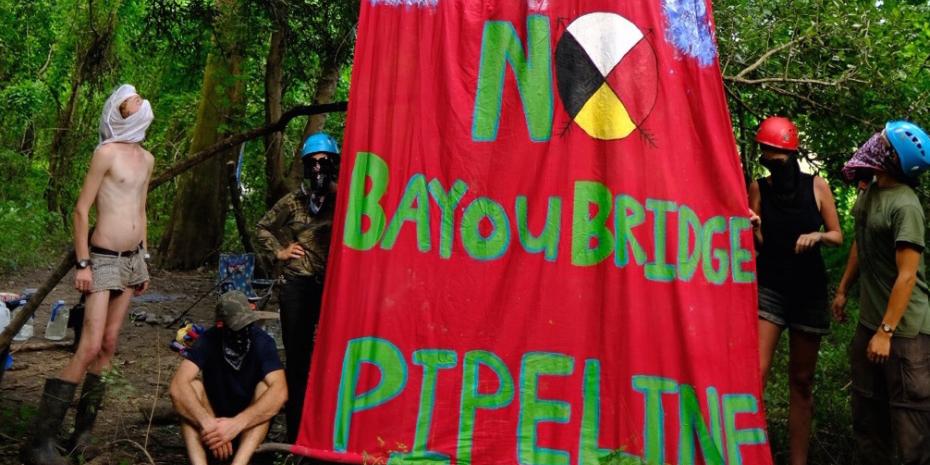 Aiming to protect Louisiana communities and residents, water protectors say they are stopping construction of the Bayou Bridge pipeline by engaging in multiple tree-sits deep in the Atchafalaya Basin, the largest swamp in North America.
Tree-sitters say they've been living in trees in the pipeline's path for several weeks and will not move until the St. James community has an evacuation route and the swamp's cypress trees are protected.
Residents of St. James, a predominantly African American community located at the tail end of the pipeline, have no evacuation route and say they could be trapped in the event of an explosion or other pipeline disaster. The community has repeatedly asked for an evacuation route, to no avail.
In a press release, water protectors said they had hoped to avoid taking this drastic action, but have been forced to act because they've used all other options and Louisiana residents remain unheard and unprotected.
"Communities impacted by this needless, destructive pipeline have done everything to make our voices heard," said one tree-sitter, who chooses to remain anonymous.
"It's clear that neither the Louisiana state government, nor the court system, can be expected to protect us. When we can't count on Governor Edwards to hold a corporate criminal accountable for its destruction, we have to take this into our own hands," added the water protector.
Opposition to the proposed pipeline has been strong since the project was announced to the public nearly two years. Since then, hundreds of Louisiana residents have attended public meetings and thousands more submitted comments in opposition of the project.
After the project was granted, construction permits, several local organizations filed suit to stop construction, contending that the Army Corp violated the Clean Water Act and other federal requirements when it failed to consider potential threats to the environment when issuing its permit.
Other organizations – including a group of St. James residents – filed a separate suit, alleging that the Louisiana Department of Natural Resources did not follow state guidelines when issuing the permit without considering the impact the project would have on local environmental justice communities.
Rulings in both suits temporarily stopped work on the project, but in each case the state officials allowed construction to continue and the rulings were eventually overturned.
Arguments on the merits of the only remaining possibility to stop the pipeline through legal action are not expected to be heard until after pipeline construction is complete.
"We've exhausted all other means to protect both the community of St. James and the Atchafalaya Basin, which is a designated natural heritage area," said Cherri Foytlin, co-founder of the L'eau Est La Vie resistance camp.
"The permitting agencies, the legal system, law enforcement and our public elected officials have failed the residents of Louisiana, but that doesn't change the fact that the Bayou Bridge pipeline is bad for the people and environment of our state," said Foytlin.
"If the state can't – or won't – protect its residents from this destructive and greedy corporation, water protectors will. We will not stop until the residents of St. James are protected," she added.
Representatives from Energy Transfer Partners, did not immediately respond to a request for comment.
If completed, the Bayou Bridge pipeline would run from Lake Charles to St. James Louisiana, cutting through 11 Louisiana parishes and crossing 700 bodies of water. It is part of a larger Energy Transfer Partners project slated to connect the controversial Dakota Access pipeline in North Dakota to refineries in St. James Parish and nearby export terminals.
In 2016, tens of thousands of Native Americans water protectors and their allies gathered at Standing Rock to oppose the Dakota Access pipeline, which now runs under the Missouri River, where a spill could contaminate the primary source of drinking water for the Standing Rock Sioux and millions in the Midwest.
"We deserve better than to have our precious resources pulverized for the profit of a private oil company based in Texas," said another tree sitter who added that ETP has already stolen land through eminent domain, land that was previously stolen from indigenous people.
"Instead of permitting more pipelines the state government should invest resources to protect our coast, reduce flooding, and improve health and safety conditions in vulnerable communities like St. James. We protect these trees for our future generations and in defense of the earth."