At shareholder meeting, BP board member agrees to tour struggling Gulf Coast communities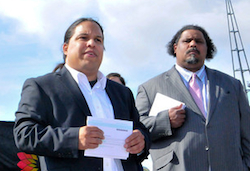 Today, two community leaders invited BP to tour the Gulf Coast, at the corporation's annual shareholder meeting in London.  One BP board member, Ian Davis, agreed to take them up on their invitation.  Bryan Parras and Derrick Evans, both advisors to the Gulf Coast Fund for Community Renewal and Ecological Health, spoke "on behalf of scores of thousands of everyday people" who are still impacted by the BP oil disaster, which began two years ago this month.
But rather than outline "in vivid detail" all of the ongoing impacts of the disaster, Evans simply extended to BP Chairman Carl-Henric Svanberg, the Board, and the shareholders, "an invitation to come and see for yourself the Gulf Coast communities and ecosystems that I'm talking about... which are indeed still reeling from the effects of this disaster."
Speaking next, Parras discussed some of those effects,
"The fishing communities along the Gulf Coast have had an unprecedented year of plummeting fish stocks to all time lows with no signs of recovery...  In Alabama and Mississippi, tar balls found months after the spill contained high levels of deadly bacteria...
"We now see an epidemic of health issues developing in the Gulf Coast states and many coastal residents, cleanup workers and others exposed to the cleanup chemicals continue to exhibit poor health, and some have actually died."
After Parras finished, Svanberg responded to the remarks by saying, in part, "I believe we are doing everything we possibly can...  It is hard to do much more as a company."  He did not respond directly to Evans' invitation to visit the region.
But board member Ian Davis was more responsive, reported Evans through a statement:
"It was good to be able to meet with the BP Board member Ian Davis, who is the Chairman of the Gulf of Mexico Committee and so has responsibility for ensuring that BP is keeping its promises to the people of the Gulf Coast. However, we were disappointed to learn that he knew nothing about the problems we are facing on the ground. He has now agreed to visit affected communities and see for himself what's really happening, and so we look forward to helping him fulfill that promise."
Evans' hometown is the historic African American community Turkey Creek, in Gulfport, Mississippi, just a few miles from beaches where tar balls and dead sealife continue to wash ashore from the Gulf of Mexico.  He told the shareholders, "The rosy picture that's been painted [by BP]... falls short of a true representation of what we're seeing on the ground in these communities..."
Parras works across the Gulf Coast with commercial fishermen as well as "fenceline" communities - the often low-income communities of color situated right next to oil refineries and chemical plants. He is from Houston, Texas, where he grew up next to an oil refinery himself.  Like Evans, he drew on his expertise as an advisor of the Gulf Coast Fund, a philanthropy with direct ties to communities across the Gulf Coast (and, full disclosure, a close partner and funder of Bridge The Gulf Project).
Clayton Thomas-Muller, a leader with the Indigenous Environmental Network, also spoke out against BP's development of tar sands on indigenous land in Canada, and a handful of protestors staged a "die-in" to dramatize climate change and BP's impact on communities worldwide.
The delegation received news coverage in outlets such as the Associated Press and Reuters.
Read Derrick Evans' full remarks, as prepared.
Read Bryan Parras's full remarks, as prepared. 
Photo: Byran Parras and Derrick Evans speak outside the 2012 BP Annual Shareholder's meeting in London, England.  By Liana Lopez. View more of her photos here.
******
Ada McMahon is a Media Fellow at Bridge The Gulf (www.BridgeTheGulfProject.org), a community journalism project for Gulf Coast communities working towards justice and sustainability.  She previously worked as a blogger and online organizer at Green For All, a national non-profit that fights pollution and poverty through "an inclusive green economy".  She is from Cambridge, Massachusetts, and currently lives in New Orleans, Louisiana.