NOLA May Day March Launches "Stand Up 2012," Campaign to End the Deportation of Immigrant Labor Leaders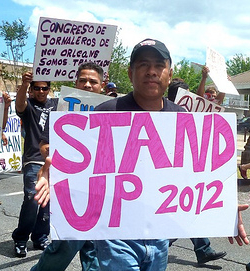 On May Day, over one hundred New Orleanians marched to City Hall, where they called for justice for the city's immigrants.  The protestors called for an end to inhumane immigration practices, such as deportation and local law enforcement's targeting of immigrants.
The march was organized by the Congress of Day Laborers, a project of the New Orleans Workers' Center for Racial Justice (NOWCRJ).  Many African-American community leaders joined the march, and spoke of the need to unite Black and Latino communities in a fight for justice. "We understand as a people that your fight is our fight," said Alfred Marshall of Stand with Dignity, also a project of NOWCRJ.
At a rally outside of City Hall following the march, the Worker's Center introduced its "Stand Up 2012" campaign, which calls on Homeland Security secretary Janet Napolitano to stop the deportation of "labor organizers and civil rights defenders."   
The campaign centers on the so-called "Southern 32", thirty-two undocumented immigrants in the South who are now slated for deportation because of their advocacy.  Josue Diaz, one of the thirty-two, explained how he was targeted for leading a strike:
"We were recruited from New Orleans to go work in the reconstruction in Texas, in the clean up after Hurricane Gustav and Ike… Just for demanding two days of wages and equal treatment at the worksite, we were jailed for four months. But that wasn't enough. Immigration came to get us afterwards."*
Melvin Omar Mejia, who organized the strike with Diaz, said of unjust employers, "We know that they always retaliate with the police, and with their best tool, Immigration."*
Jacinta Gonzalez of the New Orleans Workers Center for Racial Justice explained that local authorities and employers are using deportation as a tool to silence undocumented workers who are speaking up for their rights.
Gonzalez said of the "Southern 32", "The only reason they are facing deportation is because they stood up and defended their civil, labor and human rights on behalf of all of us."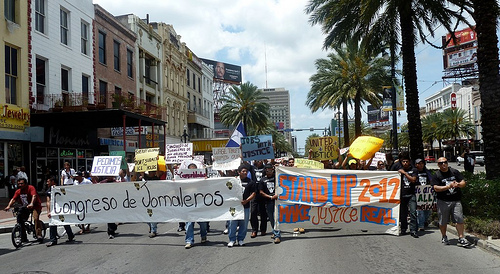 The protestors also targeted Orleans Parish Sheriff Marlin Gusman for choosing to cooperate with Immigration and Customs Enforcement (ICE) holds.  ICE requests that local law enforcement hold undocumented people in jail, so they can be picked up by ICE and deported.  But compliance is voluntary, and many local officials around the country do not submit to ICE holds.  In Louisiana, detainees are sometimes held for much longer than the 48 hour period the immigration agency legally has to pick them up from local jails.
For example, Delmy Palencia (pictured below) was detained by police after a domestic dispute with her partner.  She successfully took Sheriff Gusman to court for detaining her longer than 48 hours under an ICE hold.  "But that didn't end there," Palencia told the crowd.  "The Sheriff gave all of my information to Immigration."  She was detained for a second time, for twenty days, and now has less than a year before she'll be separated from her husband and infant son, through deportation.  "I don't want just one other year.  I want to be here with my family.  And that's why we're in the struggle. To be able to be here and have the right to remain."*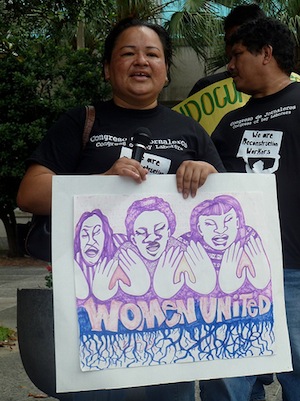 The "Stand Up 2012" Campaign will call for the "Southern 32" to be granted legal status to remain in the United States.
The protestors also called for a meeting with Mayor Mitch Landrieu and further talks with City Council and Immigration authorities.
May 1st was International Workers Day, and in recent years has also become a day of action in support of immigrant rights.  Later in the day, an Anti-Capitalism march loosely affiliated with the Occupy movement also took to the streets of New Orleans.
*Quotes from Diaz, Mejia, and Palencia were translated from Spanish by Jacinta Gonzalez during the March.
Learn more about the Stand up 2012 Campaign.
Photos by Ada McMahon.
******
Ada McMahon is a Media Fellow at Bridge The Gulf (www.BridgeTheGulfProject.org), a community journalism project for Gulf Coast communities working towards justice and sustainability.  She previously worked as a blogger and online organizer at Green For All, a national non-profit that fights pollution and poverty through "an inclusive green economy".  She is from Cambridge, Massachusetts, and currently lives in New Orleans, Louisiana.