The BP Spin Doctor Is In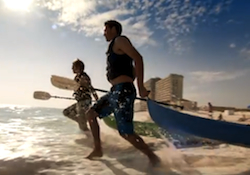 The last few weeks in the media world have been particularly damaging to BP. Despite their best efforts to muffle the continuing effects of the 2010 Deepwater Drilling Disaster - a muffling which has focused around a multi-million dollar, three-year, non-stop ad campaign, the poor little fellas are suffering from an assault by the truth of the matter.
As the first phase of the environmental "Trial of the Century" drew to a close, BP execs have faced a bombardment of criticisms, perhaps most prominently in the release of the Government Accountability Project's report, which cited 25 whistleblowers who detailed the, "devastating long-term effects on human health and the Gulf of Mexico ecosystem stemming from BP and the federal government's widespread use of the dispersant Corexit."
Additionally, Gulf Coast residents - including Drew Landry, Bryan Parras, and yours truly, confronted BP executives on their own ground, during the Annual General Meeting held April 11th, in London.
After three years of non-stop spinning, BP's spin-doctors appear to be getting tired. Their spin is looking a little lop-sided and raggedy.
Photo: Still from a BP commercial.
Group Chief Executive Bob Dudley's comments at the AGM were more of the same off-base, out-of-touch rhetoric as we have seen so many times over the last three years. More unfortunate, this time for BP, a host of information (including the GAP report) has been released since the shareholder meeting, which has finally and somewhat successfully countered the oil giants claims of "making things right," for coastal citizens and communities.
The question is, how will the company which, according to commercials, is "working to fuel America," while being "committed to the Gulf," be able to pole vault past this continuing stream of counter-punch?


In the spirit of fair play, I was thinking we might give BP's spin-doctors a break, and help them fine-tune their rebuttals to the hard science and lived experiences of thousands of people across the Gulf Coast.
For instance, concerning the continuing environmental impact and higher than normal mortality rate in sea life as cited in the National Wildlife Federation's report, "Restoring A Degraded Gulf of Mexico: Wildlife and Wetlands Three Years into the Gulf Disaster," BP Spokesman Craig Savage, commented that, "As a result of our $14 billion dollar clean up effort... the Gulf is returning to its baseline condition – the condition it would be in if the accident had not occurred."
In other words, it's not like the Gulf waters weren't polluted before BP's mega-disaster. Dudley said as much at the AGM, when he said of the Gulf of Mexico, "It's an ecosystem that's used to oil."


World renowned petroleum engineer, John Turley, agreed with Savage concerning the continuous Gulf pollution issue when he stated at a recent Sierra Club Delta Chapter lecture event, "we don't want another spill, ever, but guess what, since Macondo there has been a number of them."
Unfortunately for Dudley, who commented at the AGM that anyone who questioned the use of the dispersant Corexit lacked "common sense," Turley also slammed the chemical spill response as being "toxic," and "just not a good product."


Should one of the many BP spin doctors address Turley's assertion, they might echo Tulane's Scott Grayson's statement in a recent press release from BP's bought and paid for Gulf of Mexico Research Initiative, "It's undeniably the best surfactant that the price is reasonable for. Looking at this problem not from a laboratory scientist point of view, but from someone who is trying to get a real world solution, how can we bring the cost down to these better solutions to the point where they actually become reasonable solutions?"


In other words, and ignoring BP's first quarter profits for this year of $16.6 billion, "BP just couldn't afford an oil spill response that didn't poison the people and environment it had already decimated."


That low cost mixture of Corexit and oil is "52 times more toxic than oil alone," says a study published in the scientific journal Environmental Pollution. It also seems to be mutating some species of sealife. Researchers from Louisiana and South Carolina released data on May 1st, concerning killifish who were exposed to Gulf sediment and then showed "developmental abnormalities."
Although BP has yet to release any sort of statement regarding these findings, perhaps they can point to evolution as a contributor. Who knows? Those tumors, heart defects, and embryo disruptions may just be the process of (un)natural selection. Little did Darwin imagine that surviving massive amounts of oil and chemicals would someday play into "survival of the fittest."


That might even extend to the creepy crawlies that used to call Gulf marshes home. Linda Hooper-Bui, associate professor in LSU's Department of Entomology, recently released preliminary results from field and lab work using more than 100 insects and spiders, that suggest an "emerging problem" regarding "insect reduction in oiled areas."
According to Bui, the symptoms that the critters exhibited after exposure to the crude/dispersant mixture were similar to that of South Louisiana residents, including "skin rashes, respiratory distress, digestive distress and more."
A Louisiana Environmental Action Network letter, signed by Gulf residents and groups, agree with Hooper-Bui's concerns for human health impacts. The letter in part, calls again for several government health and environmental agencies to, provide, "sufficient resources and [that] support be made available to the medical community throughout the Gulf Coast," to address what they see as a lack of information and care.
This might make a person agree with OnEarth Magazine's recent article, Are we Ignoring the Most Important Science About the Gulf Spill? which noted the lack of funding provided by both BP and the government regarding researching toxicological impacts.
BP might respond to that question with, "Although it is true we helped to outline the major themes of research funding in the Gulf, and we did appoint half of the scientists to the Gulf of Mexico Research Initiative's Board, the website clearly says that the group is 'independent,' and so it must be."
Regarding health effects, they might even add, "Further, any person who is gravely ill from our response is welcome to wait the years it will take to litigate their suffering, or take a settlement which will cover on a small portion of their past-due medical bills. Again, getting people well is not our concern."
Perhaps if that doesn't work - if the global population starts to refuse to continue to buy BP's history of corporate deceit, then BP can just continue to buy sponsorships of every festival, event, and cultural entity who will allow it – including the UK's Tate Museum, the Olympics and Alabama's Shrimp Festival.
However BP decides to try and save their image, and shareholders, from the realities of this seemingly never-ending disaster, the truth will stand. This catastrophe is not over – there is still BP oil in our marshes and on our beaches, many Gulf residents are still sick, we continue to see mutations in some Gulf seafood, many claims (especially to highly affected fishing families) have yet to be paid by BP, there is evidence that in some areas Gulf fisheries are collapsing, and the practice of using toxic chemical dispersants in oil spill response must end.
And no amount of BP spin, 5 cents or $5 million worth, is going to change any of that.
Cherri Foytlin is a journalist, speaker, mother of six and wife of an oil worker, who lives in south Louisiana. She is the author of "Spill It! The Truth About the Deep Water Horizon Oil Rig Explosion," and regularly contributes to www.BridgetheGulfProject.org, the Huffington Post, and several local newspapers. In the Spring of 2011 she walked to Washington D.C. from New Orleans (1,243 miles) to call for action to stop the BP Drilling Disaster, and has been a constant voice speaking out for the health and ecosystem of Gulf Coast communities, in countless forms of media. As an advocate for climate justice, she has been arrested in front of the White House twice and has spoken to thousands at venues and rally's in the United States and Europe. In addition, she is a founding member of the Gulf Coast Chapter of The Mother's Project - Mother's for Sustainable Energy, Idle No More Gulf Coast and of "28 Stones" - A Gulf based media project which focuses on national movement building through art, photography, video and written word.