Mississippi youth celebrate Asian culture, raise money for fishing communities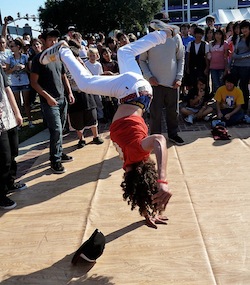 An annual Asian heritage festival, hosted by Mississippi youth, is now extending into an ongoing effort to support fishing families impacted by the BP oil disaster. 
In October, the Vietnamese youth group Gulf Coast REACH hosted the 4th Annual Mid-Autumn Moon Festival in downtown Biloxi, Mississippi.  The festival was intended to be a "Day of Respite and Spirit" for those affected by the oil disaster.
"We originally came up with this idea because a lot of the fishermen right now, because of the oil spill, are emotionally unstable, economically unstable, and they just need a day where they can relax and kick back," explains Tony Nguyen, President of Gulf Coast REACH (Recognize and Empower Asian Community and Heritage).


That one day of relaxing also brought in $10,000 in donations, and Nguyen says the group is now "thinking about the long term," and how best to make an ongoing impact in the lives of struggling fishermen and their families.
On a sunny Sunday in October, fishermen; dancers and singers; families and teenagers; neighbors and passersby loafed and played on the Biloxi Town Green. They enjoyed food, the sunshine, the entertainment, and each other, as youth from across the Gulf Coast belted out Lady Gaga tunes and showcased their break dancing skills on stage. 
Performers also celebrated Asian culture and heritage through lion dancing and other traditional Vietnamese performances.
Tony Nguyen, President of Gulf Coast REACH.
Nguyen explains that the festival is based on the first full moon of the autumn season, which is a time for, "tradition, spending time with your family, relaxing, hoping for good crops."
This year the crops – crab, shrimp, oysters, and fish from the Gulf of Mexico – are in trouble.  So it was especially important for the community to reconnect over heritage and fun, rather than at a meeting about the BP claims process or in the food stamps line. 
Throughout the festival, selling cold sodas, directing the models down the catwalk, doling out prizes at the carnival games, and making sure everything was running smoothly, were the youth of Gulf Coast REACH. 

The group was founded four years ago by Asian American entrepreneurs and business people on the Mississippi Gulf Coast to give back to their community and celebrate their culture.  But over the years young people in the community, like Tony Nguyen, have stepped in and taken the reins.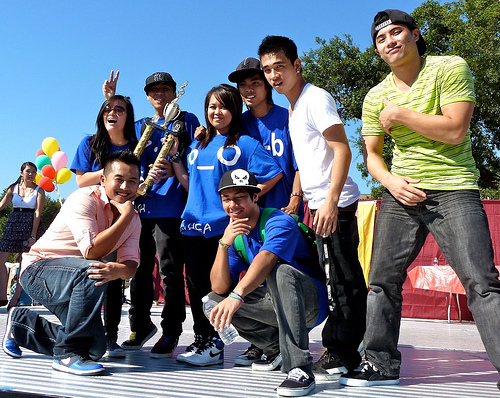 X-pressions, who won Best Gulf Coast Dance Crew at the festival.
Nguyen, now a freshman at Mississippi Gulf Coast Community College, says he was first drawn to the group because he's always cared about community service, and liked the mix of celebrating Asian American culture and focusing on youth.  Since the BP disaster, the group's work hits even closer to home. 

"For me personally, it deeply affected my family.  Almost all of my aunts, uncles, even my grandma, they were all in the seafood industry."
The group met their goal of raising $10,000 in donations from the Mid-Autumn Moon Festival, to distribute to the fishing community.  They doled out the first $1,000 over Thanksgiving, in pies and turkeys to families in need (read more from Gulf Coast REACH member and Bridge The Gulf contributor Mickey Sou).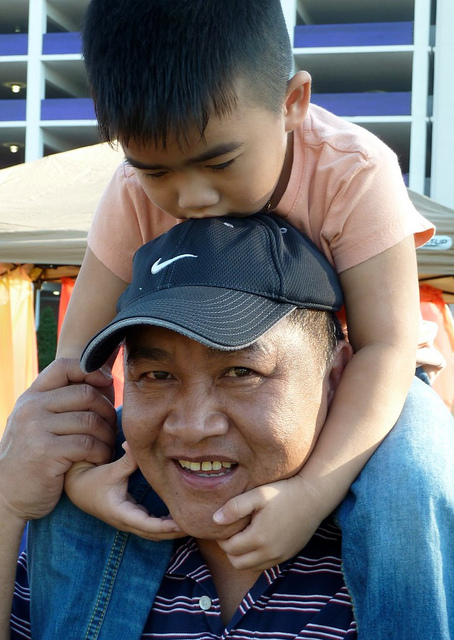 A father and son enjoy the Mid-Autumn Moon Festival.  Photo by Ada McMahon.
Nguyen says that though it felt good to help provide a festive Thanksgiving for fishermen across the coast, Gulf Coast REACH decided not to do similar charity work this Christmas season.
"[The Thanksgiving donations] only helped about 50 families, and only during the holidays, so that helped us put it into perspective.  [Now we're thinking,] what can we really do to make an impact with this money?"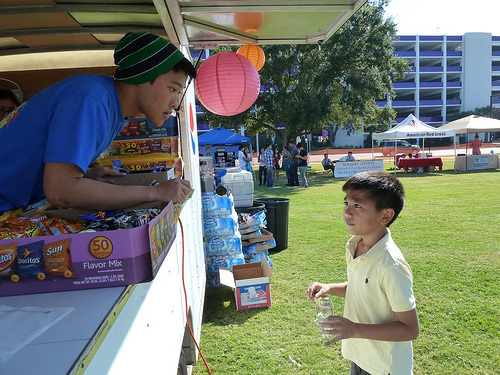 All photos by Ada McMahon.  View more here.