My family's business weathers the BP heat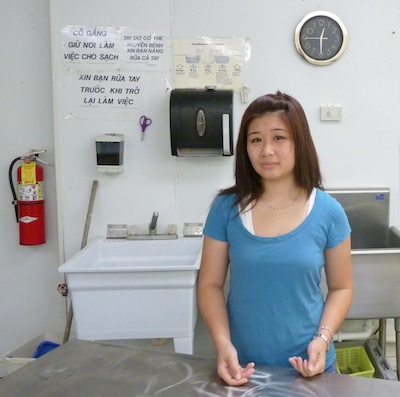 August 4, 2010 - School was going to start in two weeks. My parents were still out of work. My mom was trying to find a job. Almost every day, she would come to me and asked, "Jennifer, bay gio, me con lam gi, me lam gi duc? (Jennifer, now what am I to do, what can I do?)"
Honestly, I did not know how to answer. I know her background of work. Ever since she came to the states, her only work experience was surrounded by seafood. There weren't really any answers or solutions that I could offer. There were the possibilities of me taking a break from college and assisting the needs of my family. However, the main question was, "What is the best solution?" My parents had two major bills to pay: the mortgage and the shop's loan. Bills were piling up.
Yes, we did receive checks, but these checks didn't compare to the amount of my parents' actual work. We did our best to not complain because it was better than nothing at all. No one wanted to struggle or complain. As managers, life itself, was even harder. It's not just about my family, my parents, or even the shop. If my parents weren't working, then their employees were not working either. In addition to all the oil-spill troubles, there were some internal issues within the family already.
A week later, I sat down and just thought about all the possible solutions. Continuing school was the first solution, of course, but that would take some time, which my family didn't have. Getting a job was the second solution, but no one was hiring. This summer outlook wasn't what I expected. My final solution was figuring out a new business for my family. It wasn't possible.
No one was cooling off from his or her stress. Many just hid under covers. However, the layers and unnecessary covers were not needed for this crazy heat.  I was tired of the heat and unnecessary sweat.
I came to my mother and told her, "I can take a break from school. I can find a job. I'll do what I can to help here. I'll take a year off and figure things out for the family." She was silent for a moment. Then she spoke softly, "No, you need to continue your studies. There's no point in wasting your time to fix this. It's not a fast fix." I didn't know what to say after that. Each day, I waited.
August 18, 2010.
"We can work again!" was the first thing that my dad said Sunday morning. He received the news from one of his fishermen that gets crabs for him. Immediately, my heart felt the relief. They were able to get back work in the nick of time when I was about to go school.
The next morning, I saw my mom with a bright smile on her face. She had the look of a relief. She didn't have the tense shoulders that felt too hard to touch. She was finally relieved again. Seeing her smile made me realized. Every day, she wakes up and goes to work. She sincerely enjoys it. She does not wake up at 4 AM to just bring bread on the table. She works to enjoy her everyday life for herself and family.
To be continued...
Jennifer Le of Biloxi, Mississippi, is currently a sophomore at University at Albany, Albany, NY. Her major is Biology with a medical concentration and she is intending to minor in Chinese. She volunteers as a current attendant under Five Quad Volunteer Ambulance Service. She's a member of Chinese Student Association, in addition to being Social Chair and Webmaster.
Thi Le and Hue Nguyen, her parents, own Jennifer Le Seafood, which processes crabmeat. The shop, which is named after the only daughter in the family, has been in business for more than 10 years.