Alabama town outraged, not surprised, by Mayor's alleged Katrina theft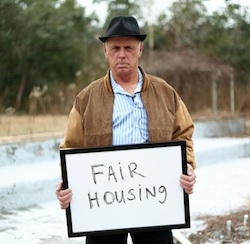 In the latest Hurricane Katrina corruption scandal, Stan Wright, the Mayor of Bayou La Batre, Alabama has been indicted on eight federal counts – including theft, conspiracy, and embezzlement.
Though residents of this small fishing town are upset by their Mayor's alleged corruption, many aren't surprised.
"The only surprise I have is that it didn't happen sooner," says Wayne Rabby, the former Police Chief of Bayou La Batre. "[It was] generally known down here that this type of thing was going on."

The indictment centers on Safe Harbor Estates and Safe Harbor Landing, two adjacent subdivisions built to house Katrina survivors.  The project was mostly funded through a 2007 grant for $15.7 million from the Federal Emergency Management Agency (FEMA), with some money coming from the Department of Housing and Urban Development (HUD).
The federal indictment charges that Wright illegally sold a plot of his own land to the city for the development project, purchased on FEMA's dollar.  He allegedly hid this conflict of interest by giving the land to his daughter, Mary Cook, who sold it to the city and then paid her father the sale price: roughly $27,000.  Cook is also charged in the indictment, which was handed down by a federal grand jury in late September and then updated on November 23rd.

Also charged is Janey Galbraith, a contractor who the city hired to secure the FEMA funds and then administer the grant.  She allegedly covered up the crime with Wright, through wire fraud.

Download the full indictment from AL.com.
The trial is set to begin in January or February. All three defendants have entered not guilty pleas.  Wright's attorney declined to comment for this story, and said Wright is unavailable for comment.
Quite a few Bayou La Batre residents also told me they have "no comment" about Wright's indictment, at least not on the record. 
In this small town where everybody knows everybody, getting on the Mayor's bad side can have consequences.  Some locals call Wright "Boss Hogg" and "a bully."  Wayne Rabby, who was Police Chief from 2000 to 2002, says Wright's "management style was dictatorial. [It was] his way or the highway."


One source explained wanting to remain anonymous, "People have been retaliated against for speaking out against him."
That fear appears to be well founded, as retaliation is one of the charges against Wright in the indictment. Allegedly he tried to have a Bayou La Batre police officer arrested and demoted after Wright learned that the officer was cooperating with the FBI on its investigation of him.

But not all of Wright's detractors are afraid to speak out.
"I hope that justice is served to him, for all the wrong that he's done to the people that… lost everything from Katrina," says Paul Nelson, an oysterman who has lived in the area his whole life.  "He wants to steal as much as he can steal, and he don't mind who hurts." 


Nelson, who is also President of the community group South Bay Communities Alliance, says Wright's corruption has been all the more painful because it's hurting "underprivileged people" and "families that were devastated by Katrina."
According to the 2000 census, approximately 30% of Bayou La Batre lived in poverty, and only 55% of its adult residents had earned a high school diploma. Hurricane Katrina made an estimated 1,000 of the city's 2,300 residents homeless, and many never received government assistance to restore their homes.
"It burns me up," Stephanie Baker, a 41-year old resident of Safe Harbor Estates, says of the indictment. "He claimed to be the 'Mayor of the Bayou'… and at the same time he was taking money from people who needed help."
And some Bayou La Batre residents say the recent indictment only scratches the surface of Mayor Wright's crimes.
Wright faced accusations of favoritism and corruption after the BP oil disaster as well. Bayou la Batre was one of the few cities to oversee its own clean-up operation in the summer of 2010, despite protests by some local commercial fishermen who wanted the Mayor to stay out of it.
The city directed most of its allotted BP money to a company that employed Stan Wright's brother Gordy, in a lucrative $7.4 million contract.  Janey Galbraith, the indicted Safe Harbor administrator, was also involved – her company received $500,000 from the city for administering Bayou La Batre's BP money.
Chris Bryant, a commercial fisherman who organized the protests of the Mayor's involvement in the BP clean-up, says the indictment for Katrina-related crimes is just the beginning for Wright. "I think there will be a lot more to come. Once they start looking into the BP oil spill, there will be a lot of others involved."

In a town that is half people of color (mostly Asian Americans (33%) of Vietnamese and southeast Asian descent, and African Americans (10%)), Wright also has a reputation for racism.


Wayne Rabby says that as Police Chief, he heard Wright use racial slurs on a few occasions.  In one incident, Rabby, who is white, says he heard Wright used the n-word in reference to a city council member. Rabby wrote of another 2001 incident, "I heard Mayor Wright say that he was not going to allow a Boys & Girls Club in Bayou La Batre because 'they would be bringing in [n-word] kids from Mobile and everywhere else."
In the same statement, Rabby wrote that he also heard the Mayor say to an Asian American business owner, "I want you out of my town.  Why don't you go back where you came from?"


With a history like this, it is no wonder that some Bayou La Batre residents see the indictment as Wright's comeuppance. 


"The majority of people I talk to are happy," says Paul Nelson.  "They see justice is going to be served to this guy.  I feel the same way… It's been a long time coming."
*******
Photo: Paul Nelson on the foundation of his former house and oystershop, which were destroyed by Hurricane Katrina. Photo by Patrick Jackson.

Ada McMahon is a Media Fellow at Bridge The Gulf (www.BridgeTheGulfProject.org), a community journalism project for Gulf Coast communities working towards justice and sustainability.  She previously worked as a blogger and online organizer at Green For All, a national non-profit that fights pollution and poverty through "an inclusive green economy".  She is from Cambridge, Massachusetts, and currently lives in New Orleans, Louisiana.