Black Leaders Get Closeup View of Alabama's New Jim Crow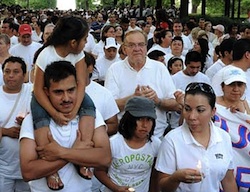 By Elon James White, originally published on Colorlines. Recently I was invited to be a part of a delegation of labor leaders heading down to Alabama to speak out against one of the worst immigration laws in the country. I found it interesting, because the trip was billed as a "black" labor leader delegation. I've heard a lot about the black-brown discussion over immigrant rights, so I was ecstatic that this delegation of specifically black folks was going down to witness this law's impact first hand. As a commentator on race and blackness, I felt it important that join. Although there are those within the community who aren't supportive, there are many who are absolutely against the prejudice that we've seen popping up across the country this past year, under the guise of "saving American jobs."
I had been aware of Arizona's SB-1070, so when the AFL-CIO asked me to participate I felt I already "got it." I thought I knew what the situation would be when we arrived in Birmingham.
I was wrong.
Over two days we met with activists, business owners, and those that were affected the most by the law—undocumented people themselves—and my understanding was completely changed. I was against the law when I arrived in Birmingham. But 48 hours later I didn't simply oppose it; I was horrified and angry for the people who have to live under it and confused as to how this could have ever been allowed in the first place.
Photo: Participants in a protest against Alabama's HB-56 march through Linn Park, Saturday, June 25, 2011, in Birmingham, Ala. (AP Photo/ The Birmingham News, Mark Almond)
To call Alabama's HB-56 harsh is an understatement. From not being able to receive a birth or death certificate to being at risk for deportation if you seek child support—HB-56 not only creates an unwelcoming environment for any brown immigrants, it harks back to a terrible time in Alabama history that many thought was in the past.
We were all sadly mistaken.
As the delegation met undocumented residents and activists working with them, one thing that stood out was a broad climate of fear that will be familiar to those who lived through Alabama's first Jim Crow era. Mary Bauer of the Southern Poverty Center spoke to us at the opening session of the delegation. She retold the story of someone who went to make a cash purchase at Walmart and was asked for identification. That isn't in the HB-56 law. There isn't any provision that you can't make a cash purchase. But when the law of the land is prejudice, it creates vigilante immigration policing. People feel empowered to police anyone they think isn't documented in any way they feel is reasonable.
Read the rest of this article on Colorlines.com
Elon James White is a writer/satirist and creator of the award-winning Web series "This Week in Blackness" and host of the online radio show "Blacking It Up!" which airs Monday-Thursday at 1:30pm ET on http://TWIB.FM