Coalition calls for transparency in Gulf restoration, with new report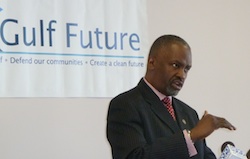 By Michelle Erenberg, Gulf Restoration Network. Organizations with the Gulf Future Coalition released Sunshine on the Gulf: The Case for Transparency in Restoration Project Selection today, a report that outlines the need for formal public participation in restoration decision-making and puts forth a framework for evaluating the many proposed early restoration projects that are being decided now.
Gulf Coast communities are frustrated by their exclusion in the discussion over how to spend the $1 billion early restoration funds that BP committed toward the Natural Resources Damage Assessment (NRDA). This assessment of injuries and determination of liability usually takes years and because of the size of BP's Deepwater Horizon oil release; this one could take a decade or more. Having some dollars now to spend to restore our damaged ecosystems is critical, but the public has had little opportunity to weigh in on which of the hundreds of proposals currently being submitted, will receive funding.
Photo: Reverend Tyronne Edwards of Zion Travelers Cooperative Center, a member of the Gulf Future Coalition, at a press conference in New Orleans today. He called for "serious accountability where local people really benefit from the process" of coastal restoration. Photo by Ada McMahon.
So the Gulf Future groups created a community-based project selection process; developing a selection criteria and then evaluating a sample of proposals based on that criteria. As members of the Gulf communities affected by the oil spill, The Gulf Future Coalition believes that a systematic project selection methodology that uses these criteria will go farther to ensure a sustainable environmental and community restoration.  The Gulf Future framework prioritizes projects that contribute to the recovery and sustainability of the Gulf by
improving specific ecosystem impairments;
creating public health safeguards;
supporting local economies through workforce development, local hiring, and local contracting;
engaging public participation; and
involving a plan for evaluating outcomes that can be monitored by the public.
The limited review of project proposals revealed that although hundreds of projects meet the broad criteria set forth in the $1 billion agreement between BP and the NRDA Trustees and Oil Pollution Act 1990 regulations, very few projects address workforce training/local hiring, public engagement or monitoring and evaluation of projects as they are implemented.  Many other proposals simply did not contain sufficient information needed to determine whether they could even meet any of the criteria. The results of this evaluation have been published in the report released today.
Note: This article was originally titled "Gulf Future Coalition Releases 'Sunshine on the Gulf: The Case for Transparency in Restoration Project Selection'"