Gulf Oil Drilling Disaster: Gendered Layers of Impact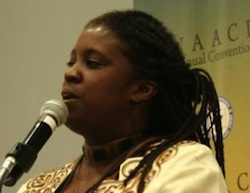 By Jacqui Patterson, On The Issues Magazine. The Deepwater Horizon Oil Drilling Disaster of April 20, 2010 (the "BP Oil Spill") is, as the news sometimes tells us, causing grave damage to the waterways and shores, marshlands and bayous of the Gulf of Mexico. Far more hidden is the devastation wrought on the women in scores of coastal communities.
Photo of Jacqui Patterson from Show Me Progress.
My research and investigations in the Gulf region indicate that while all were affected, the women of the coast experienced differential impacts and unique issues during the disaster and in its aftermath. In this regard, the Gulf disaster fits in with the experiences of disasters worldwide, in which, across the board, women are disproportionately affected.
In the case of the Deepwater Horizon incident, women's experiences were different from men in four main areas: 1) Care-taking and health; 2) Economic health; 3) Abuse in the home 4) Family stability.  In many ways, women were required to take on new family responsibilities in the wake of the Gulf disaster. From a gender perspective, these are many lessons to bring forward.
Challenged with Family Health and Welfare
In the aftermath of the disaster, people reported many health concerns: respiratory issues, digestive problems, skin reactions and other conditions. With these new health issues on the rise, women's care-taking experienced a corresponding increase. As is typical in many families, women in the Gulf took on the role of caregiver when husbands, children or other family members became sick.
Furthermore, women faced risk to their own health, especially because of differential effects on reproductive health, as is frequently true in situations of environmental exposure. Veteran toxicologist Dr. William Sawyer, in his analysis of the risks resulting from toxic exposures arising from the Gulf Oil Drilling Disaster, pointed to Toluene and aromatic hydrocarbons as risks for women because they are known to cause spontaneous abortions and severe birth defects in humans and other mammals.
Mental health issues increased, and women reported having to be the pillars of stability and leadership in the family so that members could continue to function.
In addition, women became the spokespersons for families that needed to share their stories and advocate for justice. Recovery workers – most of those who were hired were male -- had to sign contracts saying that they wouldn't "speak out" about their experiences as part of clean-up crews or other parts of the recovery, leaving the women to carry community voices.
Reliance on public assistance increased significantly in the region due to the disaster.  Women were left responsible for accessing public assistance -- whether it's because women are viewed as being in charge of household matters, or because of gender based "pride" differentials.  As Mary McCall of Coden, Alabama, shared with me, "And then I'm trying to help fishermen without jobs. I would get in line to get groceries, but them -- being men -- they didn't want to do that. They didn't want to say 'I'm going to stand in line for them to give me groceries'; I did it for (the men)." 
Read the rest of the article in On The Issues Magazine.
---
Jacqui Patterson is an activist, organizer, researcher and policy analyst for social justice and specializes in issues of women's rights, economic justice, racial justice, public health, violence against women, HIV/AIDS, and environmental/climate justice. Jacqui is the Co-Founder and Coordinator of Women of Color United, as well as the Director of the NAACP Environmental and Climate Justice Program.