Louisiana fishermen protest BP, NOAA at state capitol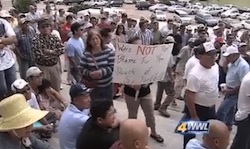 On Wednesday, about 300 fishermen rallied on the steps of the State Capitol in Baton Rouge, in protest of the ongoing impacts of the BP disaster.

The rally highlighted two main issues: the low price of seafood and commercial fishermen being blamed for recent sea turtle deaths.
BP is responsible for both, they say, but fishermen are unfairly shouldering the burden.
"BP said they were going to make us whole.  We would not be here today, we'd be out working, if we were made whole," said Clint Guidry of the Louisiana Shrimp Association (which organized the rally).  The fishermen criticized Kenneth Feinberg's claims process for unfairly and inadequate compensating their economic losses.


Mike Roberts, a commercial fisherman with Louisiana Bayoukeeper and the Association of Family Fishermen in Barataria, Louisiana, says prices are so low it is not even worth it for him to shrimp.  At 35 cents a pound, he just can't fill his boat with enough volume to offset the price of fuel.  He says in 2009 the prices were between 90 cents and $1.10 per pound. 

"Our prices were soaring," Dean Blanchard, a shrimp processor on Grand Isle, told the crowd. "We had everything going for us."
And then the BP's oil disaster came along, and the demand for Gulf seafood dropped.

Adding insult to injury, some government agencies and environmental groups are blaming an alarming rise in sea turtle deaths on shrimpers.  As of last month, more than 563 dead sea turtles were recorded this year, more than 5 times the annual average.

The National Oceanic and Atmospheric Administration (NOAA) has linked the deaths and shrimpers' improper use of turtle excluder devices (TEDs).  But, Guidry counters, in 2010 commercial fishermen were 97% compliant on TEDs.  And in May and June, when fishermen were actually out on the water, turtle mortality was down.
Kindra Arnesen, a coastal advocate and wife of a commercial fisherman, says blaming shrimpers for turtle deaths is a convenient distraction from BP's continued injury to the Gulf Coast fishing communities.
Fishermen in the crowd expressed deep grievances and ongoing concerns about the BP disaster.  "What about people who have chemicals in them?" asked Ryan Guerra, an oysterman from St. Bernard Parish who also worked on the BP clean-up operation for four months.
He and crabber Kevin Heier brought four live crabs to the rally.  The crabs had hard brown lesions on their blue shells, which the men suspect came from dispersants sprayed during the BP response effort.  They have concerns not just with prices, but with whether their seafood will be harmed in the long term by the toxins.
Thien Nguyen, 50, represents the United Vietnamese Fisherfolk Association and GO FISH (Gulf Organized Fisheries in Solidarity and Hope), a newly formed coalition.  Through a translator, he said the coalition is designed to unite fishermen, whose industry has been under attack since the 1980s.
"How can we get our industry back to where it was before?" Nguyen said, "That is what we are all worried about."
Read Related: Stop scapegoating fishermen