NIEHS Says Illness Claims Impossible to Prove, Feinberg to Call on Independent Health Experts
"Deficiency Letter on Interim Payment/Final Payment Claim".  The wording is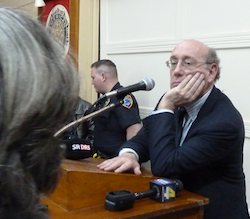 ominous, but John Gooding, who is visibly ill, is not surprised.  He's received them before and has a feeling he'll be receiving more.  The letter further stated that John was missing documentation necessary to prove he has been "diagnosed with a physical injury/death that resulted from the Spill".  Illness claims are processed under the general GCCF category of physical injury/death claim types.
 
John began to feel the health effects of the oil gusher in late April 2010 and has become sicker with each passing month.  At the time of the explosion he lived near the beach in Pass Christian, MS but has since moved inland in an effort to escape the fumes.  He says he still has seizures, respiratory problems and other health effects.  John is but one of an undetermined number of gulf residents who have submitted health claims, only to be denied. 
Earlier this week, Kenneth Feinberg, Administrator of the Gulf Coast Claims Facility (GCCF)  told Bridge the Gulf he will be calling on "independent experts" to review the validity of the approximately 30 health claims that are currently "in limbo".  He said the thirty claims are from both clean-up workers and residents who were exposed to fumes from the oil disaster.  Feinberg was unable to name the independent experts, but stated that information would be available by the end of this week.  He did not elaborate on the process used to pick the experts. 
In a previous interview with Bridge the Gulf, Feinberg stated he had received approximately 200 health claims and denied them all for lack of documentation.  It is unclear whether the 30 "in limbo" are part of the 200 he spoke of earlier or if they have been newly submitted.  While saying theoretically the GCCF could approve health claims related to the clean-up, he admitted to having "reservations about whether those claimants can offer proof," that the BP disaster caused their ailments.
 
Feinberg is not the only one with reservations.  When asked if claimants could medically prove their illness was caused by the oil disaster, Linda Birnbaum, Director of the National Institute of Environmental Health Sciences (NIEHS), answered emphatically.  "No, they can not."
 
Birnbaum further stressed that to ask residents to provide causality between BP's oil and chemical dispersants and their illnesses is simply not possible and emphasized it is not because they are not sick, but because the medical and scientific communities simply do not know enough about the effects of chemical dispersants and crude oil on human health to prove such a claim.   
 
Mary Gant, NIEHS Program Analyst for Legislative Affairs, agreed and lamented that in spite of numerous large oil spills, such as the Ixtoc in Mexico, the Exxon Valdez in Alaska and many others around the world, there are still too many questions about the long-term effects of chemical dispersant and crude oil exposure on humans.
 
"Not enough is known," she stated, "to prove causality between exposure to BP's oil and one's illness.  When Vietnam Veterans were exposed to Agent Orange, it was the first opportunity to study the effects of exposure.  The same for 9/11 Responders, it was the first time such an exposure had ever occurred.  Unfortunately," said Gant, "we have had many opportunities to study long-term effects of crude oil exposure.  We just never have."
 
For that reason and others, NIEHS is currently conducting a $25.2 million research program, which will create a network of community and university partnerships to study the long-term health effects of crude/dispersant exposure.  The study will involve four gulf coast universities and will study the effects of the disaster on clean-up workers, women and children, and on seafood safety.  Universities will partner with local organizations including South Bay Communities Alliance of Alabama, Citizens Against Toxic Exposure, LEAN, Mississippi Coalition for Fisherfolk and Families, Zion Travelors Cooperative and others. 
 
In their special report, The Human Right to Human Health Denied:  Feinberg's Rejection of BP Illness Claims Breaks with Past Practices, Monique Harden and Nathalie Walker with the Advocates for Environmental Human Rights (AEHR) expose Feinberg's break from past practices in which he did not require veterans sickened by Agent Orange nor first responders sickened by toxins at Ground Zero to prove causality. The AEHR report states "Feinberg's requirement of medical proof of causation for BP illness is a break from his past practices in processing claims and payouts in the 9-11 Victims' Compensation Fund and the Agent Orange Settlement Fund".  
 
The report goes on to say "by creating a significantly higher burden of proof for illness claims by people exposed to toxic chemicals during their clean-up of BP's oil disaster, Feinberg effectively denies all damage claims for illnesses associated with exposure to the toxic BP crude oil and/or toxic chemical dispersants that were applied to the oil spill…and undermines their human right to health."
John Gooding is feeling that burden.  He's sick, has accumulated thousands of dollars in medical bills, submitted document after document and has yet to receive compensation.  He's skeptical of "independent" experts hired by Kenneth Feinberg who is paid by BP and wonders if claims already denied will be reevaluated.  That skepticism is being felt by countless others across the gulf coast.
Karen Savage teaches middle school math in the Boston Public Schools.  She began volunteering in Mississippi's Turkey Creek community nearly ten years ago, and now volunteers for the Bridge the Gulf, the Gulf Coast Fund, Gulf Change, Turkey Creek Community Initiatives and the Gulf Restoration Network.