Playground tells story of forgotten New Orleans neighborhood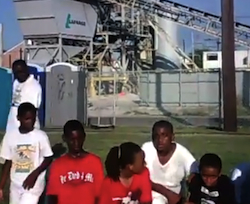 The Norwood Thompson playground is a gathering place for all ages in Gert Town.  It is a place of fellowship for residents of this New Orleans neighborhood, and provides a break for working mothers to spend time with their children.
But it is also destined and designed as an accident waiting to happen. As you will hear and see from the children and adults who use it, the playground is an environmental health hazard.
As I entered the playground and park recently, I didn't even have to look for the cement plant. It was directly in my face, standing just outside of the playground. The air was dry and dusty, and after my visit I had to return to a good hot shower – the oils on my skin absorbed so much cement dust.
On very windy days, the coaches of the youth football team shut down practice. The dust from the nearby Lafarge cement plant burns their players' eyes too much. Cement dust contains heavy metals like nickel, cobalt, lead, and chromium, pollutants that are hazardous to people.  Some youth at the park, such as this young man Anthony, have asthma and other health problems.
The city of New Orleans Environmental Department deemed the Gert Town playground environmentally unsafe and designated actions to be taken that have not been implemented.  

This area is a public health hazard. 
Louisiana law says a casino or video poker machine must be 300 feet from a school or church. In Gert Town, the playground is less than 300 feet from the Lafarge cement plant.  Why is it legal to have an environmentally unsafe plant next to a park where children as young as one year old come daily? How can this be a place for our children and seniors? 
This video shows kids of all ages, from 1 year olds to adults, using the park's playground, basketball court, and field, right next to the cement plant.
Desmond Lewis and Kenny Dede are coaches for a Little League team and they described the conditions of this playground, the community, and how this plant has affected their lives.

Mr. Lewis expressed,
"We have children and elderly that come to this playground daily and the dust affects all their health.  Imagine breathing in the dessert in a dust storm and your face… [is] not covered. We have port-o-lets instead of rest rooms and there are no water fountains. This is the only playground we have in our community. The kids that are part of our Little League team come because it keeps them from being on the streets and it helps to develop them in so many ways.  And this is what they are subject to.
"They purchased play equipment for smaller children from one year to about six years of age and when they come they breathe in the dust.  [They have to] wipe off the dust that has accumulated on the play equipment.
"We are pleased to see someone trying help our word get out because we have been forgotten. We sit here for all to see at the corner of Broadway and Earhart, and people pass like we just don't exist.  Gert Town playground needs help.  We need to be recognized and the situation we have is in dire need of attention, now. I want the kids that are here to tell you how they feel."
Those who make decisions need to see how this community is forgotten, and help is needed.  The children, our future, are crying out that this is the only place they have in their community to come together, to play, to share.
----------
Linda Jeffers is a community educator and organizer in New Orleans, Louisiana. She has been organizing for thirty one years, and lived in New Orleans since 1970.  During Hurricane Katrina, she became a voice and organizer of evacuees in the Astrodome and throughout Houston, Texas.  She has worked on issues such as hurricane recovery, homelessness, and the BP oil disaster.  Linda bridges communities with churches, and helps to develop policy at a local, state, and federal level.  She also gathers stories and testimonies from the people, for the people, documenting lives on the Gulf Coast.