Q & A with Fair Housing leader Teresa Bettis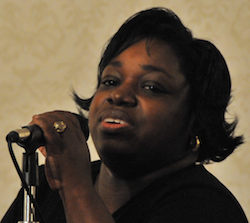 Today in Mobile, Alabama, community leaders from across the Gulf Coast got together for day one of a two-day summit on fair housing and environmental justice.  At the end of a day packed with panels, workshops, and speeches, I spoke with Teresa Bettis, who played a major role in organizing the summit.
Bettis is the Executive Director of the Center for Fair Housing in Mobile, Alabama, and is also an advisor to the Gulf Coast Fund For Community Renewal and Ecological Health.  The Center for Fair Housing and The Gulf Coast Fund co-sponsored the summit.
Will you start by telling me where the idea for this conference came from?
One of the things we wanted to do with [our housing justice] initiative was a little workshop or something like that.  But over time, looking at all of the issues I began to see that not only should it be about Mobile and Alabama, but it should be about what's happening here along the Gulf Coast.  As we began to develop it, to have some conversations with the folks from the Gulf Coast Fund, we began to talk about the relevance of housing and environmental justice issues, and said, "Wow, what a perfect match.  We'll make it a Housing and Environmental Justice Leadership Summit."
And the closer this day came, the more I began to see that this was going to be a timely event. Because of everything that's happening, not only here in America but around the world.  We look at what's happening over in Egypt, we look at what's happening in Wisconsin.  People are organizing, and they are addressing things that they feel are unjust.  And so that's exactly what I wanted to see happen for Mobile. 
I wanted to bring the people and the organizations, the relationships that we built over the last five years, since Hurricane Katrina with folk from Louisiana and Mississippi, bring that spirit and that drive and that vision here to Mobile.
Will you describe the overall housing issues that you're seeing here [In Mobile]?
Environmentally, there's a lot of issues with mold and mildew.  And those issues have increased significantly, especially after Hurricanes Ivan and Katrina. The proper mold remediation was never done, so it continues to be a problem.
We're also seeing issues with landlords and renters.  Although Alabama has a landlord-tenant law, [there's] still a lot of work that can be done to make the law [more useful]. It's there, but it could be so much more than what it is...
We're seeing issues around housing for people with disabilities.  The number one complaint we get is about race, and now our second highest complaint is about disability.  There's a huge issue around accessibility for people with disabilities, as well as them needing help with getting reasonable accommodations or modification for their housing.
Will you talk about that first complaint, around race?  What kind of things are going on?
Race is just that, black and white.  Calls to our office by African Americans who feel like they are being discriminated against because of their race.
Can you give me one example, one person's story who had one of those [complaints about race]?
We had a situation where a young lady who was white rented a home from a lady, Miss Stevens, in Saraland, Alabama.  And everything was fine until Miss Stevens found out that Michelle had a black boyfriend and a biracial child.  She was asked to move out of the house because of that.  So that was one of the cases that came to our office.  We filed it with HUD (the U.S. Department of Housing and Urban Development), and ultimately it was referred to the Department of Justice as a "pattern and practice" case.  Miss Stevens had a pattern of discriminating against families who were biracial or African Americans. And it was pattern and practice, it was the policy of her company…  So not only was it something that they did all the time, it was the understood practice of her business.
So is much of what you do referring these cases to HUD?
Yes, because HUD is our primary source of funding, so the majority of cases that come through our door have to be filed with HUD.
And will you talk about the overall connection between housing and environmental justice?
I'm learning about that [laughs].  For example, one of the areas covered by fair housing laws are land use laws.  And most recently around the BP oil spill what we're being made aware of are minority communities in the northern part of Mobile County and Washington County that are being considered for the dumping of the boom that was used in the waters to keep the oil away from the shores.  Well that boom is toxic.  So you're wanting to develop landfills in minority communities.  That is in fact a fair housing issue as well as an environmental justice issue. 
How did you personally become involved in caring about fair housing?
I never thought I would be doing this.  I actually started off volunteering at the Fair Housing Center. From being a volunteer I became an employee. That was back in 1999.  And I have been doing this work ever since.  And started doing community work and organizing and advocacy, and never really realized that that's what I was doing. It really was by chance.
Tell me about today.  How are you feeling now that the first day [of the summit] is over?
I am satisfied.  I wanted people, when they came here, to connect.  I wanted people to be inspired.  I wanted them to be informed about the issues going on.  And I wanted them to leave with possible solutions, and I think that they got that.  Based on the feedback, people want more of this, and we plan to give them more of this.  I see the makings of the connecting of the dots between Alabama and Mississippi and Louisiana. I see the beginnings of those relationships being built.
Watch Teresa Bettis tell Bridge The Gulf about Katrina related housing issues (March 2010).
Interview edited for length and clarity by Ada McMahon.  Photo by Bryan Parras.