Small businesses struggle on the Mississippi Gulf Coast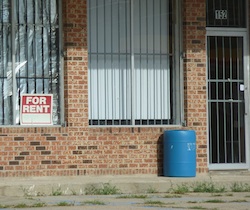 We here on the Gulf Coast have fishermen and oystermen that are not licensed and bonded. They are subsistence fishermen who catch food for themselves and their families, and to sell informally to the community.  That means, in short, they're not qualified to apply for BP funds through the claims process.  By not reporting their income, they cannot apply for compensation and other resources.
Right now, the fish are too small and sick.  There are no shrimp out there now.  So these small business people are struggling.  They cannot catch food for themselves, and they are not getting compensation from BP.
 
I used to purchase oysters from one oysterman every two weeks.  He is the average Joe who does not want to give his name (since Katrina, people sort of feel exploited, and don't want their name to be out there). 

He told me, "I used to always have great oysters [before] the BP oil spill. I have not had any luck within the past year. The oyster are smaller and they don't taste good."  Now he cuts yards and does handy work for folks.
I see people suffering and trying to survive by what they know.
 
On the Gulf Coast the small businesses are always left out. It seems unjust, if you work hard to make a fair and decent living, to take care of your family and the locals, by going out fishing. 

What can we do to ensure that these folks are allowed to receive compensation or funds for their loss because of the BP oil disaster? 

We could put in place non-traditional jobs, since we don't know when the fisheries will recover.  If we don't, we're creating more homeless folks and more vulnerable people not being able to make a living. My concern is to create jobs for the unemployable.


It goes deeper than the BP disaster. After Katrina, there is no economic growth in our community. I do realize this is a dilemma all over the world, especially in communities of color.
The people of color are affected the most because of the economy and recession, and most of all the lack of opportunity in the community in which we live.
 
For example we have two women who just opened their businesses. One is a consignment shop, the other is a miniature flea market. Where the businesses are located, there is not enough traffic or anything next to it to attract costumers.  The folks we reached out to to support the business can't keep the place open.
The solution is to build these communities up with storefront businesses and stores. That would attract buyers and build the wealth back.
-----------
Sharon Hanshaw is Executive Director of Coastal Women for Change, in Biloxi, Mississippi.  A native of Biloxi, Sharon worked as a cosmetologist for 21 years.  She got involved in community organizing and activism after Hurricane Katrina, working to make sure that community members are decision makers in the recovery process.  Coastal Women for Change (CWC) focuses on women's empowerment and community development through programs for the elderly and children.