Stop scapegoating fishermen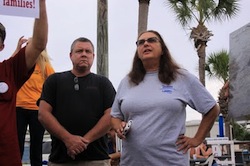 How many family fishermen will be put out of business in the Gulf of Mexico, before NOAA's inept handling of the BP oil/dispersant disaster is investigated?  The fishing families, coastal communities, marine life and the natural resources they depend on for survival, continue to suffer through the largest oil disaster and ill-conceived cleanups in the history of our country.  And now, these fishing families are being blamed for turtle deaths.  NOAA (National Oceanic and Atmospheric Administration) and a number of NGOs are claiming that fishermen are not using turtle exclude devices (TED), causing a rise in turtle deaths. Fishing families and communities whose lives are destroyed by excessive government regulation and unjustifiable enforcement cannot be restored.  The current hammering of fishing families across the Gulf of Mexico, by NOAA and a number of NGO's, constitutes an environmental and human injustice.
For years prior to the BP disaster, shrimpers were 97% compliant with TED regulations.  Turtle stranding and deaths were low and turtle nests had dramatically increase.  All of this occurred while shrimpers continued to work, in state waters across the Gulf, using skimmer nets and other mid-water shrimping gear that are not required to use TED's (with good reason - they are not killing turtles in these areas, with that gear).
All of a sudden, starting in late spring 2010 and continuing into 2011, huge increases in turtle stranding and turtle deaths happened, along with huge increases in deaths of dolphin, starfish, fish, bottom worms, and other marine life.  The only thing that was different in 2010 & 2011 from previous years was BP's oil/dispersant/bio-engineered bacteria disaster.  Those are the simple, indisputable facts.
As of October 20, 2010, NOAA stopped listing stranded and dead turtles, with no visible oil, on their stranding response list and sea turtles transitioned out of MC252 Spill Response and back to the traditional Sea Turtle Stranding and Salvage Network.  It was decided that only visibly oiled animals confirmed after October  20th would be recorded as related to the BP disaster.  On October 30th, a dead oiled post-hatchling sea turtle was recovered in Florida.  This ongoing policy of making natural resource and safety decisions based on the presence or lack of visible oil totally disregards known toxicological science.   It enables NOAA and others to relieve BP of a large part of its natural resource damage recovery responsibilities to the citizens of the United States of America.  It sets precedence for the handling of future oil disasters in the United States and uses family fishermen as easy targets, scapegoats. 
We started our organization, Louisiana Bayoukeeper, because our fishermen care about clean water, healthy habitat and abundant fisheries and marine resources.  They are the life blood of the Gulf Coast culture and economy.  If you truly care about the same things, you and any organization you are associated with will stand up publicly, now, in support of our fishing families, coastal communities and natural resources.  It is one and the same. 
Photo of Tracy Kuhns and her husband, shrimper Michael Roberts, from BP Slick.
Tracy Kuhns is founder and executive director of Louisiana Bayoukeeper in Barataria, Louisiana, and is founder of the Fishing Community Family Support Center. A shrimper, mother of 5 and grandmother of 17, Tracy is dedicated to protecting and preserving the natural resources, traditional coastal fishing life and communities of coastal Louisiana.