Walk the Walk – to Washington, D.C.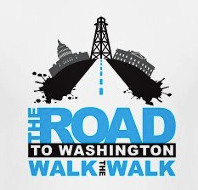 As you know, on March 12, in Westwego, LA at the Farmers Market we will be hosting an event in which we hope to honor those who have been working in the Gulf on behalf of the people and environment, with booths available for people to obtain information and get help with needs surrounding the spill and to join in fellowship surrounding some great music. You will find the link to that event here. 
What I have not mentioned yet, is that the next morning - Sunday, I and several others will begin a long walk to Washington D.C. to raise awareness of issues still pertaining to the BP Oil Catastrophe and to build a movement across the nation for real environmental justice for the people of the Gulf, and our country.
 
Our goals for this pilgrimage include:
 
- To rally support, through public pressure, for the sponsorship of  a healthcare bill for the people on the coast - over 11,000 according to LEAN, who are silently suffering the effects from the spill - including not only comprehensive testing, but diagnosis and long term treatment.
 
- To raise awareness of the ongoing issues in the Gulf, the least of which is that - this place is a mess and that the American public is being lied to.
 
- To share and join the fight with the hundreds of thousands, if not millions, of people suffering from man made disasters and environmental injustices across our nation to the truth that "Clean Water and Clean Air are God given - and that anything less is a human rights violation".
 
- To share and join the fight with American workers who have been misplaced or lost their jobs through no fault of their own, for the profit of some.
 
- To bring THE PRESIDENT OF THE UNITED STATES, and any righteous congressional leaders to the Gulf to meet with the people affected and to join us for the memorial events of April 20.
- To demand that a congressional hearing be held for the citizens of the Gulf Coast and that their needs be met in a timely and transparent fashion.
 
- To demand that the Gulf Coast Claims Facility be investigated, and that the fishermen of the Gulf, and others who rely on her, be put in charge of the $20 billion fund.
 
- That a real investment be made in bringing green energy to our coast and that our energy providers (oil workers), be trained and accepted to those jobs first.
 
- That an investment using penalties from the Clean Water Act, as encouraged in the Oil Spill Commission report, be made in the Gulf and that our fishermen (recreational and commercial) be trained and given those opportunities first.
 
- An end to the use of all dispersants in our national and state waters.
 
- The enactment and funding by the oil industry for a Gulf Coast Citizens Advisory Council.
 
- Independent data, research and testing of all waters, beaches and marshes along the coast. And an open transparent process through those scientists, as well as those funded by funds from BP.
 
- Opening of any and all medical research from the Exxon Valdez Catastrophe.
 
PLEASE FEEL FREE TO SUGGEST MORE.
My friends, I am asking you to help me in this endeavor.
 
We already have media poised to cover this event, national, local and international. We will need more.
 
 
I invite you to walk with us when you can - it will take 31 days to get there walking 26-40 miles in a single day. We have 2 stops everyday, that we are getting lined up to speak at to raise awareness and bring others into the fold. And every night we hope to have a concert, to raise funds and awareness in order to provide aid for the people, wildlife and environment of the Gulf Coast. 
 
I want you to be aware that there will be people who say that this cannot be done. There will always be those who would say that this, and anything as hopeful as this, is a fool's mission.  Let them, and walk your walk.
 
There are those who will say we are seeking the spotlight, fame and nothing more. Yet, they do not know our heart. Walk your walk.
 
Some might say that nothing will come of it - that nothing will change. They said the same thing to the Rev. Martin Luther King Jr. and to Gandhi. Walk your walk.
 
There are two types of people in this world, those that encourage others and raise them up in love to do more, be more, have more, and those who would seek to control and discourage others to be more than THEY are - I am asking those who belong in that first category to ignore the other group, and just WALK YOUR WALK.
 
We are in need of many things, and I am asking you today, to join me in not only the "Walk To D.C - Walk the Walk", but in a nation wide movement for our future.
 
Truth is: You are going to die. We all are.
 
The question is: What will you say on your death bed?
 
Will you be able to say, "Once, I was a part of something bigger than myself. I stood, for my people across the nation. I took the gifts that You gave me, and I used every single ounce of them in Your name in protection of Your children. "
 
It is our time. It is our country. It is our Gulf. And they will know we came, and they will remember who we are.
 
Please help me, we are in need of funds for travel expenses - any left over will go directly into helping the people of the Gulf Coast to not only survive, but thrive; and to send a citizen delegation to D.C. for meetings with congressional leaders concerning our needs.
 

Please go to Project Gulf Impact to learn more http://www.projectgulfimpact.org/ and find out how you can help us get to D.C.
 
Please message me your phone number and email, and how you can help, specifically what are would be nice, we will need people on the following committees:
- Helping to plan April 20 events
- To contact the media in promotion of the events from March 12 to April 20
- To launch a massive assault on all BP propaganda from March 12 to April 20
- To set up speaking engagements and concerts along the route to D.C.
- A major push to congressional leaders and the White House to meet with us, hear our demands, and act upon them.
- Volunteer opportunities along our Gulf to clean our waters, aid the sick, rebuild our reefs, plant trees and begin again.
- Sponsorships - in kind donations, if you own a business or know of how we can get, travel care, food for the trip, shoes (I am sure we wear out a few pair), overnight camping spots.
- Setting up a nationwide network with those who have been similarly affected by man made disasters, civil and human rights violations, workers rights violations, and environmental injustice.
- Research, including laws, injustices, and scientific data.
- Please go here and send your letter, recent photos and independent scientific data, I will hand deliver them to congressional leaders and the President - all of them.
 
 
I need you to come to March 12 and April 20 if you can. National news has confirmed attendance and we all need to show that we not only care, but that we will take this no longer. Again, this is not a rally against anyone, this is an expression of our dedication and devotion on behalf our beloved Gulf Coast - these events are solutions oriented.
 
Walk with us, when you can. It would be good to see you. And we will be in D.C. on April 14, if you live close to there, or can make it somehow  - you would never know what it would mean to see you waiting for us.
 
PLEASE REPOST THIS EVERYWHERE - through social media, blogs and email. PLEASE INVITE OTHERS IN. PLEASE "WALK YOUR WALK"!
 
No voice is to small, no one is too little, no one is to be discounted, discouraged or denied. We need every single one moving like a flock of birds, in the direction of aid, peace, freedom and justice for our Gulf, our nation and our planet. Time is of the essence, we only have a small window to make our stand. But stand we will!
 
Join us.
 
 
More info and website coming soon…
 
 
God Bless.
Cherri Foytlin is an oil worker's wife, mother of six, Louisiana resident and journalist whose family has been deeply impacted by the BP Gulf Oil Spill and consequential moratorium on deep water drilling. She has been a constant voice, speaking out to the Obama Administration's Gulf Oil Spill Commission, and in countless forms of media. On July 15, 2010, in a CNN interview, she called out to the president for help, but was unanswered. She has also spoken at "The Rally for Economic Survival" and at the "Spill Into Washington Rally" in Washington D.C.where she challenged the American people to get involved in what she sees as an "atrocity on the shores" of the Gulf Coast. In addition, Cherri has written and illustrated a children's coloring book on coastal erosion. Cherri will continue her fight for the industries, people, culture and wildlife of south Louisiana and the Gulf Coast "until we are made whole again".