What good is a healthy coastline, turtles, dolphins, even economy, without healthy people?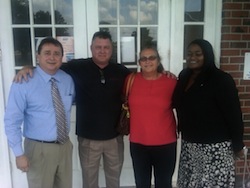 In the aftermath of BP oil drilling disaster, it seemed that an overwhelming (albeit needed) amount of attention was given to restoring the environment, protecting animals, and the money – always the money.  Very little attention was given to actually providing health care to people impacted by the oil disaster or the response to the disaster.
Since then, the National Institute for Environmental Health Services and others have embarked on impact studies to look at long-term effects, the President's Commission on the disaster has come and gone, and still very little talk is given to providing disaster related health care. Not surprisingly, the Gulf Coast Claims Facility has paid only 96 claims for physical injury or death, while hundreds of millions of dollars have gone to questionable projects (for more see Pirates of the Gulf by Jeremy Alford http://www.bestofneworleans.com/gambit/pirates-of-the-gulf-coast/Content?oid=1850937).
A little over a year ago, Alliance Institute hosted a Gulf Coast tour for Kerry Kennedy and the Robert F. Kennedy Center for Justice and Human Rights. During the tour, Tracy Kuhns of Louisiana BayouKeeper helped us to recognize the lack of access to health care in response to the disaster, and ever since then Alliance Institute has worked with Louisiana Bayoukeeper and the RFK Center to bring resolution to this problem.
Now, a year later, we are closer than ever to making health care access a reality for the Barataria Bay region of coastal Louisiana, and, to help bring us down the final stretch, Kerry Kennedy and the RFK Center will be returning to the region July 24-27 to celebrate plans for a new health care center in Lafitte, LA.  Jean Lafitte Mayor Tim Kerner and Jefferson Community Health Care Center CEO Yakima Black have agreed to come together to provide health care access to the towns of Barataria Bay, Crowne Point, Jean Lafitte.  The center will be housed by the town of Jean Lafitte and staffed by the Jefferson Community Health Care Center.  The Robert F. Kennedy folks will be raising awareness of the fundraising needed to make the whole thing possible.
While in the region they will be visiting with groups in Alabama, Mississippi, and Louisiana to hear first-hand about the lack of, and desperate need for, health care access for families living in the BP drilling disaster area.  On Wednesday, July 27 the delegation will be speaking to Congressional representatives about the need to put Federal dollars to work, through Federally Qualified Health Clinics, to provide health care for those families who continue to suffer not just economically but physically from the BP Oil drilling disaster of 2010.
Photo: Mayor Tim Kerner (Jean Lafitte, LA), Michael Roberts and Tracy Kuhns of the Louisiana BayouKeepers, and Yakima Keels Black, CEO of Jefferson Community Health Care Center. Photo from Alliance Institute.
Stephen Bradberry is the Founder and Executive Director of Alliance Institute, a non-profit that provides training and technical skills for organizing across the Gulf Coast.  He is also advisor to the Gulf Coast Fund.