What has changed since BP capped the oil gusher? 5 community leaders answer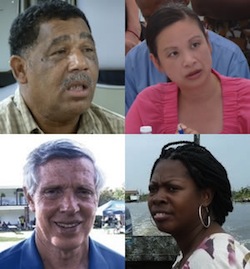 Originally published on TheLoop21.com. A year ago today, BP capped the blown-out Macondo well, stopping the flood of crude oil into the Gulf of Mexico.  The out-of-control well had gushed for nearly three months, after the Deepwater Horizon rig exploded and claimed the lives of 11 people working aboard. President Obama called it "the worst environmental disaster America has ever faced." Ultimately, an estimated 205 million gallons of oil was released, disrupting the lives of thousands of people across the Gulf Coast.
The capping of the well was seen as a turning point in the disaster -- the beginning of the end. But, a year after the oil has stopped gushing, are things any better on the Gulf Coast?   
Answering that question are five Gulf residents whose lives were changed by the BP Deepwater Horizon oil disaster: a BP clean-up worker, a doctor, a community organizer, a non-profit funder, and an oysterman. They are a small but significant sample of people who live and work on the Gulf Coast, who can tell most intimately what has or hasn't changed since BP capped the well a year ago.


Andre Gaines: Former BP cleanup worker; Lucedale, Mississippi
"A year ago, I was good.  I was at my fullest.  I was working on the cleanup - three weeks straight, with only one day off.  It was around August-September that I started getting sick.  I went to the hospital the last week of August for severe vomiting and nausea. I've been hospitalized three times with these symptoms.  
Now, once or twice a week I get real nauseous, and I just try to work through it. Keep going to the hospitals just gives me bigger and bigger bills.  The medicine they give me doesn't do anything.
Going outside and standing unshaded in the sun for 10 to 15 minutes, I get dizzy, headaches, nosebleeds. How am I gonna watch my son play baseball without getting sick out in the sun? I have never ever dealt with anything like that.  About 10 other clean-up workers I know of are really, really sick.

Most of the people are just lost. It's kind of like desperation and depression wrapped into one.
If I die, who is going to raise my son?  It's a lot of worry.  I wake up every morning like, damn, is today my last day?"
Byron Encalade: President of the Louisiana Oystermen Association; Point a la Hache, Louisiana
"Nothing has changed.  I mean, the situation has gotten worse.

Of course there's oil still out there. We have large areas saturated with oil now in the marshland.  In our area, the oysters have not come back, and there is no sign of them coming back.
I would never say BP has caused all our problems.  We have an administration in Louisiana that has failed to preserve these fishing communities.

But when you look at these five to 10 years that I am going to be out of business trying to survive, that's because of BP.
The fishermen in Pointe a la Hache, we are not working because of the oil spill.

It's the village atmosphere that has allowed us to survive through these times, that has always allowed us to survive through hard times.  But how long can we stay on the edge without falling off?"
Dr. Michael Robichaux, MD: Physician; Raceland, Louisiana
"A year ago, I didn't see there was a problem.  No one was sick.  It wasn't until a couple of months after the well had been capped that I actually saw patients who were affected by it.
I got a call from Marylee Orr. She asked if we would draw some blood from people, because she thought they were sick from the oil spill.  I asked, 'Why me?' and she said, 'Because no one else will do it.'
And the rest is history.  I've seen patient, after patient, after patient.  77 patients I've drawn blood from. There is just no question that these people have been affected by the oil spill.
Right now, I'm seeing patients with various problems: coughs, tremendous fatigue, memory loss, abdominal cramps, severe, severe panic.
I have come 180 degrees from not seeing anything, and now I'm down to the autopsy phase.  We just had our first fatality."

Read more at theloop21.com.