Why I quit selling Gulf seafood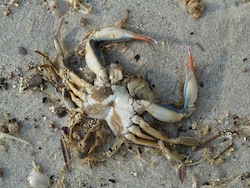 Just this past week I decided to leave my job as a food server at a casino in Hancock County, Mississippi.  I've worked in tourism for 15 years. I just could not continue to serve Gulf seafood to unsuspecting tourists and locals after the BP disaster.  There were other reasons for my leaving as well, but risking people's health and pretending things are normal is totally against what I believe in. 
It started when a random guest asked me where our lemon fish comes from, known down here as cobia. I asked our kitchen staff, and they finally received the answer from one of the higher up chefs; "It comes from the Gulf." My reaction, as a concerned server and coastal resident, was, "Are you serious?  Why are we serving Gulf seafood?" They said, "The FDA said it is safe."
I started questioning and challenging this, knowing that the oil is still out there and the FDA testing procedures are inadequate.  But I got no result.  It was left up to me to warn my guests when they ordered Gulf seafood, and risk my job. I knew that sooner or later I was going to get in trouble with the casino, so I decided to resign and change my life so that I could make a difference.
My name is Laurie Gayle Lambert. I am almost 38 years old and I grew up on the Mississippi Gulf Coast. I watched beautiful Bay St. Louis and Waveland grow throughout my life.  I moved away in 2003, then had to watch on TV from up North in Ohio when my hometown was devastated by Hurricane Katrina.  I felt helpless.  Now it is my time to help the Gulf Coast.
The one-year marker of our country's worst man-made disaster in history is coming up, and there is no recovery in sight.  But the majority of our nation, including some of our local residents here on our Gulf Coast, thinks the BP oil disaster is all over. They are unaware and uneducated about the danger we are in now, from threats to our environment and health.  Clean-up workers, average vacationers, and Gulf Coast residents (even those living 100 miles inland) are being affected, and most of them do not know it.
Just two days ago I went to Long Beach, Mississippi.  There was a sheen of oil against the shoreline and a little boy, playing not 10 feet from that sheen. I told his mom about the sheen and they immediately left.  That was a good day.  There have been times I have politely informed someone, and they acted like I lost my mind. If it is not on TV, they are not going to believe it.  
My awareness of the deep, ongoing problems with the BP "recovery" started with my personal experience with Ken Feinberg's claims process. The Gulf Coast Claims Facility was completely unfair.  They approved and paid my claim, but my co-worker, who made the same amount as me, was denied, along with all but one of my other coworkers (see this news story about it, the first time I spoke out to the media).
The more I learned, the more my obsession with this disaster grew. It has totally ticked me off.  Dolphins are washing up dead daily. People have unexplained health issues that our doctors are not aware of and not trained to treat.  People are sick.  People are dying. A child died within 24 hours after putting his feet in the Gulf water.  People are testing with high levels of benzene and other chemicals from BP's crude in the bloodstream.  
From the beginning, BP and government officials' decisions seemed aimed at covering this entire thing up, rather than cleaning it up.  Spraying of the chemical dispersant Corexit diminished the size of the slick on the surface.  But all it did was make it less visible and sink it to the bottom, killing numerous organisms and marine life and allowing the oil to make its way into the food chain.  The local government does not want people to know what is going on down here, so that we do not scare tourists away.  BP workers and clean-up workers were told not to speak to anyone about anything or they would lose their jobs and have their lives destroyed.


Like the tourism industry, the fishing industry (with the help of the FDA) has been pushing their marketing that the "seafood is safe."  But many commercial fishermen disagree. I disagree. So many others disagree. 
Just yesterday I met a couple who owned a restaurant in Bay St. Louis, Mississippi for many years. They finally closed their doors because they did not feel right about serving seafood from the Gulf.  Due to their concern for our residents and tourists, they are about to lose everything. 
In this context, we need our local and national media to cover these issues.  There has been a virtual media blackout on this catastrophe.  What is the reason for lack of coverage and support? 

 What is it going to take to have the Media report accurately on the ongoing BP oil disaster? 200 people dying like the dolphins?
Independent scientists and journalists are working hard to share the truth of what is going on down here on the Gulf, but it is hard to combat BP's multi-million dollar marketing campaign, and federal agencies that back it up.  
Rather than being a part of the problem, I've decided to become a part of the solution.   I could no longer serve Gulf seafood so I got myself out of the food and beverage and tourism industry, which is all I have known most of my life.
I do not have a large savings account and I have bills due. But, I just could not morally sell the seafood that we carried. I have decided I want to dedicate my life and time to being your Media down here on the Gulf, until we can get heard and results are seen.  I will be contributing stories mostly about our residents, local people like you and me.  I'll focus on health concerns, as well as any other concerns I come across for the people about our environment and safety.  I look forwarded to being a bigger part of this each and every day until we get the needed help down here on our Gulf Coast.
Laurie Gayle Lambert was born in Gretna, Louisiana, and grew up in Bay St. Louis, Mississippi. Self-described as "just your average resident born and raised on the Gulf Coast," Laurie watched the Gulf Coast grow and fall apart and regrow since Hurricane Katrina. At almost 38 years old, Laurie left her job serving seafood in a casino, to raise awareness and speak truth about the ongoing BP disaster.  She says "I have watched our Gulf Coast begin to die, from dead marine life washing up on our shores to friends and neighbors getting ill from the BP disaster. Until the media and government steps in. I will not stop spreading the word. We are the Media!"  You may follow Laurie on her Facebook Page @Coastal Justice.